Theatre Titas and Duende Theatre, in partnership with Z Hostel and PLUD, join forces this 2018 in celebration of the golden anniversary of Dr. Paul Dumol's 'Ang Paglilitis kay Mang Serapio'. Penned in 1968, Paul Dumol's work is considered to be the Philippine's first post-modernist play.
'Ang Paglilitis kay Mang Serapio' sets the audience in a courtroom of beggars to watch a trial unfold. Today's defendant is an elderly beggar named Mang Serapio, who is accused of harboring a child. This affects the communal income of the association of beggars, the federaçion. As the trial pushes through, we see the flaws in the federaçion's judicial system, which may feel all too familiar.
Since its inception 50 years ago, Paul Dumol's gripping and dark story remains timeless and relevant, and has been studied and staged by schools and theatre organizations alike.
In honor of its golden anniversary, Theatre Titas and Duende Theatre have joined forces to stage Paul Dumol's undying script this September in The Ruins at Poblacion. Intent on taking Dumol's vital message outside the confines of a traditional theater, this production of 'Ang Paglilitis kay Mang Serapio' places the audience in the trial with the other beggars in an immersive theatrical experience.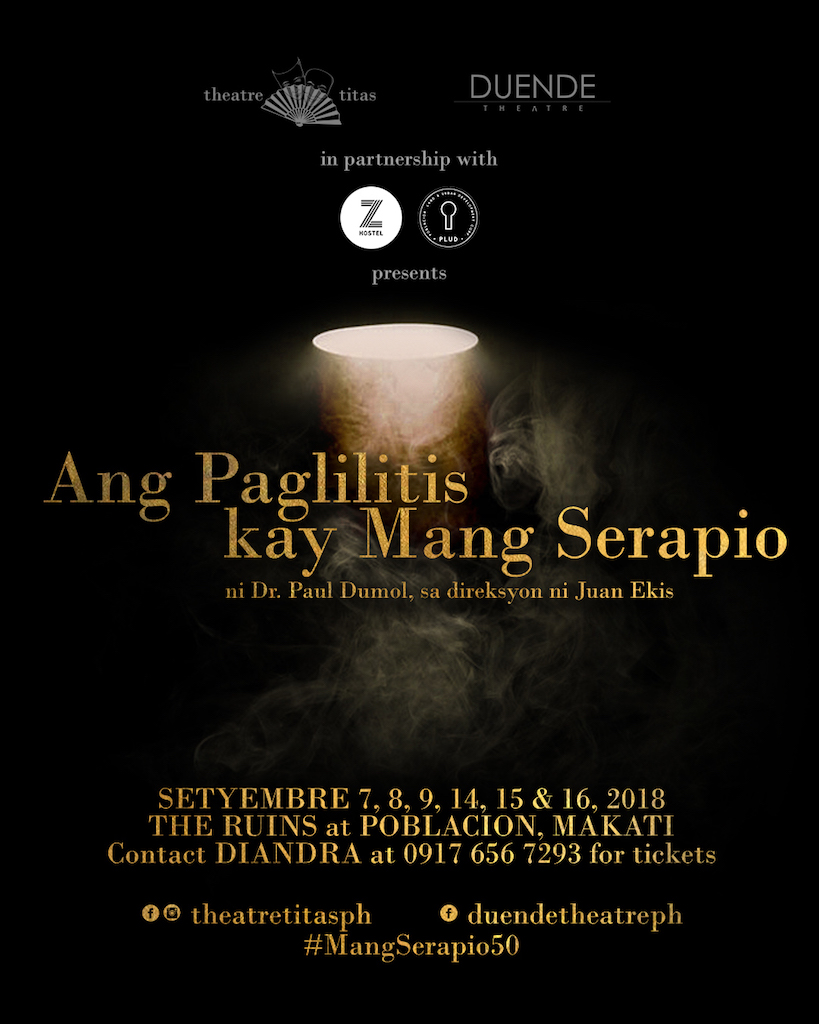 Playing the titular character in the 50th anniversary production of 'Ang Paglilitis kay Mang Serapio' is Jacques Borlaza (Dulaang UP, Gantimpala Theater Foundation, Art Theater Manila, Tanghalang Pilipino, Repertory Philippines). Lian Silverio (Tanghalang Pilipino's Aurelio Sedisyoso, Egg Theater's Kung Paano Maghiwalay) and Ronilo Balbieran (Dulaang ROC's Ang Paglilitis kay Mang Serapio) will alternate as Unang Tagapagtanong, and Andrea Fe Padilla (Christopher de Leon's Lorenzo, Carlos Celdran's Livin' La Vida Imelda) will take on the role of Ikalawang Tagapagtanong. Japoy Eusebio Dones (Teatro Expedicion De Filipinas' Ang Panaginip ni Jose Rizal and CSB Taxi Theatre's Mulagat)
Comprising the federaçion are Jigs Sumera (Nonon Padilla's Nuno Sa Punso: BFF, Duende Theatre's Twenty Questions), Siel Cleigh Evangelista (ViARE's Back to the Drawing Board, Dulaang ROC's Next Page), Seleen Simora (Dulaang ROC's Codename: Xander Returns & 20th Playfest), Roznel Destajo, Alyana Dalisay (Duende Theatre's Twenty Questions & Kapeng Barako Club: Samahan ng mga Bitter), Cyril Coronado (Dulaang ROC's Makbet and Ang Luha ni Tikboy), John Mari Bonifacio (Tanghalan Mandaluyong's Catsville), Angelo Galang (Tanghalang Sta. Ana's Ang Martir sa Golgota & UP Dulaang Laboratoryo's Cymbeline), and Mil Prado (ACACIA's Kapeng Barako Club: Samahan ng mga Bitter, Dulaang ROC's Ang Paglilitis kay Mang Serapio)
THEATRE TITAS is a group of individuals whose common denominator is a passion for theater.
Fresh from its successful maiden production, a twin-bill feature called WHAT'S IN THE DARK? (October 2017), which starred Epy Quizon and Javier Coromina, THEATRE TITAS is a group that aims to stage a diverse selection of works: classical, new, and experimental. They not only stage, but critique, discuss, interpolate, and share their theatre experiences; usually over a glass of wine, a plate of sushi, two slices of cake each, and a lot of laughter.
DUENDE THEATRE believes in art in alternative spaces. They believe that art should not be limited to traditional venues but should be open for production in various places. They have been successful in achieving this, having staged their plays in coffee shops, restaurants, and even in hotel rooms.
'Ang Paglilitis kay Mang Serapio' runs at The Ruins at Poblacion on September 7, 8, 9, 14, 15 and 16, 2018, with performances at 8pm on all dates and 3pm matinées on Saturdays and Sundays.
Tickets are on sale NOW at PhP 800.00 when reserved in advance, and PhP 900.00 at the door. For ticket reservations, click HERE or contact DIANDRA at 0917 656 7293.