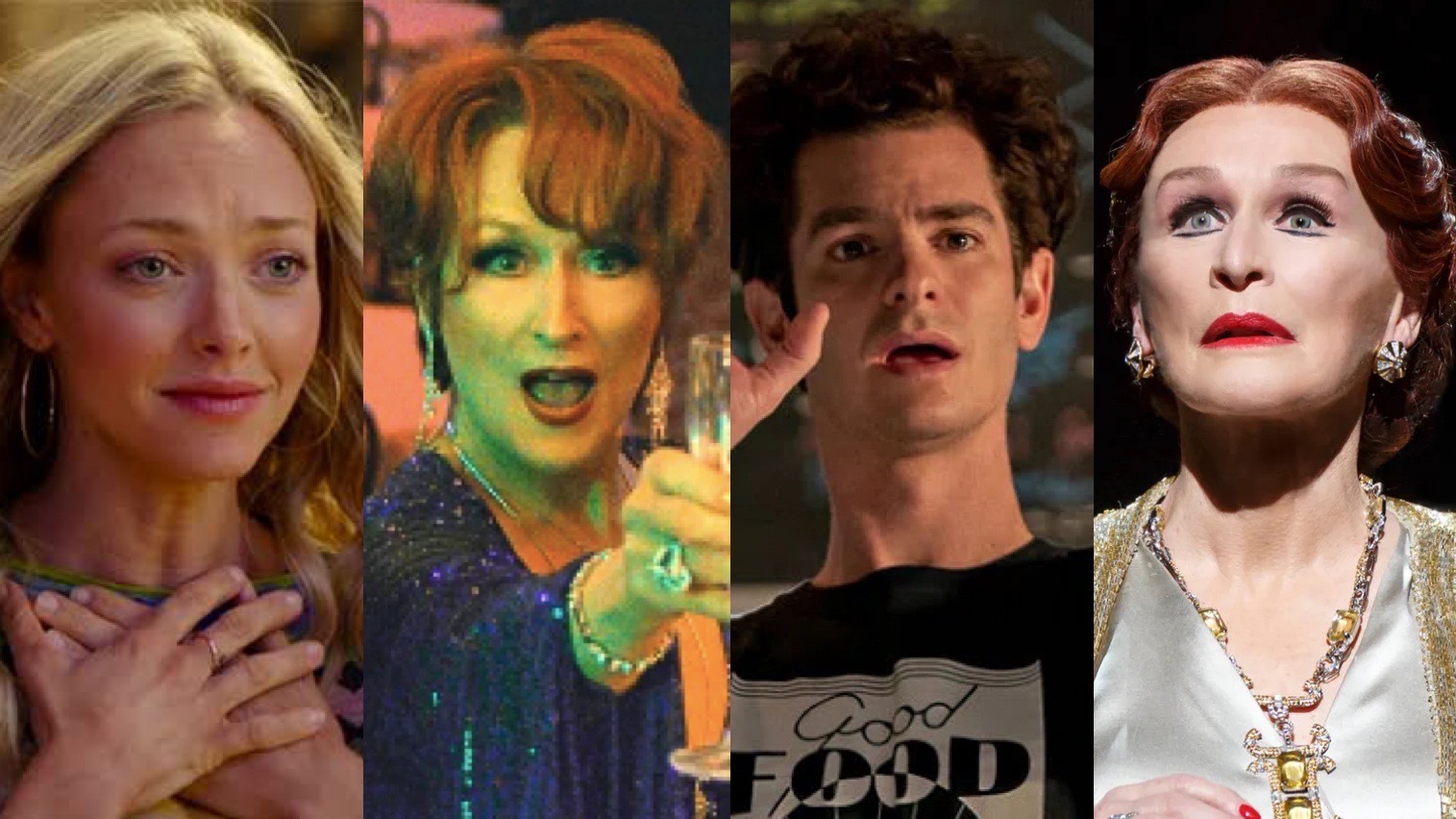 23 Songs About Theater
Musicals have songs about almost every conceivable topic, so obviously there would be a whole repertoire of songs about the theater itself, the people who work in it, and the different stages of the stage. There are even entire shows revolving around the production of a show and they are never in want of an eager audience.
We put together some songs that give a glimpse of the different aspects of the theater: the process of workshops, auditions, and rehearsals; the performers and their struggles in the quest for stardom; the exhilaration of opening night and the long-awaited premiere; and the immortal legacy of the stage show.
1. "Putting It Together" from
Sunday in the Park with George
"It has to come to life!

Bit by bit, putting it together

Piece by piece, only way to make a work of art

Every moment makes a contribution

Every little detail plays a part

Having just a vision's no solution

Everything depends on execution

Putting it together, that's what counts!"
2. "Why" from
Tick, Tick…Boom!
"I think,

Hey, what a way to spend a day

Hey, what a way to spend a day

I make a vow – right here and now

I'm gonna spend my time this way…"
3. "Climbing Uphill" from
The Last Five Years
"
They're gonna think this is the way I sing

Why is the pianist playing so loud?

Should I sing louder?

I'll sing louder

Maybe I should stop and start over

I'm gonna stop and start over…"
4. "I Love Play Rehearsal" from
Be More Chill
"I love play rehearsal

'Cause you are equipped with directions and text

Life is easy in rehearsal

You follow a script so you know what comes next..:"
5. "Let Me Entertain You" from
Gypsy
"Let me entertain you

Let me make you smile

Let me do a few tricks

Some old and then some new tricks

I'm very versatile
And if you're real good
I'll make you feel good
I'd want your spirit to climb
So let me entertain you
We'll have a real good time
Yes sir
We'll have
A real good time…"
6. "Gus: the Theatre Cat" from
Cats
"For I once was a star of the highest degree

I have acted with Irving

I've acted with Tree

And I like to relate my success on the halls

When the gallery once gave me seven cat calls

But my grandest creation, as I love to tell

Was Firefrorefiddle, the Fiend of the Fell…"
7. "Quiet Please, There's a Lady on Stage" from The Boy from Oz
"Stand for the ovation

And give her one last celebration

Put your hands together and help her along

All that's left of the singer's all that's left of the song

Put your hands together and help her along

All that's left of the singer's all that's left of the song…"
8. "Broadway Baby" from
Follies
"Broadway Baby,

Learning how to sing and dance,

Waiting for that one big chance

To be in a show.Oh…Gee.'

I'd like to be

On some marquee,

All twinkling lights,

A spark

To pierce the dark

From Battery Park

To Washington Heights…"
9. "Show People" from
Curtains
"We're a special kind of people known as show people!

We live in a world of our own

Our days are tied to curtains

They rise and they fall

We're born every night

At half-hour call!"
10. "We Look to You" from
The Prom
"We look to you

In good times and bad

The worlds you create

Make the real ones seem less sad

The curtain goes up

And every now and then it feels as if we're coming home again

Yes, coming home again.."
11. "Opening Night" from
The Producers
"Opening night…

It's opening night!

It's Max Bialystock's latest show

Will it flop or will it go?

The cast is taking its final bow

Here comes the audience now

The doors are open: they're on their way…

Let's hear what they have to say!"
12. "Another Op'nin', Another Show" from
Kiss Me, Kate
"For weeks, you rehearse and rehearse,

Three weeks and it couldn't be worse.

One week, will it ever be right?

Then out o' the hat, it's that big first night!
The overture is about to start,
You cross your fingers and hold your heart,
It's curtain time and away we go,
Another op'nin', just another op'nin', of another show!"
13. "Welcome to the Theatre" from
Applause
"Welcome to the theatre

To the magic, to the fun

Where painted trees and flowers grow

And laughter rings fortissimo

And treachery's neatly done

Now you've entered the asylum

This profession unique

Actors are children playing hide-and-ego-seek…"
14. "Willkommen" from
Cabaret
"Willkommen! And bienvenue! Welcome!

Fremder, étranger, stranger

Glücklich zu sehen

Je suis enchanté

Happy to see you

Bleibe, reste, stay

Willkommen! And bienvenue! Welcome!

I'm cabaret, au cabaret, to cabaret!"
15. "The Most Important Night" from
Tootsie the Musical
"Can't breathe, I can't remember what my lungs should do

Been dreaming this all of my life and tonight it all comes true

Red carpet crowd will greet us

Big party with Margaritas

My dreams since I was a fetus, long overdue

Every single living human being's got to agree

This is the

The most important night

The most important night

The most important night of my life!"
16. "As If We Never Said Goodbye" from
Sunset Boulevard
"The whispered conversations in overcrowded hallways

So much to say not just today but always…

We'll have early morning madness

We'll have magic in the making

Yes, everything's as if we never said goodbye

Yes, everything's as if we never said goodbye…

We taught the world new ways to dream!"
17. "It's a Hit" from
Merrily We Roll Along
"We've got a

Surefire

Genuine

Walkaway

Blockbuster

Lines down to Broadway

Boffola

Sensational

Box office

Lallapalooza

Gargantuan hit!

It's a hit!"
18. "A Musical" from
Something Rotten
"A musical

And nothing's as amazing as a musical

With song and dance

And sweet romance

And happy endings happening by happenstance

Bright lights, stage fights, and a dazzling chorus

You wanna be great?

Then you gotta create a musical
…
Some make you happy
Some make you sad
Some are quite big
Some quite small
Some are too long
Some are just plays with song
Some musicals have no talking at all…"
19. "Forty-Second Street" from
42nd Street
"Hear the beat of dancing feet

It's the song I love the melody of

The Forty-Second Street

Little nifties from the Fifties, innocent and sweet

Sexy ladies from the Eighties, who are indiscreet

Side by side, they're glorified

Where the underworld can meet the elite

On Forty-Second Street…"
20. "There's No Business Like Show Business" from
Annie Get Your Gun
"There's no business like show business like no business I know

Everything about it is appealing, everything that traffic will allow

Nowhere could you get that happy feeling when you are stealing that extra bow
There's no people like show people, they smile when they are low
Even with a turkey that you know will fold, you may be stranded out in the cold
Still you wouldn't change it for a sack of gold, let's go on with the show…" 
21. "That's Entertainment" from
The Band Wagon
"Everything that happens in life

Can happen in a show

You can make 'em laugh

You can make 'em cry

Anything

Anything can go…
The gag may be waving the flag
That began with a mystical hand
Hip hooray!
The American way
The world is a stage,
The stage is a world of entertainment!"
22. "Thank You for the Music" from
Mamma Mia!
"So I say

Thank you for the music, the songs I'm singing

Thanks for all the joy they're bringing

Who can live without it, I ask in all honesty

What would life be?

Without a song or a dance what are we?

So I say thank you for the music

For giving it to me…"
23. "Give My Regards to Broadway" from
Yankee Doodle Dandee
"Give my regards to Broadway!

Remember me to Herald Square!

Tell all the gang at Forty Second Street

That I will soon be there!

Whisper of how I'm yearning

To mingle with the old time throng!

Give my regards to Old Broadway

And say that I'll be there, 'ere long!"
You can listen to the full playlist below.
Comments