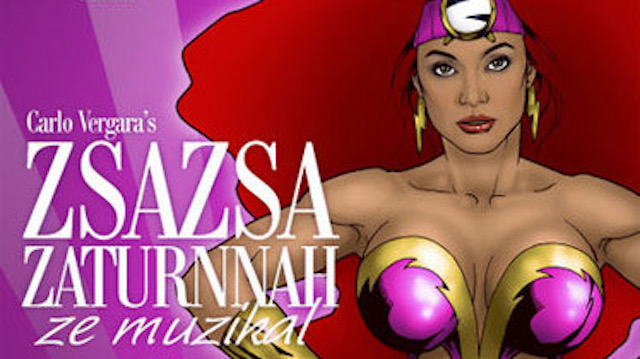 "Zsazsa Zaturnnah" Musical to Stream Online this June
Zsazsa Zaturnnah Ze Muzikal will be the production to stream on CCP's YouTube channel.
The musical was re-staged by Tanghalang Pilipino multiple times from 2006-2011 at the CCP. It follows the misadventures of Ada, a gay beauty salon proprietor who transforms into the voluptuous superhero(ine) ZsaZsa Zaturnnah.  Zaturnnah saves her town from marauding zombies, power-tripping fashion forward aliens and a giant dancing frog. 
Zsazsa Zaturnnah became an underground cult classic when it first appeared as a graphic novel, Ang Kagila-gilalas na Pakikipagsapalaran ni Zsazsa Zaturnnah (The Spectacular Adventures of Zsazsa Zaturnnah) penned and illustrated by Carlo Vergara. The theatrical adaptation is written and directed by Chris Martinez, with lyrics, music, and musical direction by Vincent DeJesus.
The production that will be streamed was recorded from the 2011 run, with Katsch Catoy as lighting designer, Gino Gonzales as set designer, Nicole Mori and Kermit Tesoro as costume designers, Carlon Matobato and Christine Crame as choreographers, and Lambert De Jesus as technical director.

The streaming cast features Eula Valdes in the titular role. She is joined by Tuxqs Rutaquio as Ada, Nar Cabico as Didi, Red Anderson as Dodong, Kalila Aguilos as Queen Femina, Kakki Teodoro as Nora A, Wilma Doesnt as Dina B, Ring Antonio as Sharon C, Mayen Estanero as Vilma S, Rayna Reyes as Aling Britney, and Red Nuestro as Palaka.
Also in the cast are Cheeno Macaraig, Joann Co, Gino Ramirez, Jelson Bay, Jonathan Tadioan, Kathlyn Castillo, Martha Comia, Riki Benedicto, Chic San Agustin, Dan De Guzman, Marco Luis Viana, and Regina De Vera as members of the Ensemble.
The musical will stream starting on June 20, 3pm at CCP's YouTube channel. Just like the other shows in CCP Online's line-up, it will only be available for one week.
CCP Online brings HD and archival recordings in theater, dance, visual arts, film, literary, and workshop events from CCP's Cultural Content Digital Archives to audiences online.
Comments