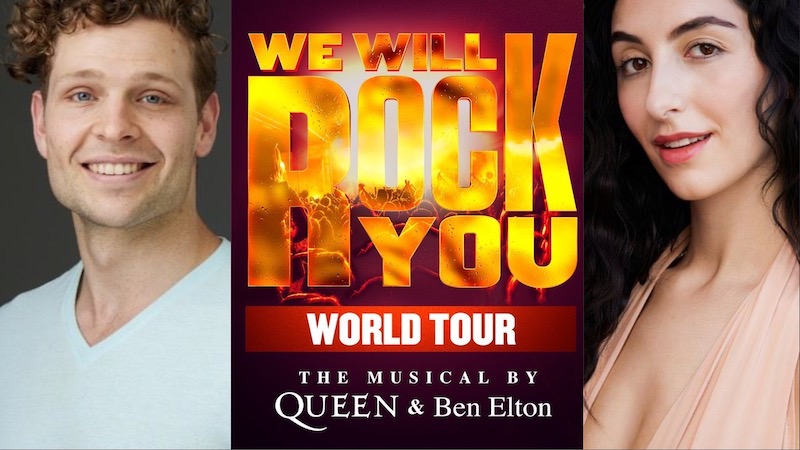 'We Will Rock You' World Tour Full Cast Announced
GMG Productions has just announced the cast of the international touring production of We Will Rock You.
This brand new production will be making its world premiere in Manila this October. The principal cast features Nicolette Fernandes as Scaramouche, Stuart Brown as Galileo, Londiwe Dhlomo as Killer Queen, Craig Urbani as Khashoggi, Tiaan Rautenbach as Buddy, Richard Gau as Brit, and Danelle Cronje as Oz.
Joining them as members of the ensemble are Kenneth Meyer, AllenChambers, Siya Makakane, Nadine Grobbelaar, Ashleigh Butcher, RobynIvey, Tannah Levick, Tania Mteto, Adrienne Theron, Claire Boswell, NathanMuller, Zolani Treasure Star Shangase, Tshepo Ncokoane, Michael Fullard,Thami Njoko, Sibusiso Mxosana, Kent Jeycocke, Dirk Joubert, Alexandra Girad and Hannah Marshall.
"The production has assembled a new generation of performers to step into these incredible roles," shares Carlos Candal GMG Productions CEO and We Will Rock You World tour Co-Producer. "We can't wait for them to bring new energy and a fresh take on these characters and their songs-iconic songs known the world over, and we're confident their talent will deliver in a big way."
The production is helmed by director-choreographer Nick Winston. Also in the international creative team are Ryan Lee-Seager (associate director and choreographer), Libby Watts (assistant choreographer), Tom Rogers (set designer), Ben Cracknel (lighting designer), Ben Harrison (sound designer), Douglas O'Connor (video designer), Sarah Mercade (costume designer), Mark Crossland (musical supervisor), and Megan Rarity (costume supervisor).
BPI credit cardholders can get up to 15% off on tickets to Wednesday, Thursday, Friday, and Sunday evening performances. BPI Credit Cardholders can take advantage of the following offers: 15% discount for BPI Visa Signature Card, 10% discount for BPI Platinum Rewards Mastercard and BPI Amore Platinum Cashback Card, 5% discount for BPI eCredit Mastercard, BPIBlue Mastercard, Petron-BPIMastercard, BPIEdge Mastercard, BPIAmore Cashback Card, BPI Gold Mastercard, and BPICorporate Mastercard. Promo period is until October 26.
The show will run from October 27 to November 20, 2022, with shows from Tuesdays to Fridays at 8:00pm and Saturdays and Sundays at 1:00 pm and 7:00pm, at the new Samsung Performing Arts Theatre in Circuit Makati. Tickets are now on sale at Ticketworld.
Comments