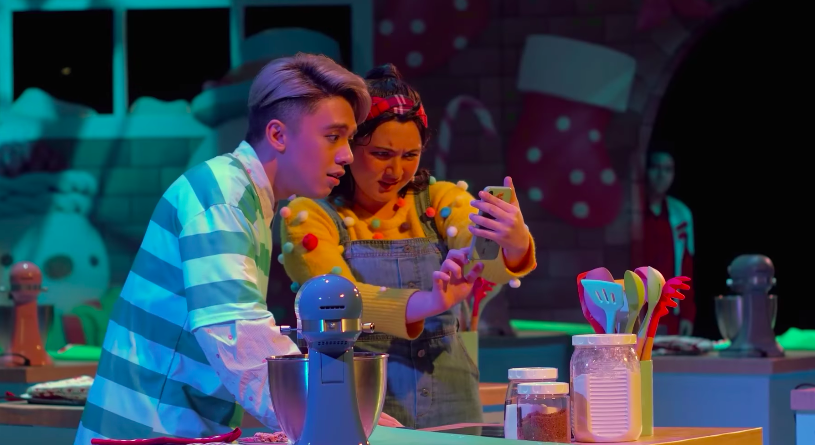 WATCH: REP's Musical 'The Great Christmas Cookie Bake Off' Teaser is Online
As previously reported, Repertory Philippines will be streaming their production of Rick Hip-Flores' The Great Christmas Cookie Bake-off starting this November.
Reality baking competition meets the time-honored tradition of Christmas cookies in this upcoming musical production. Follow eight young chefs, played by Jillian Ita-as, Jep Go, Becca Coates, Luigi Quesada, Rachel Coates, Justine Narciso, Tim Pavino, and Steven Hotchkiss, as they learn what really makes for a winning Christmas recipe.
Also featured in the cast are Arnel Carrion as Gabe's Dad/ Michael Holmes, Hans Eckstein as Larry the host, Carla Guevara Laforteza as Mrs. Santos/ Isabel Guevara/ Grandma, and Jamie Wilson as Del-Ray.
The production is directed by Joy Virata. She is joined by Cara Barredo (Assistant Director, Vocal Coach), Deana Aquino (Choreographer), Bonsai Cielo (Costume Designer), Ed Lacson Jr. (Set Designer), John Batalla (Lighting Designer), Al Estrella (Graphic Designer), Johann Enriquez (Sound Designer), Myrene Santos (Hair and Make-up Artist), Ayam Eckstein (Production/ Company Manager), and Gidget Tolentino (Consultant).
The film director is Treb Monteras, with assistant film direction by Bombi Plata, and production management by Kaye Sanchez.
The production will be streaming from November 12 to December 12 via Broadway on Demand. Each ticket (P700 regular, P1000 family/household) gives 24-hour access to the musical, which can be accessed via computer or mobile device through a web browser or via tablet or smartphone through the Broadway On Demand app on App Store and Google Play. Broadway On Demand is also available on AppleTV and Roku.
You can watch the teaser trailer below:
Comments