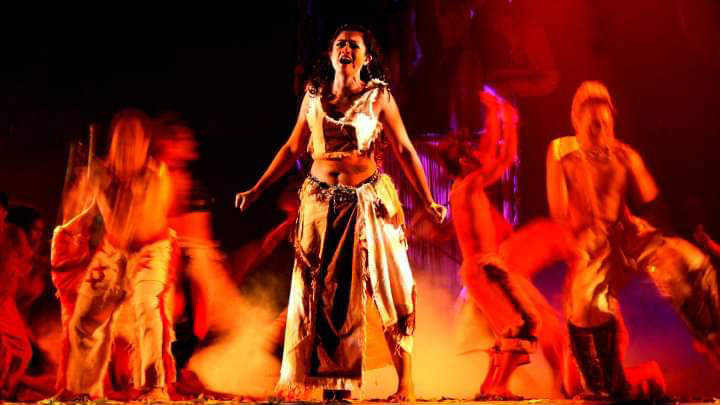 WATCH: "Orosman at Zafira" by Dulaang UP is Streaming Online!
Dulaang UP's 2011 staging of Francisco Balagtas' Orosman at Zafira at the SM Mall of Asia CenterStage Theater is now available online!
The production first ran at the Wilfrido Ma. Guerrero Theater of UP Diliman in 2008 and was re-staged at the same venue in 2010. After the 2011 run, it was staged again in 2012 at the National Theater Festival in CCP's Little Theater.
Orosman at Zafira is a story on the struggle for power of three kingdoms: Marueccos, Tedenst and Duquela. It begins with Zelima, daughter of Ben-asar, Right Vizier of Boulasem, the Pacha of Tedenst. She sings of about Mahamud, Sultan of the entire realm who comes from the Marruecos, and his call for a feast. All the Pachas of the realm have been invited, including
Boulasem and Zelim, the Pacha of Duquela. Boulasem suspects that Mahamud secretly plans to kill all the Pachas to gain absolute power. His paranaoia leads him to order the murder of Mahamud during the feast. This results in an unending cycle of war, murder and treachery.
Gulnara, lover of Sultan Mahamud, and Zafira, orphaned daughter of the Sultan, begin the first war. Lust for power causes to the war to drag on. Boulasem's son, Abdalap, murders his own father to inherit the throne. He also threatens to put his brother Orosman to death so that he will be free to marry Orosman's lover Zafira. Many more lives are sacrificed all because of the greed for power. Will it ever end?
The cast features Jay Gonzaga as Orosman, Maita Ponce (alternating with Delphine Buencamino) as Zafira, Roeder Camanag as Abdalap, Jean Judith Javier as Gulnara, Red Concepcion as Aldervesin, Nazer Salcedo as Boulasem, Tao Aves as Zelima, Acey Aguilar (alternating with Kevin Concepcion) as Zelim, Felipe Ronnie Martinez as Ben-Azar, and Neil Tolentino as Mahamud.
They are joined by ensemble members Mac Amarante, Jacqui Amper, Nico Arguelles, Rhan Baldago, Elora Españo, Celine Fernando, Al Garcia, Gry Gimena, Nick Guila, Cacai Hernandez, Jeff Hernandez, Ji-ann Lachica, Nicolo Magno, Merdin Mojica, Marvin Olaes, Vincent Pajara, Ross Pesigan, Katte Sabate, Sarah Salazar, China Tapia, Stephen Viñas, and Marvin Wynant.
The production is directed by Dexter M. Santos (who also serves as choreographer), with music and musical direction by Carol Bello. Other members of the creative team include Anril Tiatco, Pat Valera, and Katte Sabate (dramaturgy and additional text), John Batalla (lighting design), Lao Rodriguez (accessories design), Ohm David (technical direction), Irish Pangilinan (assistant musical direction), Mara Paulina Marasigan (assistant direction), and Via Antonio (associate choreography).
Presented by Bit by Bit Company, the broadcast of this production is for the benefit of "KALingain Ang Kapwa Fund", a fundraising campaign by the UP Diliman College of Arts and Letters and the CAL Student Council for the CAL workers (janitors, security guards, Faculty Center construction workers and photocopy operator). The campaign will also provide supplies for the UP dormers and for the medical assistance of Mrs. Rosana Pariñas, the wife of UP Dept. of European Languages staff Felix Pariñas.
You can donate by clicking HERE: https://ticket2me.net/e/6519
You can watch the show below.
Comments