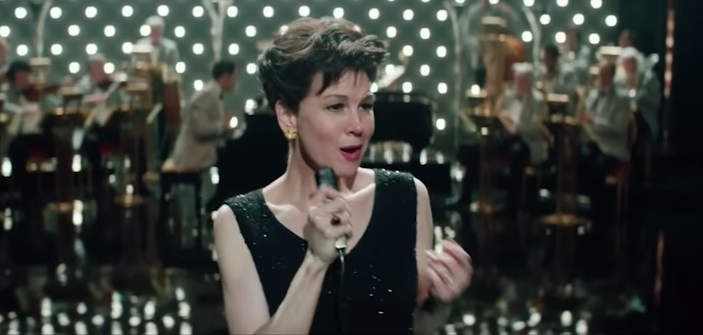 WATCH: Judy Garland Biopic Musical's New Trailer
A new trailer for "Judy", the Judy Garland biopic starring Renée Zellweger, has just been released.
The film is set in the late 60's when Garland arrives in London for a run of sell-out concerts. The screenplay is written by Tom Edge, based on the 2012 Tony nominated play "End of the Rainbow" by Peter Quilter. It is directed by Tony nominee Rupert Goold (Ink).
In the new trailer, we can see Zellweger sing "The Trolley Song", "Come Rain or Come Shine", and "Somewhere Over the Rainbow", as she struggles with addiction and being away from her children, among others.
Other cast members include Rufus Sewell (Sidney Luft), Michael Gambon (Bernard Delfont), Finn Wittrock (Mickey Deans), Jessie Buckley (Rosalyn Wilder), Bella Ramsey (Lorna Luft), and Gemma-Leah Devereux (Liza Minnelli).
"Judy" is set to be released in US cinemas on September 27.
You can watch a video of the trailer below.
Comments