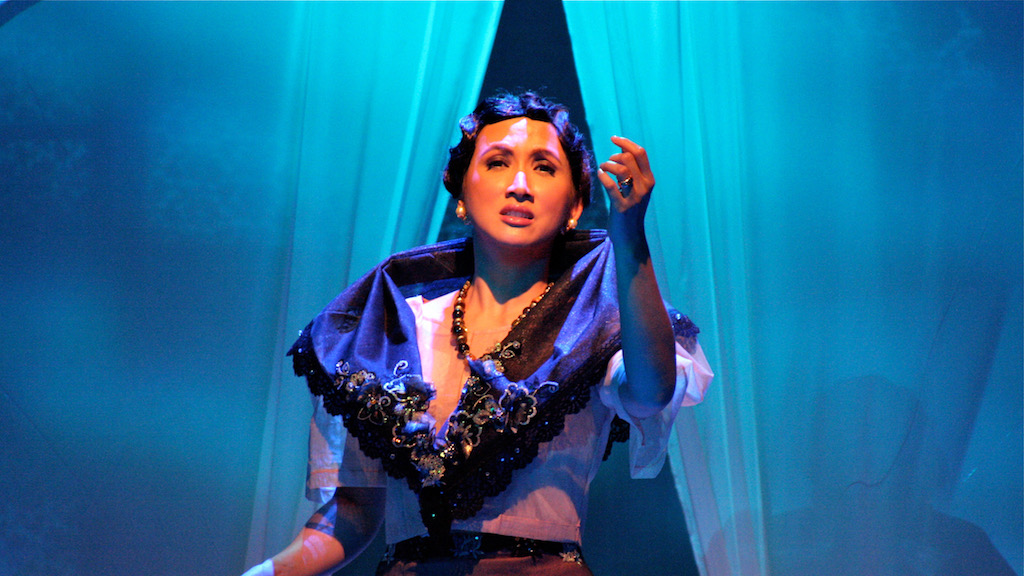 WATCH: Dulaang UP's "Atang" Now Streaming Online
Dulaang UP's 2008 production of Atang, written by Floy Quintos, is now available online!
The show was produced for the company's 33rd season in 2008 and was directed by Alexander Cortez with musical direction by Von de Guzman. The show was revived in 2009 with the same cast.
The play explores the life of Atang Dela Rama, the legendary superstar of Zarzuela, Bodabil, and film. The show is billed as a "play with music" since it features many of the songs that Dela Rama popularized during her illustrious career.
The lead role of Atang is played by Frances Makil-Ignacio (alternating with Shamaine Centenera-Buencamino) while the role of Gia Almonte is played by Ayen Munji-Laurel (alternating with Kalila Aguilos). Bituin Escalante also appears as Katy dela Cruz. The cast also features Teroy Guzman, Mitoy Sta. Ana, Ricky Ibe, JC Santos, Paola Muñoz, William Manzano, Hazel Maranan, Arkel Mendoza, Meynard Peñalosa, Jerson Guiwa, Greg De Leon, Jacinta Remulla, Martha Sta. Barbara, Gelo Pascual, Sandino Martin, Charley Magalit, Janine Santos, Valerie Galvez, adn Roxy Aldiosa.
Other members of the creative team include Dexter M. Santos (Choreography), Anril Tiatco (Dramaturg), Tuxqs Rutaquio (Scenic & Costume Design), Eric Pineda (Costume Design), Luther Gumia (Lights Design), Cholo C. Gino (Choral Master & Conductor), Winter David (Video Design), Arkel Mendoza (Sound Design), Voltaire De Jesus (Sound Engineer) Paulo Santillan (Graphic Design), Jojit Lorenzo (Photography), Carlo Pagunaling (Production Manager), Raymond Vergara (Stage Manager), and Franco Laurel (Performance Photos.)
Atang is the second of Dulaang UP's trilogy of online releases with the themes Persistence, Potential, and Power, following the release of Adarna.
Previous productions streamed were Ang Nawalang Kapatid, Fathers & Sons, The Kundiman Party, Ang Bagong Cristo, and Orosman at Zafira. All are still available on the company's YouTube Channel while Orosman at Zafira can be watched HERE.
The broadcast of this production is for the benefit of "KALingain Ang Kapwa Fund", a fundraising campaign by the UP Diliman College of Arts and Letters and the CAL Student Council for the CAL workers (janitors, security guards, Faculty Center construction workers and photocopy operator).
You can donate by clicking HERE.
Enjoy the full show below:
Comments