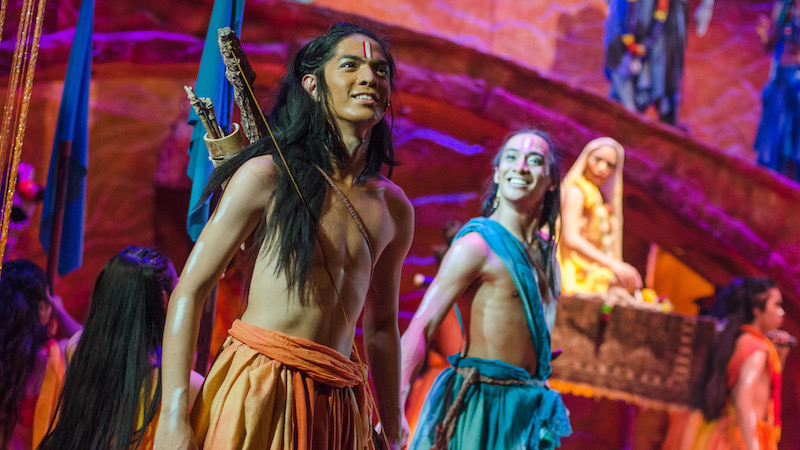 WATCH: Dulaang UP's "Ang Nawalang Kapatid" is Available for Streaming
Dulaang UP's Ang Nawalang Kapatid, a musical adapted from the Indian epic The Mahabharata, is now available for streaming on YouTube!
Featuring what was an all-student cast, the musical was first staged in February 2014 at the Wilfrido Ma. Guerrero Theater of UP Diliman. It had a succeeding rerun on June of that same year due to popular demand.
The cast includes Jules Dela Paz (Vyasa), Ross Pesigan (Karna), Jon Abella (Yudistira), Stephen Viñas (Bhima), Lance Reblando (Arjuna), Teetin Villanueva (Draupadi), Mark Dalacat (Haring Pandu), Ronah Rostata (Reyna Kunti), Marvin Olaes (Haring Dritarastra), Chase Salazar (Reyna Ghandari), Vincent Pajara (Duryodhana), Gabo Tolentino (Shakuni), Al Bernard Garcia (Drona), John Paul Basco (Krishna), Nico Arguelles (Ganesha), Diane Formoso (Kali), Jeffrey Hernandez (Hanuman), and the Dulaang UP Ensemble.
The show is written by Floy Quintos (book and lyrics), with music by Ceejay Javier. It is directed by Dexter M. Santos.
Also in the creative team are Gino Gonzales (costume design), John Batalla (lighting design), Ohm David (set design and technical direction), Louise Ybañez (musical arrangement), Krina Cayabyab (vocal direction), Dexter M. Santos, Al Bernard Garcia, Jeffrey Hernandez, Stephen Viñas, and Vincent Pajara (choreography), Meliton Roxas Jr. (technical direction), and Jeffrey Hernandez and Teetin Villanueva (dramaturgy).
You can watch the entire musical in the video below or click HERE.
Comments