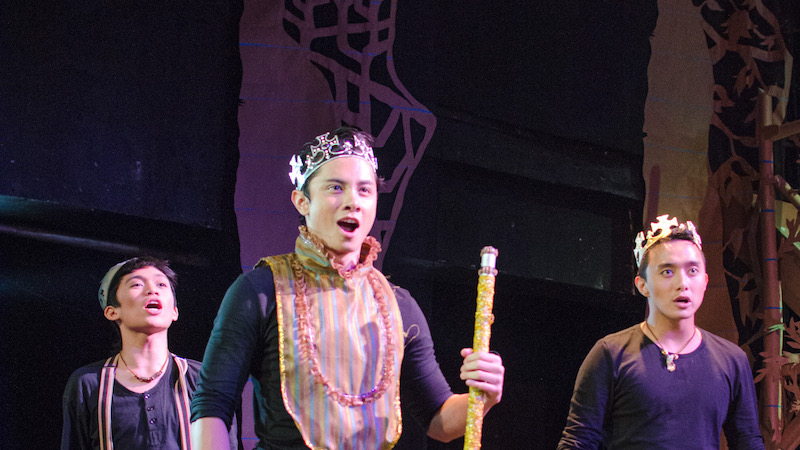 WATCH: Dulaang UP's "Adarna" Now Streaming Online
Dulaang UP's 2013 production of Vlad Gonzales' Adarna is now available online!
The production ran in 2013  at the University of the Philippines' Wilfrido Ma. Guerrero Theater as part of Dulaang UP's 38th season.
Adarna is based on the corrido, a narrative song or poetry form, that tells the tale of an epic quest undergone by three princes in search of the mythical adarna bird believed to be the cure for their ailing father, the king of Berbanya. Don Juan, the youngest prince, is the hero of the piece who goes on adventures to magical realms, battles mythical creatures, receives counsel from wise men, and wins the love of beautiful princesses. 
The production employs a combination of shadow play, puppetry, and light design to show the fantastical elements of the story. The titular adarna bird is portrayed by seven actresses/singers to represent the bird's seven colors.
The cast features Roeder Camañag, JC Santos, Paul Cedric Juan, Jonathan Abella, Stephen Viñas, Vincent Pajara, Fitz Bitana, Roco Sanchez, Rence Aviles, Lance Reblando, Teetin Villanueva, Charlene Magalit, Ronah Rostata, Miriam Reyes, Marynor Madamesila, Maxine Ignacio, Natasha Cabrera, Sheryll Ceasico, Christian Dagsil, Earle Figuracion, Erika Estacio, Patricia Gascon, Cheska Cartativo, Fatima Cadiz, Christine Vinarao, Dean Ysagun, Mikko Angeles, Gabriel Tolentino, Jessette Namin, Liway Gabo, Patricia Balboa, Pau Benitez, Ralph Oliva, Rose Camacho, Ruzinibelle Narciso, Chase Salazar, Ivy Baggao, and Charm Aranton.
Adarna is adapted for the stage by Vlad Gonzales and the production is directed by José Estrella. Other members of the creative team include Vanessa Banta & Bryan Viray (dramaturgy,) Lex Marcos (set and lights design), Don Salubayba (puppetry and graphic design), Brenda Fajardo (costume design), Jeff Hernandez (music and musical direction), Tess Jamias (movement), J Victor Villareal (sound design), Carlo Pagunaling (associate costume design), and Stephen Viñas (assistant for movement.)
Adarna will be the first of Dulaang UP's trilogy of online releases with the themes Persistence, Potential, and Power. 
Previous productions streamed were Ang Nawalang Kapatid, Fathers & Sons, The Kundiman Party, Ang Bagong Cristo, and Orosman at Zafira. All are still available on the company's YouTube Channel while Orosman at Zafira can be watched HERE.
The broadcast of this production is for the benefit of "KALingain Ang Kapwa Fund", a fundraising campaign by the UP Diliman College of Arts and Letters and the CAL Student Council for the CAL workers (janitors, security guards, Faculty Center construction workers and photocopy operator).
You can donate by clicking HERE.
Enjoy the full show below:
Comments