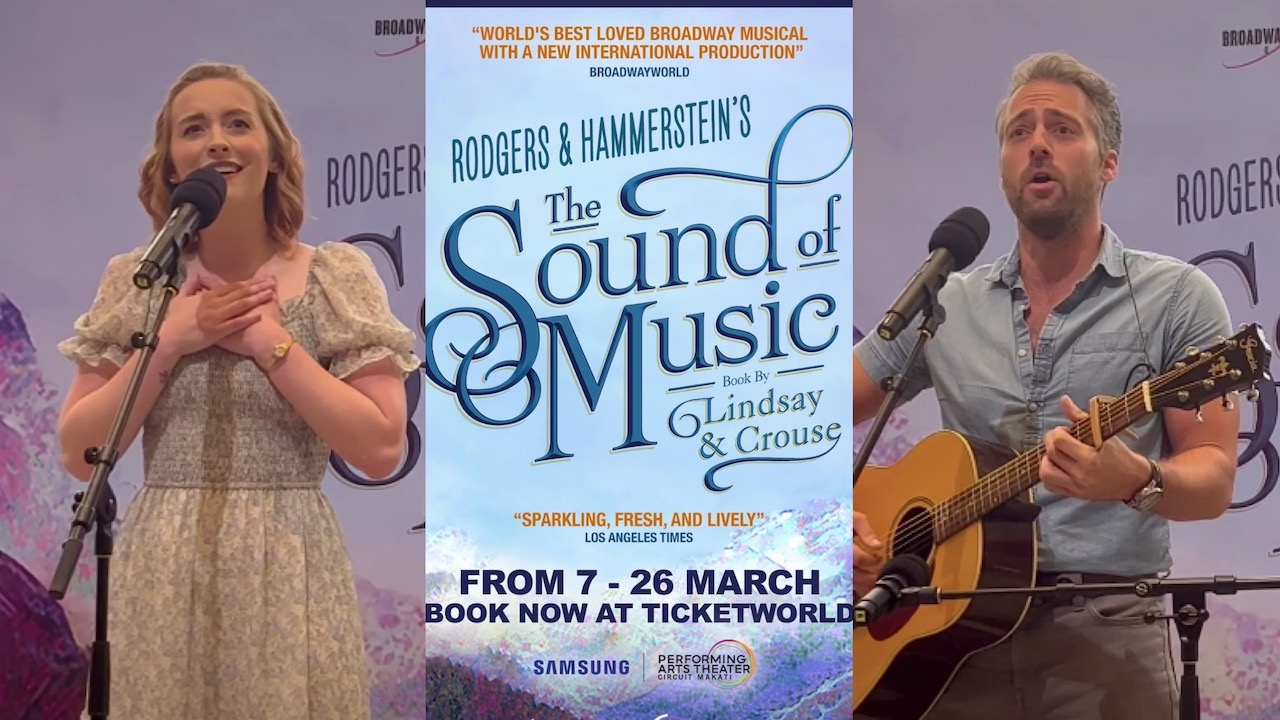 WATCH: Cast of 'The Sound of Music' Performs 'Edelweiss', 'Climb Ev'ry Mountain' and More
Rodgers and Hammerstein's The Sound of Music is coming back to Manila this March, this time, produced by the Broadway International Group and Broadway Asia, in association with GMG Productions.

"It's quite exciting because [the show's original director] Jack O'Brien, who is truly one of the great Broadway directors, has reimagined the show," says Broadway International Group and Broadway Asia co-founder, Marc Routh. "He has been able to really dig deep into the heart of the show and find a lot of the humanity, a lot of the honesty, and the integrity of this really beautiful musical." 
"It has all the great songs, all the great moments, it has beautiful scenery, costumes, and lighting by a really top group of designers, and it has a magnificent cast."
 
The cast is led by Jill-Christine Wiley, who plays Maria Rainer, Trevor Martin, who plays Captain von Trapp, and Lauren Kidwell, who plays Mother Abbess. Both Christine-Wiley (who recently played her 500th performance as Maria) and Lauren Kidwell played their respective roles in the recently concluded North American Tour.
Still Political

The Sound of Music follows the true story of Maria, the fun-loving governess who changed the lives of the widowed Captain von Trapp and his seven children by reintroducing them to music. The show culminates with the family's flight across the Austrian mountains as tensions rise prior to the outbreak of WWII.

When asked whether the Anti-Nazi political undertone is pronounced in this production, Martin says, it certainly is. "There's no way to get around it. It's a very real thing that happened to these real people– Georg von Trapp was a real person, so was Maria Rainer, and obviously these situations really did happen. There are some parts that are brought into the theatrical realm a little bit more in the show, but that context is still there. The symbols are there on stage as well, the same way that they would have in that time period, and you have these real people reacting to those real symbols, to that real authoritarian tyrannical government that's forcing them out of their home." 
He adds, "At the end of the day, it's a story about refugees having to leave their home, leave their safety, and particularly for Georg von Trapp, he has all these kids. It's one thing if it's just you on your own, fighting against something, but the fact that you have children, a new wife, all of these on the table that are real to you that you're having to leave and risk for them. It's one thing to risk just your own safety but to risk your children's."
"The last 30 minutes or so really feel like this brand new show that really leans into it and that makes me very proud to be a part of it because I feel like that is an extremely important subject to talk about, whether it be from the 1940's or today." 
Timeless Classic

The Sound of Music will be turning 65 years old next year. How has the show continued to resonate with audiences today? Routh says, "At the heart of it of course is the music. It is just great, great music. The variety of music, from the songs of the children, to The Sound of Music, to Climb Ev'ry Mountain, to Edelweiss, it's just a great, great score. And then on top of that, you have a very accessible story that really is universal and is something that I think we all can relate to."

"It's a story about self-discovery, a story about a really deep, romantic love at the heart of it, and also about how they supported these children who are growing up in a harsh environment and giving them love and doing that through the medium of song which is such a wonderful, wonderful methodology. It's very theatrical. I think that's one of the reasons why it's such a successful musical, because it uses the art form of music to basically unlock the story."

Kidwell shares, "I think if you love music, you should come. I think if you're somebody who has seen the movie, you should come. I think if you're somebody who hasn't seen the movie, who has no idea what The Sound of Music is, you should come, more than anything because the story will speak to you. Because there's a theme, there's an age group, there's a demographic, there's a political theme that can touch anybody for any number of reasons."

She further adds, "If you think you know The Sound of Music, if you think you know what to expect and you can just kind of like sit back and listen to the great songs, it has all of that but it also sets you at the edge of your seat. I think there's so much surprise and expectations that get blown out of the water when they go see our show in the best way possible."

"People see our show and they're like, 'Oh I thought I knew The Sound of Music, but I guess I see it in a completely different way now.' And that's something that we strive for in this production."

The Sound of Music will run from March 7-26 at the Samsung Performing Arts Theater of Circuit Makati. Tickets are available on Ticketworld.

You can watch Jill-Christine Wiley, Trevor Martin,and Lauren Kidwell perform The Sound of Music, Edelweiss, and Climb Ev'ry Mountain in the video below.
Comments