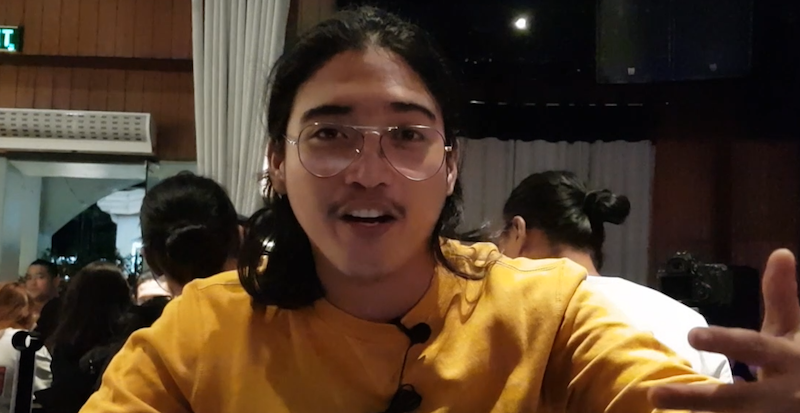 WATCH: A Quick Minute with Jon Abella
Jon Abella will be reprising his role as Jules Bartolome in the upcoming rerun of Dekada '70 at Areté. The show will run from February 21-March 8, 2020.
Abella was last seen as an ensemble member in Himala: Isang Musikal, as Toto in Mula sa Buwan, and as Donnie in Eto na! Musikal nAPO!. Get to know a little more about him in our Quick Minute feature. You can watch the condensed and edited video below.
I'm a big fan of…
Diablo.
Hardest thing about doing theater?

Staying in theater.
Biggest play or musical influence?
Orosman at Zafira. It was 2010. It was my first production ever. First na napanood kong play also.
If you weren't in theater, what would you be?
Before ako kasi mag-theater, pre-med ako. I took nursing in FEU NRMF.
What got you into theater?
My mom got me into theater.
Best advice you've ever gotten.
You are enough.
First Stage Kiss.
Dulaang Lab. His name is Rence Aviles. 2 batches lower sa akin. Yes, my first stage kiss, lalaki siya. Second stage kiss ko, lalaki pa rin. Third, lalaki pa rin. Fourth, lalaki pa rin.
Dream Role!
Quasimodo!
First show that made you cry.
Cyrano: Isang Sarsuwela. Cyrano: Isang Sarsuwela pa 'nun before siya naging Mula sa Buwan. And lo and behold, I was part of it na 'nung 2016.
Hardest scene or song you've ever performed.
There's a scene in Dekada '70. Willy, played by a very good friend, Nicco Manalo, died. I love Nicco. I look up to him. So even just the thought of losing a friend, it actually transcended the scene. So it was a really hard scene kasi I had to stay true and not be selfish to let Jules feel it, not Jon.
Comments