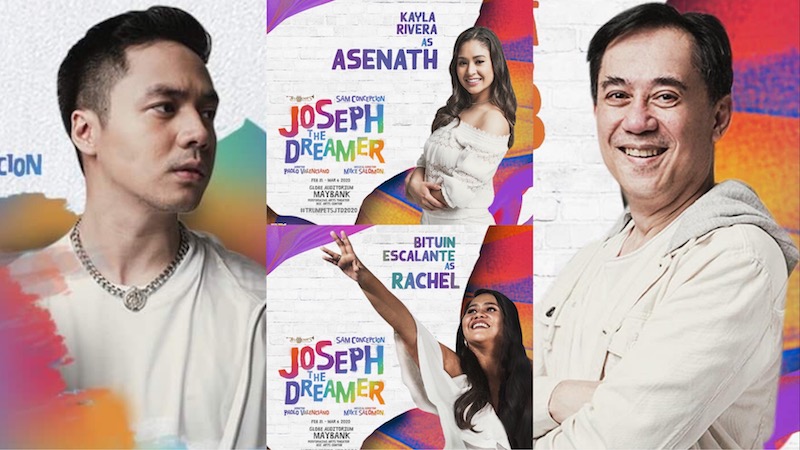 FIRST LOOK: "Joseph the Dreamer" Cast Starring Sam Concepcion Perform Excerpts from the Musical
Joseph the Dreamer, which first opened in Cebu in 1989, is set to be re-staged at the Maybank Performing Arts Theater this February 21-March 7 as a reimagined production.
Audie Gemora, the original Joseph, said that one of the biggest challenges was getting an actor who could play the titular role. Besides Gemora, the only people who have played the role were Gary Valenciano in the 1999 production, and Franco Laurel and Alvin de la Peña in the 2000's.

"This is a very difficult part to fill. It is a triple threat role, meaning to say kailangan marunong ka umarte, kailangan magaling ka mag-drama at mag-comedy, magaling ka sumayaw, at magaling ka kumanta, which is a really tall order. Lo and behold, he grew up, and he's the right age, and so we found Sam Concepcion."

Concepcion's last musical theater production was in 2011, where he played the titular role in REP and Stages' Peter Pan. When asked what about this show made him decide to come back,
"There are many reasons. The music is beautiful for one, and with Myke Salomon [as musical director] on board, doon pa lang, kampante na ako sa mangyayari. A huge part of it also is direk [Paolo Valenciano] because if he's doing it, then I know we're in good hands."

He adds, "It's a project that's very hard to say no to. How many people can say they played Joseph, a very demanding role, in singing, in acting, and in dancing. This show is also very dance heavy, and it's a challenge that I wanted to take on."

What changes can audiences expect? Nelsito Gomez, who is the production's Associate Director, says, "It is 2020. We still wanted to retain the heart of the 80's production as much as possible, but we knew that we had to make some changes for 2020. Things are different now, and theater does not live in a bubble. It has to transform. It has to move. It has to be valid now and move people now."
"Many hands have helped us with the script, [Luna Inocian], [Jaime del Mundo]," adds Gomez. "We were constantly going back and forth. Add this scene, take this out, put this line in, I mean, it's wonderful working in an original production because you have that freedom."
Paolo Valenciano, a concert director and son of Gary Valenciano, will be making his theatrical debut. He made sure that the show was more politically correct, and that women were added as principal characters. "There were hardly any women in the past, puro koro lang," shares Gemora. "Ang ginawa niya ngayon, ang main narrator now, but I can't reveal what the character is, is a woman who begins from the beginning 'til the end."

Bituin Escalante, who was a member of the ensemble in the 1999 production, will be playing the role of Rachel, Jacob's wife and Joseph's mother, a role that was newly added for this production. The role of Asenath, Joseph's love interest, is also now a principal role, played by Kayla Rivera.
Finally, Gomez says that the story of Joseph is one of forgiveness. "That everybody has a fault, but we have a perfect God who will forgive us."
Also in the cast are Audie Gemora, who will now play Joseph's father, Jacob, Carlo Orosa as the Pharaoh, RJ Dela Fuente as Reuben, Carlos Canlas as Levi, Paul Anthony Valdez as Judah, Neo Rivera as Dan, Jim Ferrer as Napthali, Renz Bernardo as Gad, Edrei Tan as Asher, John Paul Fausto as Issachar, Joshua Ade Valenzola as Zebulun, Guido Gatmaytan as Benjamin, Aldo Vencilao as Potiphar, Alys Serdenia as Potiphar's wife, Elai Estrella as Mannaseh, Eli Luis as Mannaseh, Matthew Barbers as Simeon, and ensemble members Mitzi Lao, Jo Mari Logdat, Coleen Paz, Samantha Libao, and Kathleen Francisco. 
The artistic team also includes Mio Infante (scenographer), Dong Calingacion (lighting director), Rards Corpus (sound engineer), and A Team's Mike Arda (choreographer).
You can watch Sam Concepcion, Bituin Escalante, and the cast of Joseph the Dreamer perform excerpts from the show in the video below.
You can buy tickets
HERE
. 
Comments