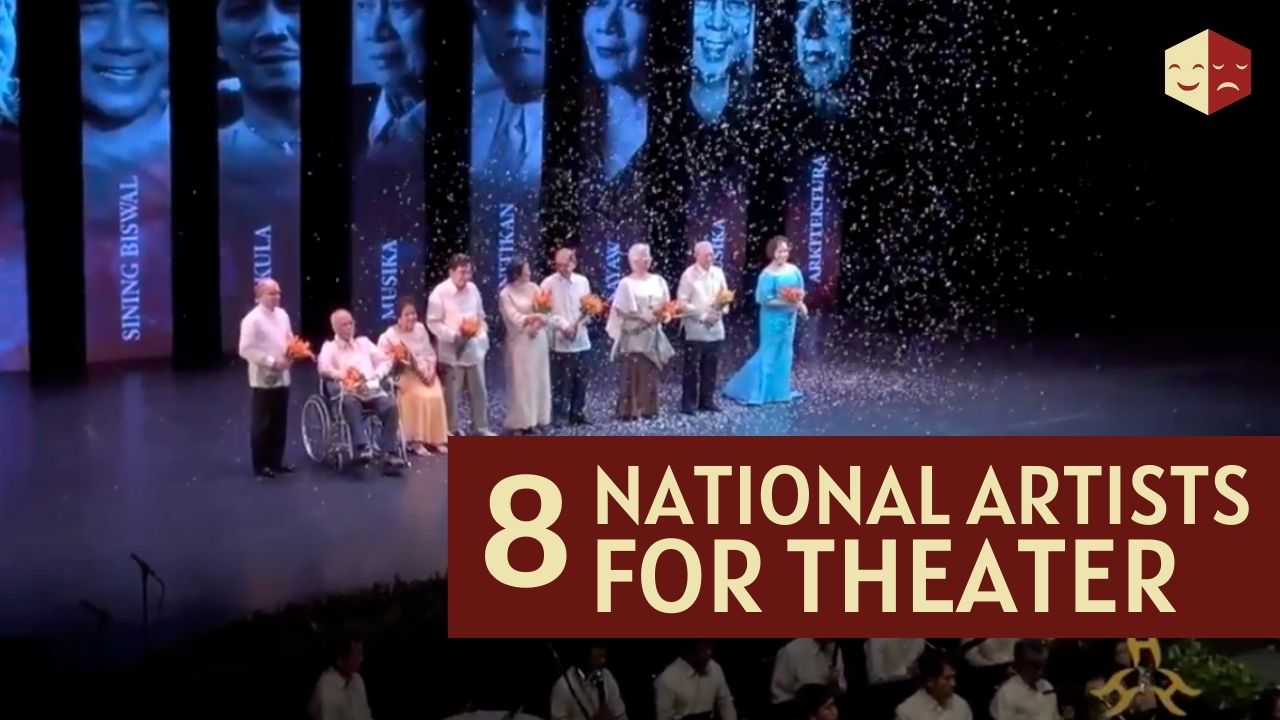 WATCH: 8 Philippine National Artists for Theater
Picture this: you're a theater artist who has spent your entire life honing your craft and doing all you can to push the boundaries of theater.
Then, you get a call from the National Commission for Culture and the Arts and the Cultural Center of the Philippines. You've just been named a National Artist, and you know you've made it! It's only the highest recognition given to Filipinos who have contributed significantly to the status of Philippine arts. And it bears the power of a presidential proclamation too!
So how does one earn this honor anyway? The recipient must fulfill the following criteria: 
They must be a Filipino citizen;

Their work must have contributed to nation-building;

Their distinctive style and pioneering works has made an impact on succeeding generations of artist;

There is excellence in the practice of their art form;

Their art form enriches artistic expression or style; and

Their work has gained prestigious national and international recognition
Did you know that only eight individuals have been named as National Artists for Theater since the award was first given in 1972? All of them were versatile artists, usually playing multiple roles and excelling at all of them!
You're watching TFM's Theater 101. I'm Camille and this is 8 Philippine National Artists for Theater.
In this video, we talk about the legacies of the eight people who have contributed significantly to the field of theater. We highlight their greatest achievements and major works so we can hopefully draw inspiration for our own art. 
1. Lamberto Vera Avellana
Named National Artist for Film in 1976, Lamberto Vera Avellana was also a prominent stage director. He graduated from the Ateneo in 1937 where he developed an interest in theater that would last a lifetime. In 1935, at the age of 20, he played Joan of Arc in one of the productions celebrating Ateneo's diamond jubilee. This production was directed by Fr. Henry Lee Irwin, SJ, and even at that young age, Avellana assisted the director while also playing the lead role.
Together with his wife, fellow National Artist for Theater Daisy Hontiveros Avellana, they put up the Barangay Theater Guild with 48 other colleagues including Leon Ma. Guerrero and Raul Manglapus. 
After years of directing plays, Avellana shifted his efforts to film, encouraged by Carlos P. Romulo, and in his six decade-career, Avellana directed more than 70! The most notable of these were Sakay, Anak Dalita, Kandelerong Pilak, Sergeant Hasan, Destination Vietnam, and The Evil Within.
2. Honorata "Atang" Marquez de la Rama-Hernandez 
Named National Artist in 1987, Atang de la Rama was a star of vaudeville in the 30s, or 'bodabil' in these parts. She is also known as the first Filipina actress and the Queen of the Kundiman and the Sarsuela.
A talented singer, she was known for her iconic rendition of Dalagang Bukid. A prolific performer, she not only sang at major theaters like Teatro Libertad and Teatro Zorilla but she also performed in cockpits and open plazas around the country. 
She was also a theatrical producer, writer, and talent manager.
Add to all these, she was also a champion of Filipino art forms, advocating for the dominance of the kundiman and the sarsuela on stage during the American Occupation. She even sought to bring these art forms to indigenous peoples like the Igorots, Aetas, and Mangyans. 
In her quest to bring Filipino culture to global audiences, she sang kundimans and other Filipino songs in concerts around the world from Hawaii, San Francisco, and New York City, to Hong Kong, Shanghai, and Tokyo. 
3. Wilfrido Maria Barredo Guerrero 
Named National Artist in 1997, Wilfrido Maria Barredo Guerrero is a director, playwright, and theater actor. He wrote 100 plays in his lifetime, 41 of which have been published. But his unpublished plays have still been staged or broadcast over the radio all over the country.
Some of these plays include: Half an Hour in a Convent, Wanted: A Chaperon, Forever, Condemned, Perhaps, In Unity, Deep in My Heart, Three Rats, Our Strange Ways, The Forsaken House, Frustrations.
He was the director of the UP Dramatic Club for 16 years and also founded and was artistic director of the UP Mobile Theater, the country's first "theater-on-wheels" where he pioneered the concept of theater campus tour. In 19 years, the club delivered more than 2,500 performances to various locations around the country. He made sure to stage plays that captured the Filipino sense of humor.
For his decades of service to the UP theater scene, the Dulaang UP theater was named after him in 1976.
And adding to his legacy, he was also a mentor to other Philippine theater legends such as Behn Cervantes, Celia Diaz-Laurel, Joy Virata, and Joonee Gamboa.
4. Rolando Santos Tinio 
Named National Artist in 1997, Rolando Santos Tinio is considered as a "Titan of Philippine Theater" for good reason! He was a poet, dramatist, director, actor, critic, set and costume designer, essayist, and educator during his lifetime.
While he graduated with a degree in Philosophy from UST, and an MFA Creating Writing with a focus on Poetry from the University of Iowa, his work at the Ateneo Experimental Theater pushed the boundaries of the form during his time.
He had a unique vision for all of his productions and he challenged the notion of the actor merely being one of the director's tools in shaping the stage. An example of his unorthodox take on the classics was a production of Oedipus Rex where the costumes were made of metal pipes to represent the industrialism of the 20th century. 
Did you know that Tinio pushed for the use of "Taglish" in Philippine poetry? This way, he brought a more authentic tone to poetry that appealed to the native, middle-class Filipino. 
He was also known for translating Western classics into Tagalog, bringing Sophocles, Shakespeare, Ibsen, Checkhov, Puccini, and Verdi to Filipino audiences, and advancing the Filipino language. He likewise helped establish Filipino language drama in the 70s. 
5. Daisy Pardo Hontiveros-Avellana 
Named National Artist in 1999, Daisy Hontiveros-Avellana was known as the "First Lady of Philippine Theater," having been in notable productions like Othello, Macbeth in Black, Casa de Bernarda Alba, and Tatarin. But she is really best remembered for her portrayal of Candida Marasigan from the stage and film versions of Nick Joaquin's classic Portrait of the Artist as a Filipino.
A versatile artist, she was a director, actor, and writer. Among her directorial credits were Diego Silang, and Walang Sugat. She helped elevate the Philippine theater scene for four decades: from the 30s to the 70s. She would stage and perform in breakthrough productions of classic Filipino and foreign plays and encourage the professionalization of Filipino theater. With her husband, fellow National Artist Lamberto Avellana, she paved the way for the popularization of the dramatic arts in the country, presenting plays even on radio and television. Talk about legacy.
6. Severino Tabat Montano 
Named National Artist in 2001, Severino Tabat Montano's extensive body of work includes 50 plays, 150 poems, and one novel. Aside from his writings, he was also a director, actor, and theater organizer. 
During his time as Dean of the Philippine Normal College, he founded the Arena Theater. Through this, he institutionalized "legitimate theater" in the Philippines with the aim of "bringing drama to the masses' ' and creating a national drama program that would serve the barrios of the Philippines, performing in barrios in 47 provinces around the country. 
He also set up a graduate program at the Philippine Normal College for the training of playwrights, directors, technicians, actors, and designers – really covering different aspects of theater production. 
Four of his plays became tour staples: The Love of Leonor Rivera, Parting at Calamba, The Ladies and the Senador, and Sabina. Other published works include My Morning Star, But Not My Sons Any Longer, Gabriela Silang, and The Merry Wives of Manila.
7. Salvador Floro Bernal 
Named National Artist in 2003, Salvador Bernal was a prolific theater designer, having worked on more than 300 productions in art, film, and music! If you watched a play between 1969 and 2011, it was probably designed by Salvador Bernal.
Never limited by the small budget of local productions, Bernal pioneered the creative use of native materials such as bamboo, abaca fiber, hemp twine, rattan chain links, and gauze cacha, giving each production a unique look. And that's why he's considered the Father of Philippine Theater Design.
Some of his works are Rajah Sulayman, Abaniko, La Traviata, Tomaneg at Aniway and Pagkahaba-haba man ng Prusisyon sa Simbahan din ang Tuloy (Much Ado About Nothing).
He set up the Philippine Association of Theatre Designers and Technicians, also known as Patdat, in 1995, which helped introduce and promote Philippine theater design to a global audience, while training the next generation of theater designers. 
8. Amelia Ramolete Lapeña-Bonifacio
Named National Artist in 2018, Amelia Lapeña Bonifacio is known as the 'Grand Dame of Southeast Asian Children's Theater'. She was a playwright, puppeteer, and educator, who founded the children's theater troupe, Teatrong Mulat ng Pilipinas, or Mulat Theater, the official theater company and puppetry troupe of the University of the Philippines.
She was the President of the International Association of Theatre for Children and Young People-Philippines and Union Internationale de la Marionnette-Philippines.
Fun fact: During the Marcos régime, Lapeña Bonifacio's theater company put on a production of Ang Paghuhukom, criticizing the dictatorship with the unfavorable portrayal of an "ape king of the jungle." Imelda Marcos happened to watch another production, Manok at Lawin, and not knowing about Ang Paghuhukom, the then first lady even asked the CCP to fund Lapeña Bonifacio's theater company! 
Among her most important works are Anim na Dulang Pilipino Para Sa Mga Bata, and a puppet play, Abadeja: Ang Ating Sinderella, based on a Visayan folktale. 
There you have it! These are the 8 National Artists of the Philippines for Theater. Inspired yet? Maybe you're already on your way to making history in the same way. So don't stop working on your craft and you can be a similar inspiration to the next generation of theater artists.
Over on TFM, we like giving you more of what you want. So hit that subscribe button and don't miss any theater-related content in and about the Philippines.
Got your own Philippine theater fun facts to share? Or maybe you've got an idea for a theater-related video yourself? Leave a comment and let us know what you want to see next!
You can watch the full video here:
Comments