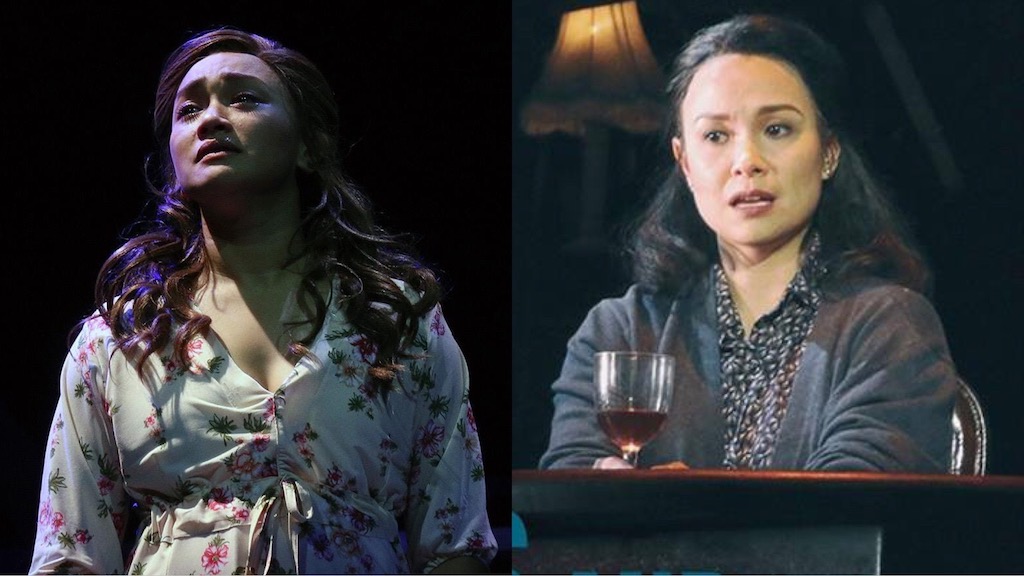 12 Musical Theater Songs for Moms
Happy Mother's Day!
Today, we celebrate the heroism and power of mothers everywhere as they devote their lives to making the world a safe and happy place for their children. Nothing can compare to a mother's protection and we are constantly shielded from the horrors of the world because of their immense love.
The mothers of musical theater are a diverse and fascinating bunch and many of their songs tackle the different facets of motherhood, many times uplifting but also occasionally tragic. And their musical numbers are often among the most memorable in a show, a testament to the importance of their characters in reinforcing the narrative.
We've gathered a dozen songs that explore the complexities of their journeys as they do the best that they can for their families while also trying to achieve their own dreams and ambitions. We've tried to choose songs that focus on different stages of motherhood from young women marvelling at their newborns to mothers watching over their little ones and elderly ladies watching their grown-up children pursue their own journeys into adulthood.
1. "The Story Goes On" from Baby the Musical

This song captures the complex emotions of a young woman on the cusp of motherhood. While overwhelmed by the enormous responsibility before her, she is also in awe of how her journey is one that countless generations of women have already taken. And she is proud to be part of that never-ending story.
And now I can see the chain extending
My child is next in a line that has no ending
And here am I feeling life that her child will feel
When I'm long gone
Yes, all that was is part of me
As I am part of what's to be
And thus it is, our story goes on
2. "Everything Changes" from Waitress

Jenna finds a ray of hope in her difficult life when her baby is born and this event gives her the courage and strength to take the necessary steps to build a better future for herself and her child. This song explores the indescribable hope that a newborn child brings even during the bleakest of times.
Today's a day like any other
But I'm changed, I am a mother, oh, in an instant
And who I was has disappeared
It doesn't matter, now you're here
So innocent
I was lost for you to find
And now I'm yours and you are mine
3. "Too Much for One Heart" from Miss Saigon

While "I'd Give My Life For You" might have been the obvious choice from this musical as far as rousing motherhood anthems go, I opted for another song that did not make the final cut of the original show. This song also explores the wonder and joy of bringing a child into the world and the empowering effect it has on a mother, who becomes all the more determined to build a good life for her family.
All alone in my arms I hold such beauty
I want time to stop right here
Make perfection last forever
In which I could disappear
4. "So Big / So Small" from Dear Evan Hansen

This song reaffirms Heidi Hansen's vow to always be around for her son when he needs her. No mother ever wants her child to be left alone and she will do everything she can to make them feel loved.
Your mom isn't going anywhere
Your mom is staying right here
Your mom isn't going anywhere
Your mom is staying right here
No matter what
I'll be here
5. "Not While I'm Around" from Sweeney Todd
This is one of those songs which would benefit from not understanding the context of the show, at least not for this list. Let's just pretend that this isn't coming from a show with a murderous baker in cahoots with a vengeful barber who bakes people into pies. The message of protection and care is still there along with a haunting melody. 
Nothing's gonna harm you
Not while I'm around
Nothing's gonna harm you
Not while I'm around
Demons'll charm you with a smile
For a while
But in time
Nothing's gonna harm you
While I'm around
6. "Mama Will Provide" from Once on This Island

Sung not just by a mortal mother but by the Goddess of the Earth, Asaka, herself, this upbeat song once again shows how mothers constantly guide their children in their journeys through life. Asaka provides protection and even practical tips to the young Ti Moune as she forges her own destiny. She may be a poor island girl but she's got a goddess on her side!
Walk with me, little girl
And I'll take you far
Round each bend, little friend
I'll be by your side
That's what a Mama's worth
To give her child the earth
And whatever you need
Mama will…Provide!!!
7. "There's Music in You" from Cinderella

Another instance of supernatural maternal protection, this song was sung by Cinderella's Fairy Godmother to encourage the young lady to find the strength to pursue her dreams. More than putting her in a dazzling ball gown, the Fairy Godmother made sure to show her young charge the way for her to make a better life for herself, through her own efforts.
Now you can go wherever you want to go
Now you can do whatever you want to do
Now you can be whatever you want to be
And love is a song you will sing your whole life through

8. "Children Will Listen" from Into the Woods

More motherly advice from the characters from different Fairy Tales. The Woods represent a cruel and complex world and every child will need to have good role models if they want to survive and thrive. Like real people, the characters of this musical are far from perfect but they try their best for themselves and for the children who are looking to them for guidance and support.
Guide them along the way,
Children will glisten
Children will look to you for which way to turn
To learn what to be
Careful before you say, listen to me.
Children will listen.
9. "Days and Days" from Fun Home

A darker entry in this list as it explores the life of a complicated family, full of twisted secrets and painful sacrifices. Mothers sometimes bear the burden of keeping up appearances for the sake of their family, even if it takes a terrible toll on them personally. But they do this so they can prevent their children from undue suffering.
Welcome to our house on Maple Avenue.
See how we polish and we shine.
We rearrange and realign.
Everything is balanced and serene.
Like chaos never happens if it's never seen.
10. "Rose's Turn" from Gypsy

Some mothers give everything for their children, so much that they abandon their own dreams for themselves. This can lead to some tension in the family, to say the least. And when Rose realizes that she has failed to achieve her ambitions through her children, she launches into a powerful song about showing the world that she is more than just a mother of stars, but a star in her own right.
Well, someone tell me, when is it my turn?
Don't I get a dream for myself?
Starting now it's gonna be my turn.
Gangway, world, get off of my runway!
Starting now I bat a thousand!
This time, boys, I'm taking the bows and
Everything's coming up Rose!
11. "Sunrise, Sunset" from Fiddler on the Roof

This haunting, bittersweet song is performed by both parents as they watch their children embark on a new chapter in their lives. Both Golde and Tevye realize how time has passed, how much has changed, and how they must learn to let their children make their own way in the world, hopefully bearing the lessons they learned from their parents.
Sunrise, sunset
Sunrise, sunset
Swiftly fly the years
One season following another
Laden with happiness and tears
12. "Fable" from The Light in the Piazza

This final entry is from a mother who finally learns to trust that her child will be able to face the world's harsh realities on her own. She spends most of the show trying to shield her child from the sorrows life but in doing so, she also hinders her daughter from experiencing life's joys and triumphs. But she realizes that everyone deserves love and should pursue if they are given such a precious chance.
If you find in the world
In the wide, wide world
That someone sees
That someone knows you
Love
Love
Love if you can, Oh, my Clara
Love if you can
And be loved
You can listen to the full playlist below.
Comments