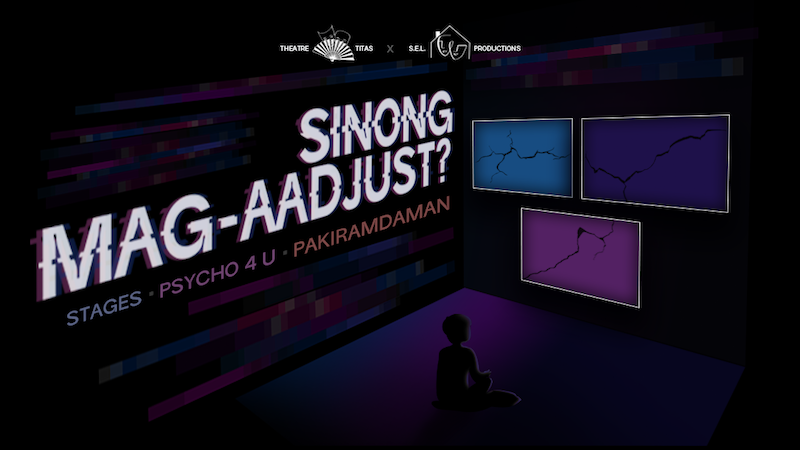 Watch 3 Online Plays in 'Sinong Mag-aadjust?'
Theatre Titas and S.E.L. Productions present Sinong Mag-aadjust?, a production that "can neither be placed under theater nor film completely", according to stage director and playwright, Juan Ekis. It takes full advantage of the social media platform and brings three short plays devised specifically to be performed and seen on screen.
STAGES is an examination of the duality of the grieving process from the eyes of both the bereaved and the deceased, written by Mickey Martinez and Michael Fuentes. Theatre Titas co-founder Cheese Mendez directs, with Samantha Co serving as assistant director. Starring Denise Castillo and Rhenwyn Gabalonzo, the story revolves around James and his attempt at moving on from the death of his wife, Angel. He struggles to get through the different stages of grief. Will James complete his journey or will he get stuck in a never-ending cycle of sadness?
PAKIRAMDAMAN is a video call rom-com gone wrong. Juan Ekis directs, with Katherine Jose serving as assistant director and playwright. Starring Patty Villacorta, Samantha Tan, Luke Vicente, and Jom Villanueva, a seemingly mundane hangout takes a turn for the worse when, in an attempt to comfort a friend foolishly in love, three friends play a bad joke and try to summon the guy who "ghosted" her. The seance goes wrong and they are left with more than a broken heart to fix.
PSYCHO 4 U is a comedy written by Ponce Mercado and directed by Luke Vicente. It takes audiences through a chikahan night with best friends Gabbie, Francesca, and Ellie, played by Kayla Natividad, Bea Areola, and Jubi Pelayo. The night gets more exciting as Ellie announces that she has a new boyfriend… or at least, that's what we think she said?
SINONG MAG-AADJUST? will be available for streaming on the Theatre Titas Facebook page until January 3, 2021.
You can watch the full production below.
Comments