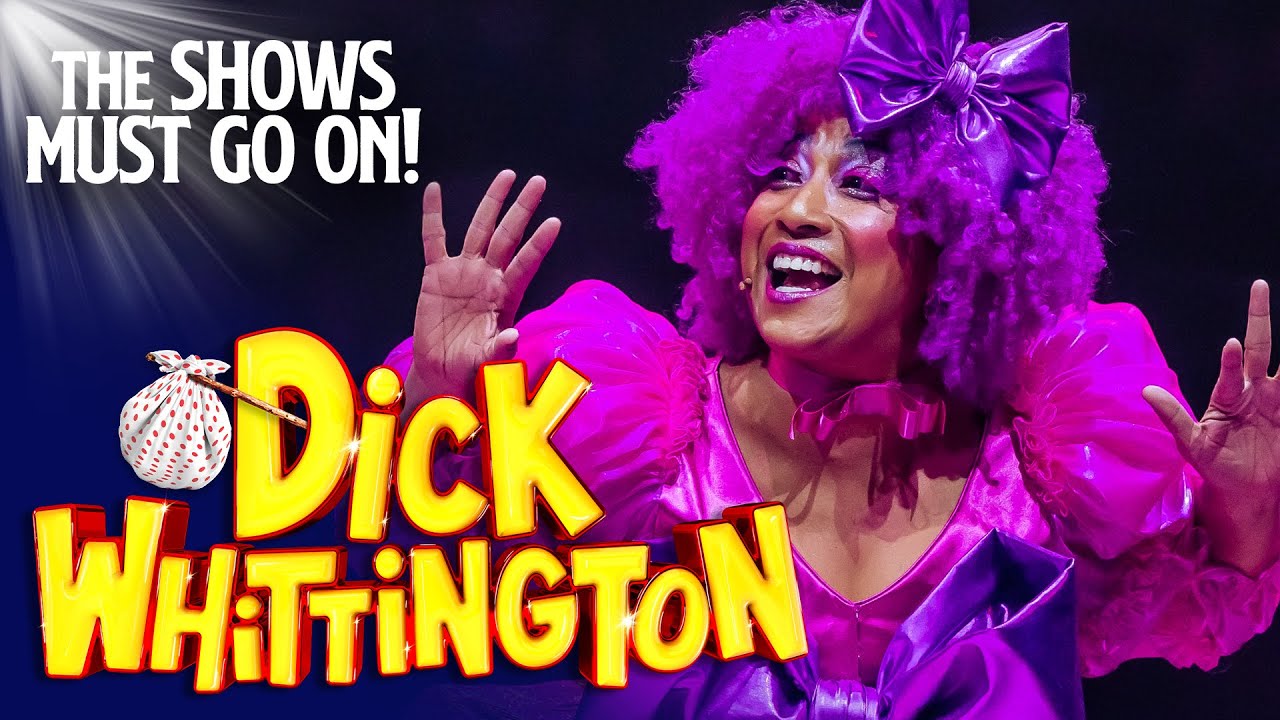 Now Streaming: National Theatre's 'Dick Whittington' Pantomime
National Theatre's Dick Whittington pantomime is the next filmed stage production to stream on The Shows Must Go On! YouTube channel.
Dick Whittington was filmed live on stage only last December 15, 2020 at the National Theatre before London entered Tier 3, and subsequently Tier 4, forcing theaters to shut down again. These new national Coronavirus measures sadly meant the production was compelled to close mid-way through its run, but the National Theatre very much hopes to reopen for live audiences with Dick Whittington in January 2021.
The show has been freshly updated for 2020 by playwrights Jude Christian and Cariad Lloyd. It is directed by Ned Bennett, with music by DJ Walde (composer, arranger, and music producer), set and costume design by Georgia Lowe, choreography by Dannielle 'Rhimes' Lecointe, music supervision by Marc Tritschler, music direction and additional composition and arrangements by Benjamin Kwasi Burrell, lighting design by Jessica Hung Han Yun, and sound design by Paul Arditti.
Also in the creative team are associate director Denzel Westley-Sanderson, associate set and prop designer Debbie Duru, associate costume designer Fiona Parker, and associate choreographer Jackie Kibuka.
The cast features Lawrence Hodgson-Mullings (Dick Whittington), Dickie Beau (Sarah), Amy Booth-Steel (Queen Rat), Melanie La Barrie (Bow Belles), Georgina Onuorah (Alice), Cleve September (Tom Kat), Leah St Luce (Understudy Tom Cat/Alice Fitzwarren), Laura Checkley (Mayor Pigeon / Captain P-Jim / PRMP), Khalid Daley (Understudy Dick Whittington), Jamie-Rose Monk (Understudy Bow Belles/Queen Rat), Rhys Taylor (Understudy Sarah Fitzwarren/Mayor Pigeon/Captain P-Jim/PRMP), Christopher Tendai (swing), and Beth Hinton-Lever, Travis Kerry, Jaye Marshall, Ken Nguyen, and Tinovimbanashe Sibanda as members of the ensemble.
Dick Whittington is recommended for ages 6+. It will be available to watch until December 28, 8am, Philippine time. Audiences are encouraged to make a donation to the National Theatre or to other theaters in the UK.
You can watch the full production below.
Comments