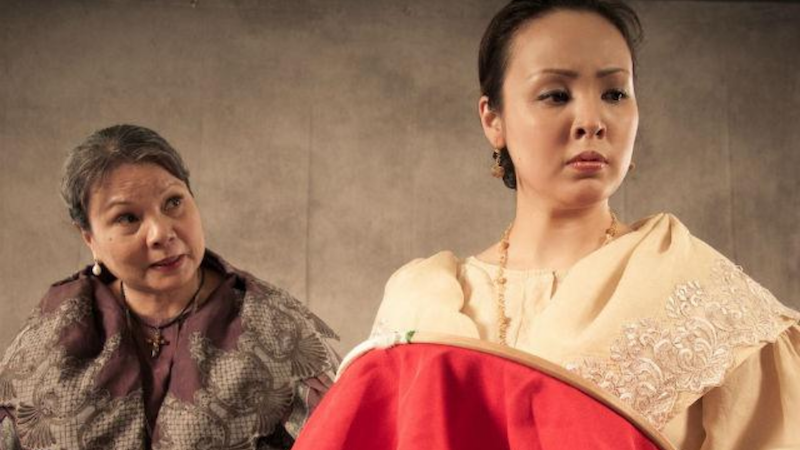 "Walang Sugat" Musical Now Streaming Online
Walang Sugat, the 1898 sarswela written by Severino Reyes and produced by Tanghalang Pilipino in 2012, is now streaming online through the Department of Foreign Affairs (DFA) website.
First performed in Teatro Libertad in 1902, Walang Sugat follows the forbidden love of Julia and Tenyong amidst the backdrop of the 1896 Philippine revolutionary movement against the Spaniards. The streaming cast features Cris Villonco (Julia), Noel Rayos (Tenyong), Lou Veloso (Tadeo), Noemi Manikan-Gomez (Juana), Jean Judith Javier (Monica), Red Nuestro (Lucas), Gino Ramirez (Miguel), Nar Cabico (Marcelo), Jelson Bay (Teban), and Joseph Perez (Pablito).
Arman Ferrer, Bodjie Pascua, Jennifer Villegas, and Jonathan Tadioan alternated as Tenyong, Tadeo, Monica, and Lucas respectively.
They are joined by Hazel Maranan, Kaye Garcia, Agnes Sarreal, Tara Cabaero, Regina De Vera, Rayna Vihuela Reyes, April Joy Iñigo, Doray Dayao, Gie Onida, Noe Morgado, Jers Guiwa, Rainbow Reyes, Jonathan Tadioan, Marco Viaña, Bunny Cadag, Ralph Mateo, and Remus Villanueva as members of the ensemble.
The show is directed by Carlos Siguon-Reyna, with music by Fulgencio Tolentino, Constancio de Guzman, and Mike Velarde. Also in the creative team are Nonoy Froilan (choreographer), Chino Toledo (musical director and additional music), Katsch Catoy (lighting designer and technical director), Ricardo Cruz (costume design), and Tuxqs Rutaquio (set designer), with additional lines by Dr. Nicanor Tiongson.
The production is available to stream until August 31, 2020. This caps off the virtual celebrations held by the DFA for "Buwan ng Pambansang Wika" (National Language Month) and "Buwan ng Kasaysayan" this August. You can watch the video below.
Comments