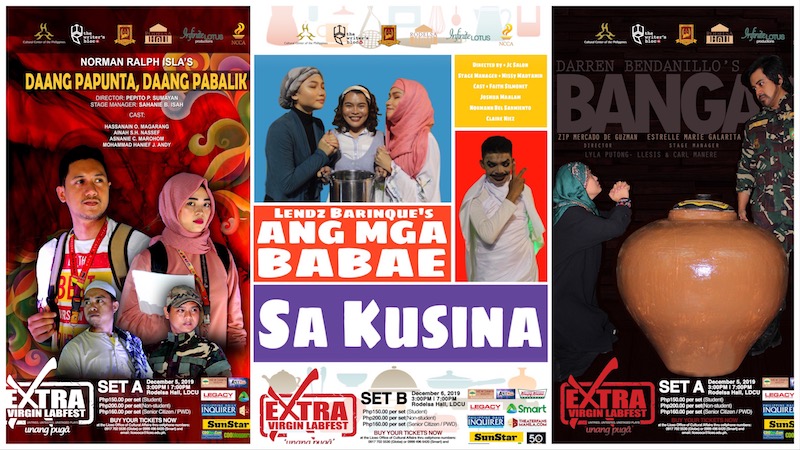 Virgin Labfest Goes to CDO this December!
The Virgin Labfest, the annual festival of unpublished, unstaged, untried, and untested works for the theater, is going to Cagayan de Oro this December.
Entitled "Extra Virgin Labfest" (EVLF), the festival not only intends to feature untested, untried and un-staged plays, but it also wants to test the vitality of playwriting in Mindanao, resolve the dearth of playwrights and plays written in the region, and give voice to Mindanao experiences and expressions of imagination, lore, and realities. Liceo de Cagayan University Office of Cultural Affairs Director Hobart Savior serves as the festival director.
"This [Extra Virgin LabFest] will sustain audience engagement as this festival will elevate theatre experience in a collaborative celebration that recognizes and harvests more actors, directors and theatre practitioners and enthusiasts," shares Savior.
In the past years, Savior has been building and strengthening the playwriting foundation in Mindanao through his Sulat Dula playwriting workshop series. This initiative takes place once every two years and selects aspiring Mindanao playwrights to improve on their craft. Five of this year's EVLF playwrights – Alferez, Isla, James, and Soriano – were former participants of Sulat Dula. With EVLF being planned as an annual theater festival in CDO, Savior hopes that the local scene would witness and recognize the vibrant talents in the arts and culture here. His production line, Infinite Lotus Productions, will spearhead more activities for this initiative. 
The festival will feature nine plays (chosen from 20 submitted manuscripts) curated in four days — Act of Contrition by Reil Benedict Obinque, Crystal Clear by Aldren Alferez, Ang Mga Babae sa Kusina by Mario Lendel Barinque, Daang Papunta, Daang Pabalik by Norman Isla, Pultahan by Angelo Dabbay, Banga by Darren Bendanillo, Si Balaw ug ang Lablab sa Palawpaw by Gil Nambatac, Unsa'y Koneksyon sa Iring? by Karlwinn Paitan, and Bulan by Jim Raborar.
It will also feature three one-act plays for staged readings– Birhen by Abigail James, Hiyas sa Putikan by Linda Manalo, and Reyna by Tat Soriano.
The directors include Josey Rex Soriano, Kenneth Sabijon, Zip Mercado de Guzman, Felimon Blanco, Pepito Sumayan, Denisse Aguilar, Jesus Christopher Salon, Anito Librando and Jet Paclar, Maia Poblete, and Roland Rivera. 
There will also be an opening gala on December 4, which will feature a twin-bill of Dominique Beatrice La Victoria's Ang Bata sa Drum and Maynard Manansala's Dalawang Gabi.  
The Extra Virgin Labfest will run from December 4-7, 2019 at the Liceo de Cagayan University. It will proceed with three sets composed of three plays each, with tickets ranging from P150 for students, P160 for senior citizens and differently abled audience to P200 for non-students. 
You can find the synopses of the featured plays written by Angelo Lorenzo below:
SET A: December 5, 3pm and 7pm at Rodelsa Hall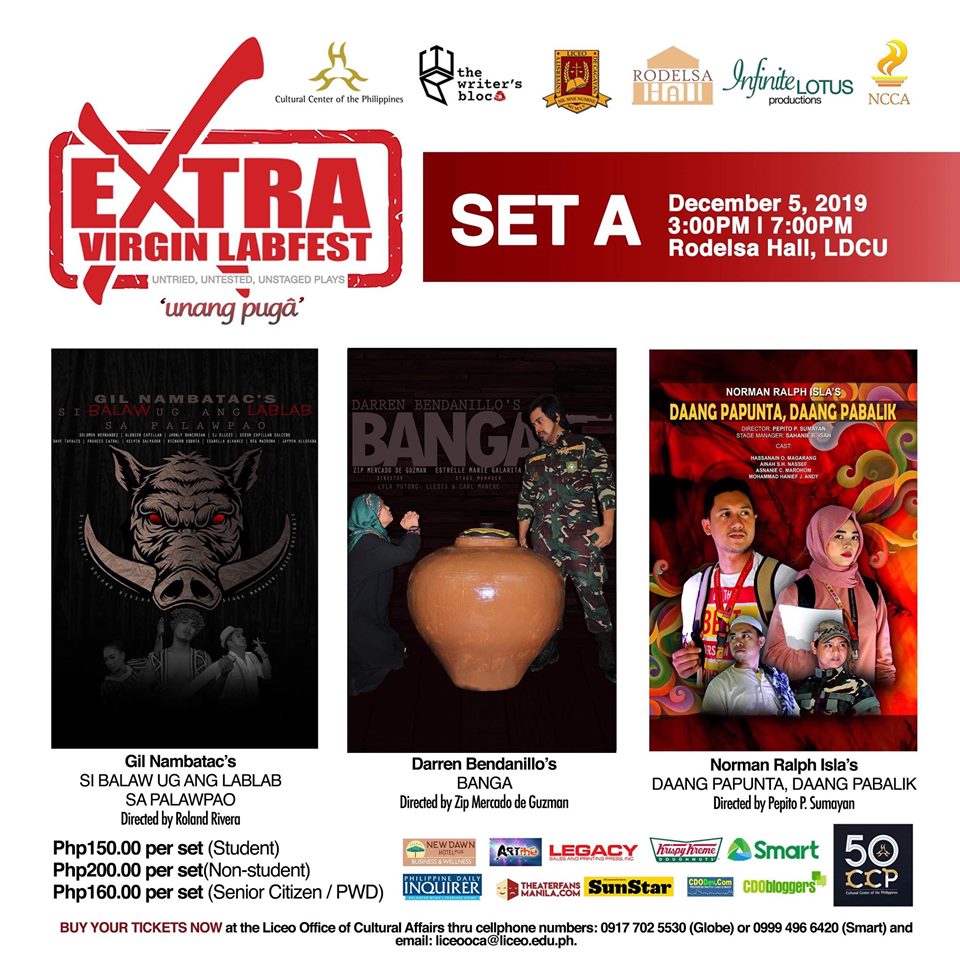 1. Si Balaw ug ang Lablab sa Palawpao by Gil Nambatac; Directed by Roland Rivera
CAST: Solomon Hernandez (Balaw), Globien Capillan (Inahan ni Balaw), Jhonly Banconian (Amahan ni Balaw), EJ Ellezo (Don Angelo), Geeon Capillan Salcedo (Batang Balaw), Dave Bryan Tapales (chorus), Frances Catral (chorus), Kelvin Pol Salvador (chorus), Richard Kent Eduria (chorus), Isabella Alvarez (chorus), Bea Madrona (chorus), Jayveh Allosada (chorus)
The arrival of foreign invaders disturb the lives of the indigenous community in Palaopao, Bukidnon. One young man who is adept at hunting avenges his father by facing the man responsible for his father's death.

2. Banga by Darren Bendanillo; Directed by Zip Mercado de Guzman
CAST: Lyla Putong-Llesis (Amrayda), Carl Manere (Praybeyt Lagrimas)
Bound by culture and tradition, a refugee in Zamboanga attempts to cross a checkpoint manned by a brutish soldier. As the only survivor of her family, she wishes to reach her home and collect the valuable possessions, including her grandfather's earthen jar, before the military burns their neighborhood to the ground. But when negotiations reveal the soldier's malice, she is willing to do her part to save herself, her honor, and her dignity.
3. Daang Papunta, Daang Pabalik by Norman Isla; Directed by Pepito Sumayan
CAST: Hassanain Magarang (Tuan), Ainah Nassef (Aisah), Aslanie Mahurom (Ama), Mohammad Hanif Andy (Sundalo)
Two siblings caught in a rift between the military and the rebels in a war-torn region in Mindanao try to reason out with each other. The older brother wishes to leave their hometown while the younger sister wishes to fight for a cause. As both of them attempt to convince one another, the battle rages around them, turning their lives and future at stake. 
SET B: December 6, 2019, 3pm and 7pm at Rodelsa Hall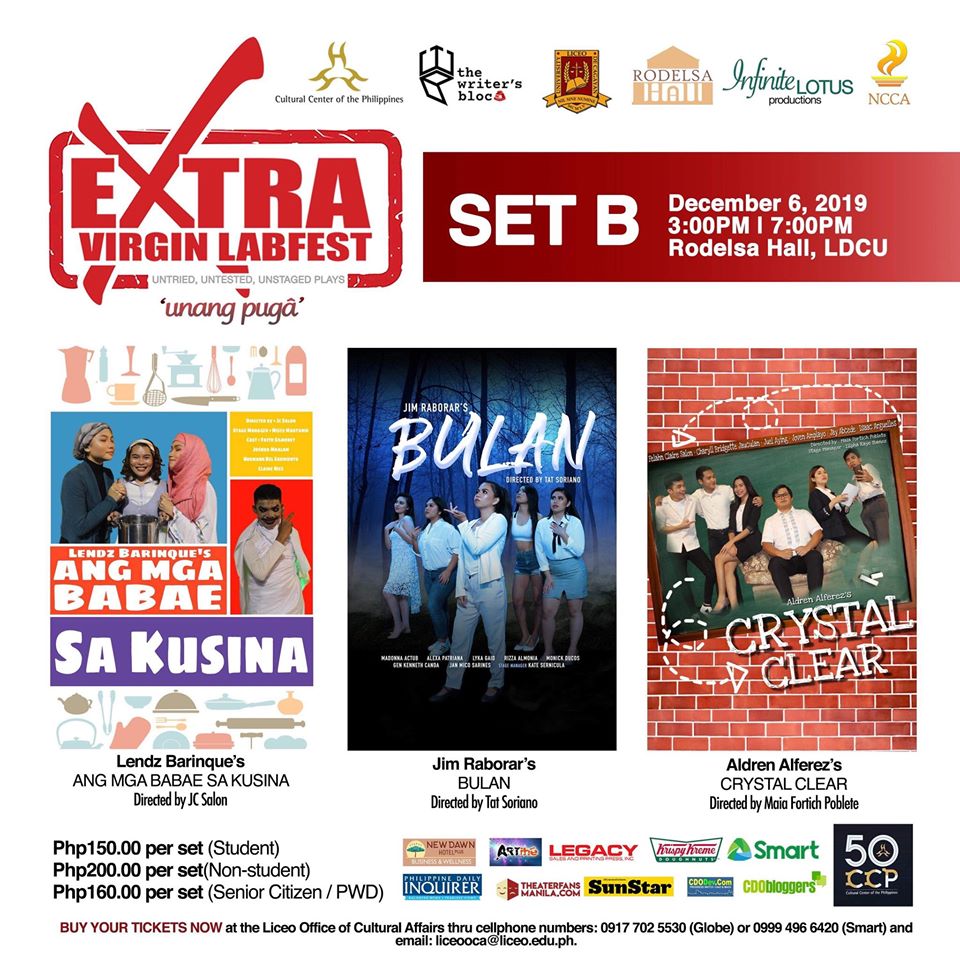 1. Ang mga Babae sa Kusina by Mario Lendel Barinque; Directed by Jesus Christopher Salon
CAST: Normann Sarmiento (Sittie), Claire Niez (Aaliyah), Faith Silmonet (Yaya), Joshua Maalam (Uno)
In her last hours on earth, a househelp recollects her memories with the children she had raised. Despite their differences in belief and religion, she has found a family with them. She takes her cooking skill to the next level by preparing the dish of her loved ones before a personified death finally takes her.
2. Bulan by Jim Raborar; Directed by Tat Soriano
CAST: Lyka Gaid (Agatha), Monick Ducos (Bravia), Rizza Mae Almonia (Catalina), Madonna Agup (Debra), Alexa Amico Patriana (Eula), Mico Sarines (Franco), Gen Kenneth Canda (Gerardo)
When a curse strikes five teachers in Sitio Bolol, Brgy. Asuncion, Koronadal City, they meet under the light of the full moon every night to pray for liberation and recovery. Their curse can only end by the touch of innocent young men. When they encounter two lost men, they realize that these two visitors can break the spell; thus begins their attempt to seduce them.
3. Crystal Clear by Aldren Alferez; Directed by Maia Poblete
CAST: Felan Claire Salon (Crystal), Charyll Bridgette Jauculan (Ruby), Juel Aying (Teddie), Joven Amplayo (student), Jay Abcede (student), Isaac Arguelles (student)
A teacher tries to clear her name from a violation she allegedly committed against her students.When the faculty's supervisor conducts an investigation along with the teacher's colleague, the students involved reveal a new confession. This discovery outweighs the former accusation, eventually becoming an open secret to the teachers and their supervisor. 
SET C: December 7, 2019 3pm and 7pm at Rodelsa Hall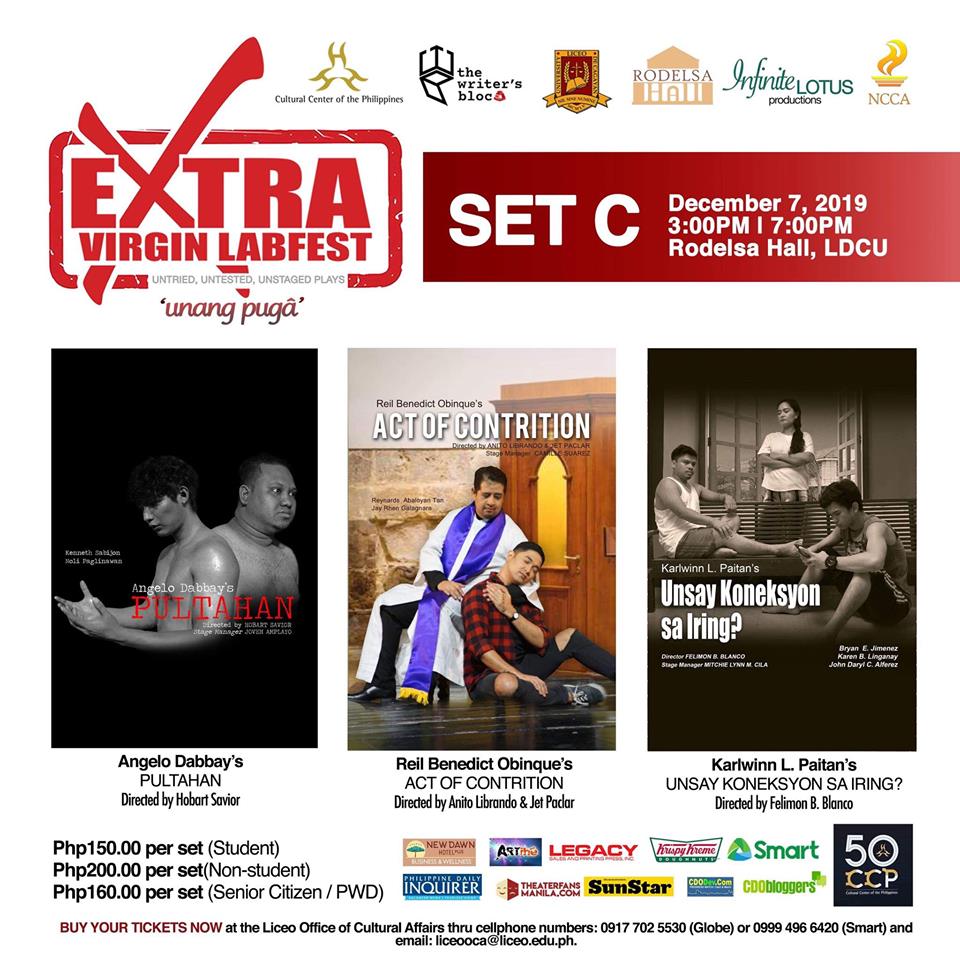 1. Pultahan by Angelo Dabbay; Directed by Hobart Savior and Kenneth Sabijon
CAST: Kenneth Sabijon (Jan Jan), Noli Paglinawan (the man)
A confused man struggles to open a door that does not budge in a mysterious room with an unknown companion. When he asks for help, his companion examines him instead. He soon realizes that he is not locked up in an ordinary room. With a bag and a defensive demeanor against his companion, he tries to escape through the door with only a memory of what happened a moment before he came inside.
2. Act of Contrition by Reil Benedict Obinque; Directed by Anito Librando and Jet Paclar
CAST: Reynards Abaloyan Tan (Fr. Romero), Jay Rhen Galagnara (Jerome)
A young man confronts a priest after experiencing trauma in the past. Hoping to resolve the issue through the sacrament of penance, the priest attempts to give counsel. But when the young man reveals the priest's involvement of that experience, the encounter leads to the ultimate confession.
3. Unsay Koneksyon sa Iring by Karlwinn Paitan; Directed by Felimon Blanco
CAST: Bryan Jimenez (Alex), Karen Linganay (Virgie), John Daryl Alferez (Carlo)
After stray cats intrude their home, a minor accident leads the family to reveal their secrets.

This year's EVLF is organized by the Liceo Office of Cultural Affairs of Liceo de Cagayan University under the grant of the CCP, which celebrates its 50th anniversary. It is also supported by the National Commission for Culture and the Arts, the Writers' Bloc, and Infinite Lotus Productions. 
The Virgin Labfest is annually celebrated at the CCP every June. It celebrated its 15th year this year.
Comments