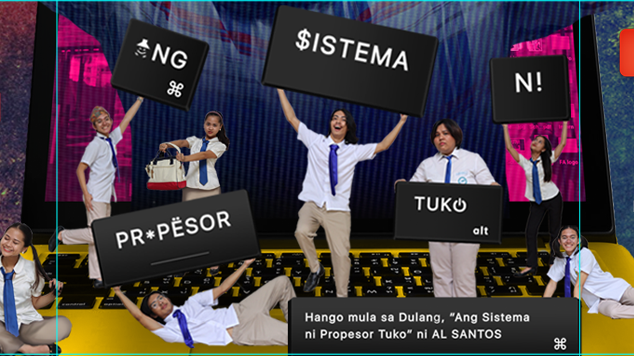 University-Based Theater Productions Online this November 2021
Ateneo Entablado's Tuko.exe:SystemUpdate, an online adaptation based on the original play Ang Sistema ni Propesor Tuko by Al Santos, is returning to your screens this November. The show previously streamed last July 2021.
The story follows Ningning and her friends Kiko, Bodyok, and Bondying who are now forced to attend class together online. One day, adding to the already burdensome experience of online learning is the sudden absence of their most loved adviser, Miss Jackie. They hear on that same day that the assigned substitute teacher is a mysterious Mister Tuko. Anxious on what to expect, the class stalks him online, and the class is left baffled yet wonder at the ardent declaration in his social media profile: "The Brighter Future is here!"
While the original was written during the Martial law regime of the Marcos administration, Tuko.exe:SystemUpdate is set during a global health crisis that has forced millions of students to continue their education from home amidst a nationwide lockdown.
The online production is directed by Fitz Edward Bitana, who is assisted by Paulo Alviar. The adaptation is written by Adrian Soriano, with dramaturgy by Joaquin Umlas and Lars Salamante, production design by James Oriña, sound design and music by Sam Juada, lighting design by Hannah Bayona, and video editing by Mikko Angeles.
Tuko.exe:SystemUpdate will be streaming from November 10-24. Tickets are at P250. Visit Ateneo Entablado's Facebook page for more information.
Comments