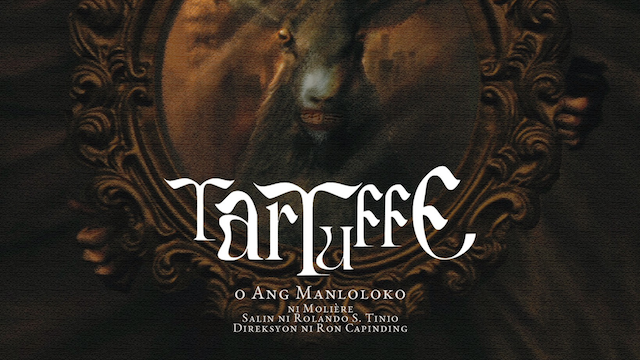 UNI REVIEW: Tanghalang Ateneo's 'Tartuffe: O Ang Manloloko'
In Tartuffe: O Ang Manloloko, translated into crisp, rhythmic Filipino by National Artist for Theater and Literature Rolando S. Tinio, the words of Molière's 1664 classic still ring relevant even today, almost 400 years since its first performance at the Palace of Versailles' Cour de Marbre. 
This production, which ushers in Tanghalang Ateneo's 44th theater season, is directed by Ron Capinding, and features students from the Loyola Schools as well as guest artist and TA alumna Gold Soon.
The play tells the story of Orgon and his household—mother, wife, children, brother-in-law, and maid—and how they become deeply influenced by the eponymous charlatan. Orgon is blinded by his admiration for Tartuffe; the rest of the household, barring his mother, immediately dislike Tartuffe, seeing him for what he really is: a pious fraud set out to seduce Orgon's wife, Elmire. 
Classic ideas
Tanghalang Ateneo's production presents Tinio's translation to a 21st century Filipino audience—and primarily a demographic of students—caught in the midst of frequent and constant attacks on truth. Even centuries later, today's struggle for power is still inevitably accompanied by hypocrisy and deceit, and hearing those classic ideas and values explored and pondered upon in one's native language is a profound experience to have. 
The cast, composed primarily of student-artists from the university, has a good enough grip on the play's dialogue, the words spilling out of them half like a recital, half like actual conversations happening between characters. The fast-speaking actors, all in that same rhythmic Filipino, can sometimes stumble on a word or two, but it's clear that there's an understanding between actor and dialogue, as they are able to right themselves immediately. 
But Tinio's words, and the depth of his Filipino, can become intimidating at times, and thus could've used more space to breathe. In the rapid delivery of the lines, much of the impact and the power of the play's quotes and words are diminished. But the cast is indefatigable: what they lack in gravitas, they make up for in camp and enthusiasm. They have a lot of fun with the material, leaning into its comedy. 
As it is a student production, there are two sets of casts. Orgon is played by Jurgun Excel Coyoca, while Tartuffe is alternated by Yeshua Celebrado and John Patrick Noynay. The Damis of the production are Kenneth Delfin and Noel Angelo Severa; the Marianes Jazzel Ortiz and Rhessia Banigoos. 
Nicole Alexis Amansec plays Elmire, and Maliana Beran embodies the scene-stealing Dorine. The two Valeres are played by Ced Andrei Tolentino and Angelo Josh Cuaresma, while Lars Michaelsen Salamante and Lawrence Viesca alternate the role of Cleante. Alexine Patrice Ramos, Erin Anthonie Ty, and Angelica Denise Dabon are Flipote, with Richard Cruz II as Monsieur Loyal and Luis Antonio Rafael Sumilong as the Opisyal. 
Timelessness
Capinding fills the production with fun, amusing directorial choices: from Flipote comically echoing select dialogue from her amo and Orgon's mother, Madame Purnelle (played by Gold Soon), to the ensemble cast finding themselves all on one side of the stage, looking on as Orgon and Tartuffe's final standoff happens. 
In the in-betweens, there is Valere and Mariane, the two young lovers, whose hijinks incite riotous laughter from the audience; there's Dorine, the maid and the voice of reason, her feather duster almost another character on its own. 
In the small space of Ateneo's Rizal Mini Theater, with production design by Tata Tuviera, lights by D Cortezano and Rafa Sumilong, and music and sound design by CJ Mercader and Carlos Hombrebueno, the world of Tartuffe comes alive: boxes strewn on the ground, doubling as places to hide when necessary and able to be moved by the characters as the need arises; reflective surfaces meant to serve as mirrors, especially when Tartuffe's "real" identity is revealed. The set, which isn't at all telling of what period in time we're in, is ambiguous in its simplicity, allowing for a sort of timelessness fitting for the play's timeless ideals. 
Solid vehicle
Tartuffe: O Ang Manloloko is a small, intimate production, with words and ideas that are larger-than-life. What happens when we are blinded to the truth? What happens when we refuse to believe a reality that is happening right before our very eyes? What happens when that truth, that reality, is twisted and distorted by those with dubious intents? 
Tartuffe is an exploration of that, culminating not in tragedy, but in farce. Several moments will have you chuckling, while others will leave you grinning and wanting more. Overall, Tartuffe: O Ang Manloloko is a solid, worthwhile vehicle for Tinio's translation, making a trip to Katipunan worth it.
For more information on this production, click here.
Comments