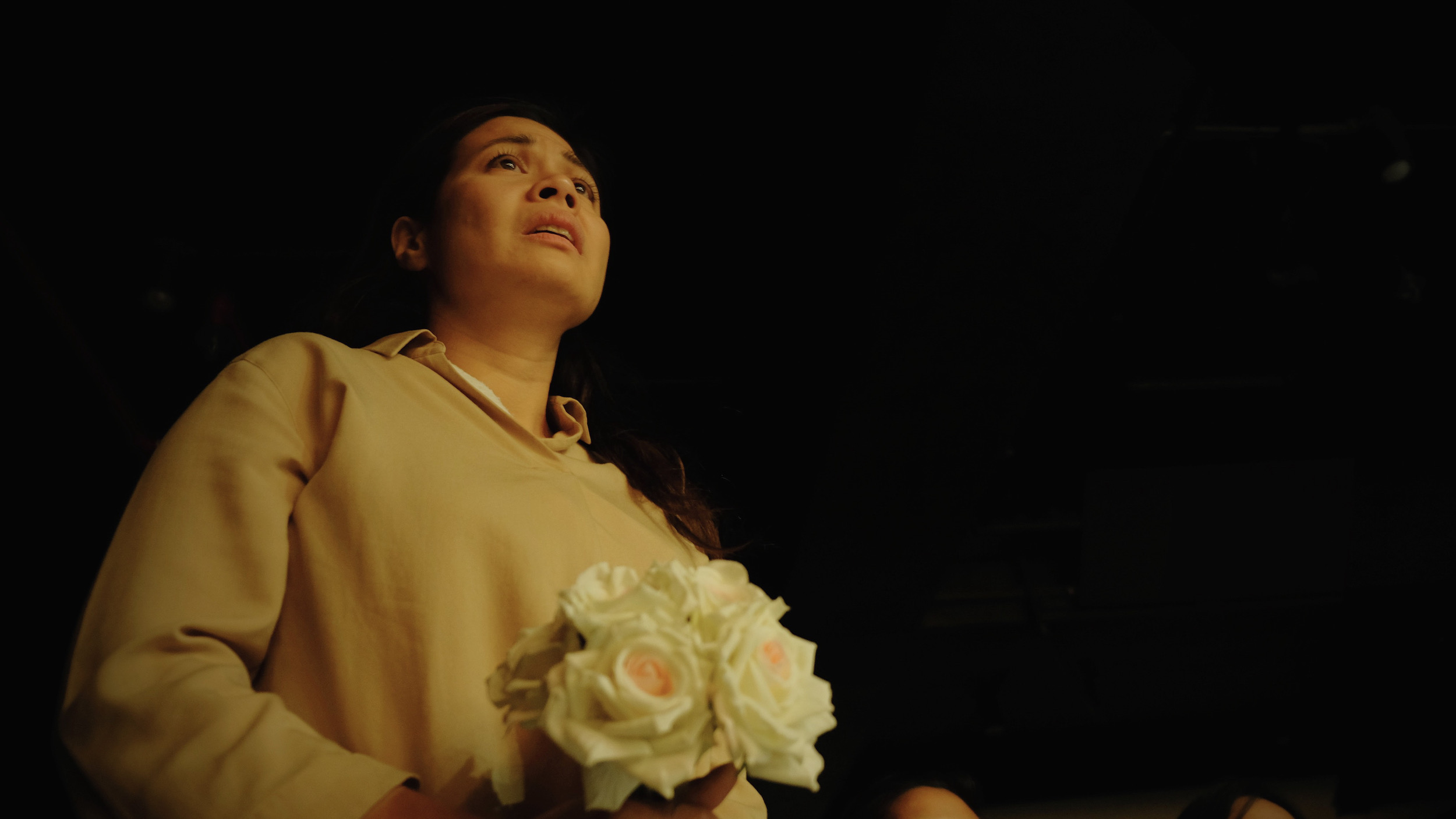 REVIEW: 'Uncle Jane' is a visceral exploration of wasted lives
Uncle Jane introduces us to a group of people who are mourning their wasted lives. Forced to confront the consequences of their choices, they rage against the injustices they feel they have been dealt. The Company of Actors in Streamlined Theatre (C.A.S.T.) brings together a powerhouse cast who show us different shades of an existential crisis.
This adaptation (by Nelsito Gomez, who also directs) of Anton Chekhov's classic play, Uncle Vanya, distills the original play into two short acts, making a few pivotal changes but retaining the themes that have made the piece timeless. The setting is no longer 19th century Russia and the characters' names have been anglicized. But the action still takes place in an aging scholar's country estate, the modern setting only hinted at by a character's mobile phone, and the time of year alluded to by the brief sound of carol singers at the door.
But the story remains intact: a once-renowned scholar, Alexander (Audie Gemora) retires to the country, bringing his young and beautiful second wife, Elaine (Justine Peña), to the consternation of Jane (Missy Maramara), the estate manager and sister of Alexander's first wife (Sarah Facuri). A frequent guest at the house is the provincial doctor, Michael (Topper Fabregas), with whom Alexander's daughter, Sofia (Justine Narciso), has been in love for years. Also there are Jane's father, Ian (Jaime Del Mundo) who idolizes Alexander, and the quiet, unassuming househelp, Miss Marie (Jay Glorioso).
The piece was staged by Sarah Facuri (who also serves as Scenic Designer) with the barest furnishings: a table, some chairs, some books, glasses, bottles of alcohol, a piano in the corner. D Cortezano illuminated the stage with strings of yellow light bulbs that gave off a very Instagram aesthetic/Pinterest moodboard vibe. But in a set so simple, every element has significance, and the presence of a lone, extinguished light bulb is integral to the story.
Not your regular Jane
One major change in this adaptation is the gender of the title character, which is a risk but, in this case, helps to make Uncle Jane a more compelling character. Jane's struggles and frustrations are magnified by her being a queer woman. Her jealousy of and resentment towards Alexander are exacerbated because even if they had been on equal footing intellectually, he would have still benefited from his privilege as a straight man and doors would have been opened to him that would have always remained close to her.
Sofia calls Jane "uncle" because the latter has had to act as both mother and father to the young girl for most of her life. This is another interesting facet of the genderbent character because social norms force women into the role of nurturer and caregiver. It is almost expected of her, as Sofia's aunt, to play a surrogate parent to the girl even though another parent is still alive, but too busy with his academic pursuits to remember his own family.
Maramara's performance balances the character's predominantly negative emotions with a certain pathos, making her cries of anguish during a pivotal scene heartrending. She is never a caricature of an embittered person with a midlife crisis, but clearly someone suffering decades of accumulated injuries.
While her Uncle Jane spends most of the play being sarcastic and disruptive, drinking heavily and making everyone uncomfortable, one cannot help but feel for her, having devoted the best years of her life in the service of someone who has never even acknowledged her help. She makes sure that the performance is not without humor and humanity, eliciting some genuine laughter with her antics with Michael and provoking tears with her pleas for help to her father.
Familiar faces in worn out places
Fabregas as the disillusioned doctor is world weary, perhaps more so than the others because of the horrors he has witnessed as part of his profession. Fabregas imbues Michael with a restless energy too, because, for all his cynicism, he is also one of the few characters who is truly passionate about something – trees and the natural environment. The character was written as an environmental conservationist centuries ago and his advocacy remains painfully relevant.
Peña plays her Elaine with a graceful mystique, like she constantly keeps her cards close to her chest. She has a tense relationship with Sofia but their reconciliation and momentary friendship shows how much these characters are in dire need of meaningful human connections. The laughing relief at which she answers Sofia's question about whether she wishes her husband was younger is one of the rare moments she betrays what she truly feels. She also captures the hearts of both Jane and Michael, and even returns the latter's feelings, but in the end, she denies herself the chance to escape her unhappy marriage so that she can find a way to be happy with who she is.
Narciso's Sofia brings a youthful energy to the proceedings, despite her own sufferings. Her cheerfulness is in stark contrast with the melancholy of the older characters. Her longing looks at Michael, her frustration with her Uncle Jane, and her devotion to her father despite his failings make her one of the most sympathetic characters in the piece. She has her own kind of strength and she is the one who most effectively snaps Jane out of the latter's stupor.
Gemora plays Alexander with such undeniable charisma that one does not wonder why he has managed to keep so many people in his thrall for years. Whenever he is in a scene, he demands attention, and it is clear that he has always gotten it. But, despite years of success in the academe, a young and beautiful wife, a doting daughter, Alexander, like most of the characters in the play, is also unsatisfied with his life.
Gemora's Alexander is a familiar monster, a man so constantly smug and entitled and with an infuriating inability to read the room. At one point, he cluelessly suggests to Jane that maybe she should have stolen money from him if she was so unhappy.
He shows time and again how little he cares for the people around him and it is only when threatened at literal gunpoint that he seems to finally get an inkling of the effect of his negligence. But there are no lessons learned at the end and he simply confronts his problems by running away from them, thinking that leaving the estate will effectively leave the issues behind.
Del Mundo's character was originally a woman in Uncle Vanya. And there is something different about a father doting on a son-in-law while neglecting his own daughter. Ian does not play a prominent role but  when he does appear, one immediately senses the favoritism for Alexander that has fueled years of Jane's jealousy and resentment. Ian seems oblivious to the damage he has done until later in the play, when he sees his daughter in pain.
Seemingly the only one genuinely content with her lot, Glorioso plays Miss Marie with a gentleness and quiet dignity. While prone to commenting on proceedings with a Bible quote, Miss Marie steals one scene with a coldly deployed "God bless you" in response to Alexander's arrogance.
As Jane's deceased sister and Sofia's mother, Facuri's character exists mostly to provide transitions between scenes while giving a soulful rendition of Tears for Fears' "Mad World". Her character's presence is felt even when she is not in a scene because her ghost (and the photo on top of the piano) seems to haunt the family she left behind.
The songs, while beautifully and hauntingly sung, enhance the melancholic atmosphere but also felt a little bit too on-the-nose. The final scene features a cover of Johnny Nash's "I Can See Clearly Now" a song referenced earlier in the show but its inclusion at the end slightly undercuts the impact of that final scene.
A light-bulb moment
The piece is a testament to how difficult it can be to make life-altering changes. While the characters may despair at the state of their lives, in the end, they are too afraid to take the risks necessary to make major changes. Alexander and Elaine leave, and those left behind just pick up where they left off.
Uncle Jane ends on a slightly more positive note than the original play. Jane twists a lone extinguished light bulb to make it shine again, a small but not-so-subtle symbol of reparation and restoration. Even as Jane, Sofia, Marie, and Ian return to their old routines, they are not unmoved by all that has transpired. 
The vulnerabilities they revealed can never be completely re-concealed, but now that they are more aware of each other's pain, they are better able to comfort each other. As they tearfully cling together in a tight embrace, they give in to a flicker of hope in the darkness.
Tickets: 

Php 500.00 


Show Dates:

  February 24 '23, February 25 '23, February 26 '23


Venue: 

The Mirror Studios, 5th floor, SJG building, 8463 Kalayaan Ave, Makati City


Running Time: 

 Approx. 2 hours 

(w/ 15 min intermission)

 


Credits: 

 Nelsito Gomez (Adapter/Director), D Cortezano (Lighting Designer), Sarah Facuri (Scenic Designer), Kat Gamban (Stage Manager)


Cast:

 Missy Maramara, Topper Fabregas, Justine Peña, Justine Narciso, Jaime Del Mundo, Audie Gemora, Jay Glorioso, Sarah Facuri


Company: 

Company of Actors in Streamlined Theatre (C.A.S.T.) PH
Comments