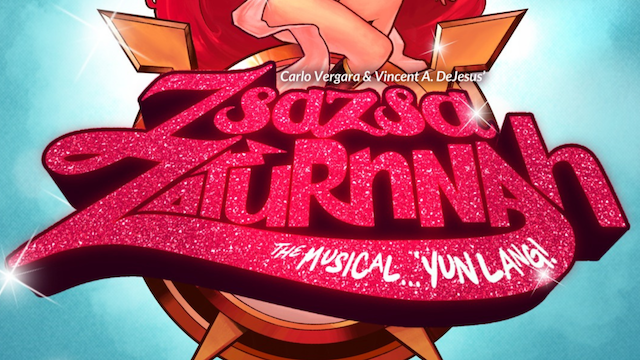 UNI REVIEW: Ateneo Blue Repertory's 'Zsazsa Zaturnnah the Musical… Yun Lang!'
The modern superhero formula is one that typically endorses universal values through certain binaries—good versus evil, heroes and villains, crime and justice. But Zsazsa Zaturnnah the Musical… 'Yun Lang!, Ateneo Blue Repertory's first live production since the start of the pandemic, queers that formula by redefining the hero's alter ego as a metaphor for the trans experience and a reflection on womanhood in an unaccepting world.
Based on the graphic novel by Carlo Vergara and originally adapted for the stage in 2006 by Chris Martinez, Zsazsa follows gay beautician Ada, who, after swallowing a magical stone that turns them into the titular superpowered woman, must fight an extraterrestrial threat and confront their own place in society. 
This specific production doesn't always have the dexterity to balance on-stage spectacle with the show's thornier ideas on gender, but it's performed with more than enough spirit to still feel sincere and disruptive.
Queering the Superhero
This character created by Vergara remains original and fresh, especially in the context of a local media landscape that frequently stereotypes queer experiences too broadly. What Martinez's adaptation and blueREP's production capture with joy and honesty are the nuances between acceptance for women, gay men, and trans Filipinos. 
Ada (played alternately by Phi Palmos, Adrian Lindayag, and Shaun Ocrisma) has a recognized function in the community as a skilled stylist and hairdresser, but they're generally kept within that box—tolerated but not yet fully embraced. The voluptuous Zsazsa (Kim Molina) enjoys attention and admiration, but is also viewed as mere entertainment, accepted only so long as she proves herself useful. And the fact that both of these identities exist together is something that can only be disclosed to a trusted few—even if every moment that Ada and Zsazsa share the stage as simultaneously man and woman is undeniably beautiful. There's an optimism to the way the show nuances each aspect of the character's identity. Although Ada/Zsazsa always faces some form of discrimination and the threat of rejection, there's also a unique joy to all the different ways the character can express themself.
With that said, this Zsazsa may not hold up to more demanding analysis, perhaps due to the unwieldiness of its plot. As the musical comes up with new external conflicts befitting a grand superhero adventure, the more it feels like it gives up space that could be used to further expound on the central drama of Ada/Zsazsa's identity. The show slows itself down to introduce us to other characters and subplots who can't help but be less interesting.
The main antagonists, the fabulously costumed Amazonistas, aren't given nearly the same depth that Ada/Zsazsa possesses. Their hatred of men comes off as oversimplified, seemingly meant to make them easier to root against—even if they're coming from a painful history of slavery and oppression at the hands of men, which deserves to be unpacked, too. 
Fighting these Amazonistas brings Ada/Zsazsa to a place that's at odds with the show's otherwise optimistic attitude towards trans identities—instead depicting the protagonist's identity as a weapon with which to curse the enemy. And things tie together too neatly, settling for the comforts of a romantic subplot while the status quo remains unchanged. Still, the fact that these ideas can be debated at all through a student-led production at a Catholic university is something to be deeply admired. 
Ambitious Craft
You can't blame blueREP for being ambitious. In fact, the largest set pieces in Zsazsa succeed by the sheer, scrappy charm of a school theater organization just going for it: stylized fight scenes where characters are lifted across the central catwalk, the ensemble fully committing to playing silly-looking zombies, and a giant frog performed as five separate body parts. 
There's a sense of scale here that you rarely see in campus productions. So much of this also works because of Tata Tuviera's costumes, be it the striking colors of Zsazsa's outfit and hair, or the comedic detail in other costumes: the image of a bikini across Didi's oversized shirt, or the ridiculous onesies and catsuits that make up the giant frog. This can make even just a character's entrance an effective bit of comedy, which director Missy Maramara exploits well—maintaining a steady pace of jokes throughout the musical's nearly three-hour runtime.
Unfortunately, the rest of the stage isn't used as successfully. The rickety, two-story structures that form the main backdrop of Ada's neighborhood feel like a minor safety hazard, and they lack the color and specific personality evident in the costumes. The show also places an imbalanced focus on the left side of the stage, where Ada's parlor is located. The right side of the stage ends up feeling oddly uneventful, a bare space mostly populated by ensemble members and rarely ever visited by the main characters. The catwalk that extends out from center stage into the audience is used to give the action set pieces a feeling of spatial depth. But it might make it harder for audience members sitting closer to the main stage to see or hear important information being shared on the catwalk.
Resonant Performances
Despite the production's rougher edges, there's a palpable sense of excitement from the ensemble, acquitting themselves well to Vincent DeJesus' witty and energetic score. Although romantic interest Dodong (Juan Carlos Galano; alternating with Jude Matthew Sevilla and Elian Dominguez) and the ruthless Queen Femina (an exuberant Kakki Teodoro; alternating with Anyah de Guzman) don't leave the strongest mark with their musical numbers, other supporting performances become surprisingly emotionally resonant. 
As Aling Britney, Kyla Rivera gives the entire community its soul; and as Ada's best friend Didi, Almond Bolante (alternating with Robert Bradley Hao and Joshua Cabiladas) becomes the portrait of self-assurance and inner strength that completes Ada's own arc.
And as Zsazsa and Ada, Molina and Palmos convincingly play two sides to the same person—always in sync whether in the tremendous quality of their vocals or in their tenderness when things get serious. It's in those moments when both actors move as one that the show becomes something more revelatory than any flashy spectacle. 
As a whole, Zsazsa may not articulate all of its ideas perfectly. But sometimes a show says the most with its simplest images—like the image of a queer person as two bodies sharing space together. As Ada and Zsazsa aid themselves in battle and shelter themselves from the trauma of abandonment, they express something more. There is so much love and humanity within them, and that's their greatest power.
For more information on this production, click here.
Comments