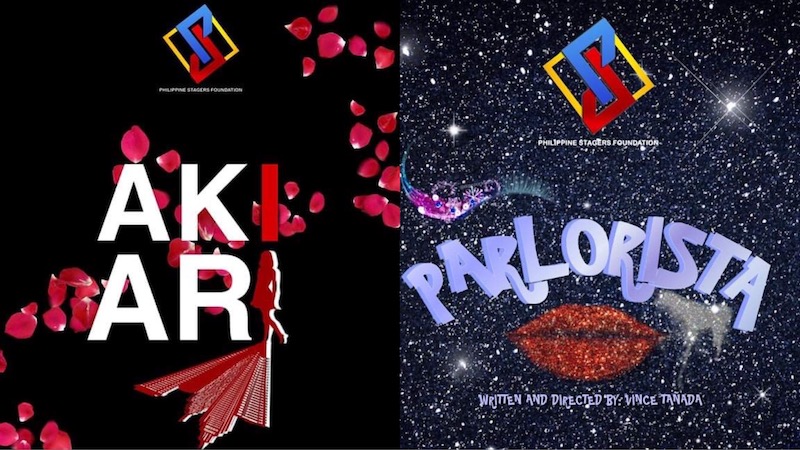 Two Shows to be Staged this December
Aki Ari and Parlorista, two one-act plays written and directed by Philippine Stagers Foundation's Artistic Director Vince Tañada, will be staged with a live audience on December 28 and 29, 8pm at the company's new Black Box Theater.
Aki Ari's synopsis reads:
Anastacio Quintana Jr., now monickered Ari has come home from Japan after a three year stint. In the airport she meets Celso, the handsome porter and after bickering they were suddenly partners in a relationship that equally confused and excited the former japayuki. As Aki worked in a comedy bar, Celso stayed home.
When an enigmatic neighbor enters the picture, Celso gets torn in a hide and seek tragedy between Aki and Adrian, the sexy exhibitionist next door.
As Aki laments in song about her dream of becoming a real woman, Adrian opens doors that Celso has kept shut for so long.
When Aki catches them red handed, all she can do is listen to the scream of a dream unfulfilled and decide to finally call….. CUT!
The cast features Johnrey Rivas, Fidel Redado and OJ Ar Ci.
Parlorista's synopsis reads:
Meet Karding, the seemingly heterosexual man who swears he forgot about love; Chit, the gay old timer who has known almost everyone who has come into the parlor – trying to move on from a love lost; Chanda, the gayer hunter of a love adventure; and Mrs. Tililing, the loud and matronly customer who is about to celebrate her first month anniversary to what she describes as a prince among men. What happens when Joey steps in, the hunk that brings a sparkle in everyone's eyes as soon as the parlor's door swings open. Karding's lost love, Chit's secret tryst, Chanda's supposedly lovelife and Mrs. Tililing's husband?
As chaos happens inside the parlor, the Parloristas must stand by what they have lived to do – to make Mrs. Tililing, fit for the anniversary that will surely be the talk of the town.
The cast features Beverly Salviejo, Joshua Bulot, Afi Africa, Domingo Almoete, and Alejandro Ramos.
Tickets are sold at P500. Food and drinks will be sold at the venue. The new theater is located at 2075 D G Tuazon St., Balic Balic Sampaloc Manila. Contact 09064154250 / 09566690335 for tickets.
Comments