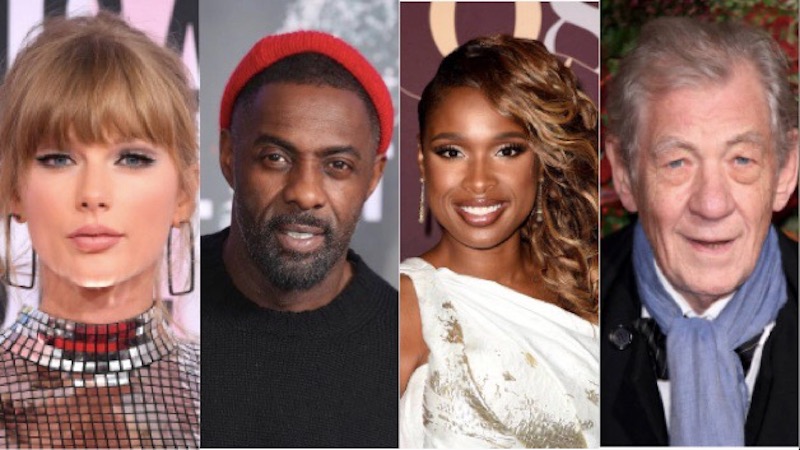 These 9 Celebrities Are Going To Be in the 'Cats' Movie!
Cats, the long-running Andrew Lloyd Webber musical, is set to get the Hollywood treatment.
A movie adaptation of the 1983 Tony Award winner for Best Musical is officially in the works, and will premiere on December 20, 2019. Heavyweight English director Tom Hooper (The King's Speech, Les Miserables, The Danish Girl) will direct. Hooper also wrote the screenplay with Lee Hall and Webber, with Tony winner Andy Blankenbuehler (Hamilton, In The Heights, Bandstand) handling the choreography.
Cats is based on T.S. Eliot's poems in Old Possum's Book of Practical Cats, and is the story of a tribe of cats (the "Jellicles") and how they choose which one will go up to the Heaviside Layer and be granted a new life.
#CatsMovie starts production today! Starring @JKCorden #JudiDench @jasonderulo @idriselba @IAMJHUD @IanMcKellen @taylorswift13 @RebelWilson pic.twitter.com/jkgbpo7u5S

— Universal Pictures (@UniversalPics) December 12, 2018
Casting has been announced in stages, with each announcement being met with a mixture of surprise and eager curiosity. Here's what we know:
1. Jason Derulo as The Rum Tum Tugger
Probably one of the most surprising casting decisions that raised eyebrows is that of Derulo, who takes on the role of the mischievous, rebellious cat Rum Tum Tugger (also informally known as a feline sex symbol). The R&B singer, known for such hits as "Wiggle" and "Talk Dirty", is not exactly an obvious choice for a musical theater film adaptation, but Derulo has since revealed that he has classical music training. He offered a glimpse of this in his recent performance at the 2018 MTV EMAs, and though the Rum Tum Tugger does have a flashy side to him, it remains to be seen whether Derulo's club persona successfully translates to a full-length film.
2. James Corden as Bustopher Jones
Corden will play the dandy cat Bustopher Jones, who loves the finer things in life – especially eating and drinking. The Late Late Show host has made no secret of his love for the theater, and he has the creds, winning a Laurence Olivier and Tony Award for Best Actor in 2012 for his role in the play One Man,Two Guvnors. He also hosted the Tony Awards in 2016. He's more known these days for his comedic turns, so we can expect him to inject the role of Bustopher Jones with his brand of self-deprecating, absurdist humor.
3. Rebel Wilson as Jennyanydots
Another cast member who will be called upon for her comedic contribution is Rebel Wilson, who will play Jennyanydots, "The Old Gumbie Cat". Jennyanydots is a tabby cat who lazes around all day but is playful at night. (Jennyanydots is also the sister of Derulo's Rum Tum Tugger.) The role seems perfectly suited for Wilson, who played the character of Fat Amy in another musical film franchise, Pitch Perfect. Wilson can sing, and she's sure to bring her trademark deadpan comedy to the tribe of cats.
4. Robert Fairchild as Munkustrap
Fairchild is the former principal dancer of the New York City Ballet, who garnered a Tony nomination for his role as Jerry Mulligan in the Broadway musical An American in Paris. He also originated the role in Paris and London. Fairchild plays Munkustrap, a mature and responsible cat who protects the tribe, and who acts as the narrator. With such talent (a ballet dancer who sings!) and acclaim behind him, it makes sense for Fairchild to act as the anchor of the movie, and it will be fascinating to see how he showcases all his skills behind a cat costume.
5. Taylor Swift as Bombalurina
We know one thing for sure: devoted Swifties will throw their unwavering support behind this film. Swift will play Bombalurina, the flirtatious red cat who always craves attention. It's a substantial role, since Bombalurina is one of the main singers and dancers. Swift was supposed to play Eponine in the movie adaptation of Les Miserables (a role that ultimately went to Samantha Barks), and now we get to see how she'll finally do in a movie musical. She was massively successful in her crossover from country to pop, so this foray into film seems all but inevitable.
6. Idris Elba as Macavity
Known as "The Mystery Cat", and The Hidden Paw, Macavity is a master criminal. It seems the only character Elba could choose to play, though why he would choose to play a cat at all is a mystery. Usually playing broad and suave Bond types (he is still rumored to be in the running to play the super spy James Bond), this is Elba's first musical. Does being the Sexiest Man Alive translate to being the Sexiest Cat Alive? Is the world ready to be weirdly attracted to this cat? We'll find out soon.
7. Ian McKellen as Gus The Theatre Cat
With roles that range from William Shakespeare's Macbeth and Richard III, to J.R.R. Tolkien's Gandalf and Stan Lee and Jack Kirby's Magneto, a plethora of awards including a Golden Globe Award, a Tony Award, and several Laurence Olivier Awards, perhaps McKellen wanted a bigger challenge and opted to go feline this time. Though with a character described as a frail cat with shaking paws caused by old age, be sure that McKellen will lend a singular pathos and layers of complexity that will elevate not just the role but the entire movie itself.
8. Judi Dench as Deuteronomy
Another actor sure to elevate any role she takes on is Dame Judi Dench. Dench, an Oscar winner for her turn as Queen Elizabeth I in Shakespeare in Love, will play Deuteronomy, the respected leader of the Jellicle tribe. The name comes from the fifth book in the Old Testament, and the character is tasked with choosing which of the cats will come back to a new life. Deuteronomy is an ancient and wise cat, and has always been played by male actors. This is the first time that the character has been gender-swapped. Dench has one of the most commanding auras in cinema – man or woman – so who better than her to be at the heart of such a bold move?
9. Jennifer Hudson as Grizabella
It's the one song the character sings, and the one song everybody knows. Grizabella, once "The Glamour Cat" but now fading away, sings the show-stopper "Memory". Hudson won an Oscar for her role as Effie in the musical Dreamgirls, where she sang that other famous diva number, "And I Am Telling You I'm Not Going". We know Hudson is in the cast for her vocal chops – after all, she seems a little young to play the aging Grizabella. But she does have that Oscar to back her up so she may still pull it off.
Comments