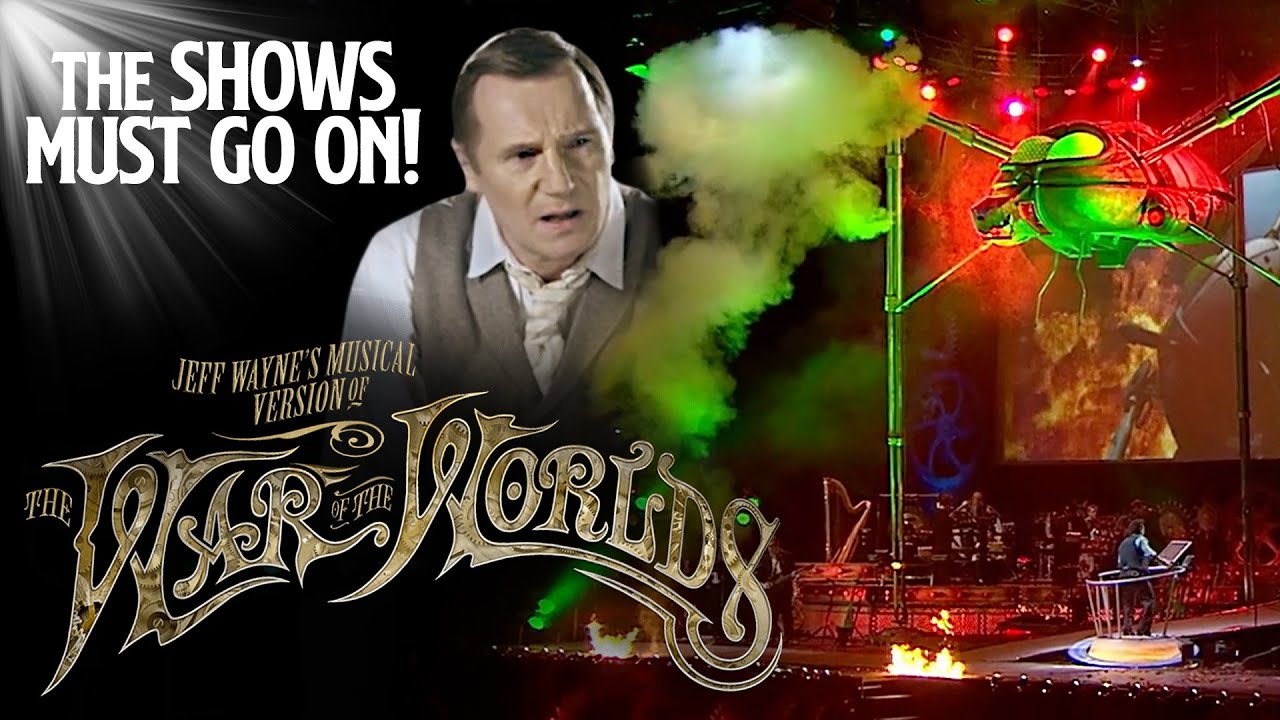 'The War of the Worlds' Musical is Streaming Online
Jeff Wayne's musical version of The War of the Worlds started streaming at 2AM on October 24 and will be available for 48 hours.
The show will be available on The Shows Must Go On! YouTube Channel.
The musical is Jeff Wayne's adaptation of the 1898 science fiction novel by H.G. Wells about Martians invading the Earth. The novel is a commentary on evolutionary theory, British imperialism, and Victorian beliefs.
In 1978, Wayne composed and produced a best-selling album about the The War of the Worlds and in 2006, the musical was brought to the stage with an innovative use of music, technology, live performance, and special effects. In 2012, the soundtrack was re-imagined for the new generation.
The production was filmed live at the London's O2 Arena and starred Jason Donovan (Neighbors), Ricky Wilson (Kaiser Chiefs), Marti Pellow (Wet Wet Wet), Will Stapleton (Jettblack), Kerry Ellis (Wicked), and Liam Neeson (Taken) in Holographic 3D. The music was conducted by Wayne and performed by the 9-piece Black Smoke Band and the symphonic ULLAdubULLA Strings. Adding to the spectacle was the 3-tonne 35-foot tall Martian Fighting Machine firing real Heat-Ray flames over the audience.
The Shows Must Go On has been streaming musicals for free since as early as April this year starting with Joseph and the Amazing Technicolor Dreamcoat which was followed by Jesus Christ Superstar, The Phantom of the Opera and its sequel, Love Never Dies, Cats, and Andrew Lloyd Webber's 50th Birthday Tribute Concert at the Royal Albert Hall.
Other musicals that streamed were the NBC Live versions of The Sound of Music, The Wiz, and Hairspray, but these were not available in Asia and Latin America due to rights restrictions.
While the stream is free, all those who watch are highly encouraged to donate and proceeds will go to The Actors Fund, Acting for Others, Broadway Cares, Actors Benevolent Fund, and other charities.
Enjoy the full show below:
Comments