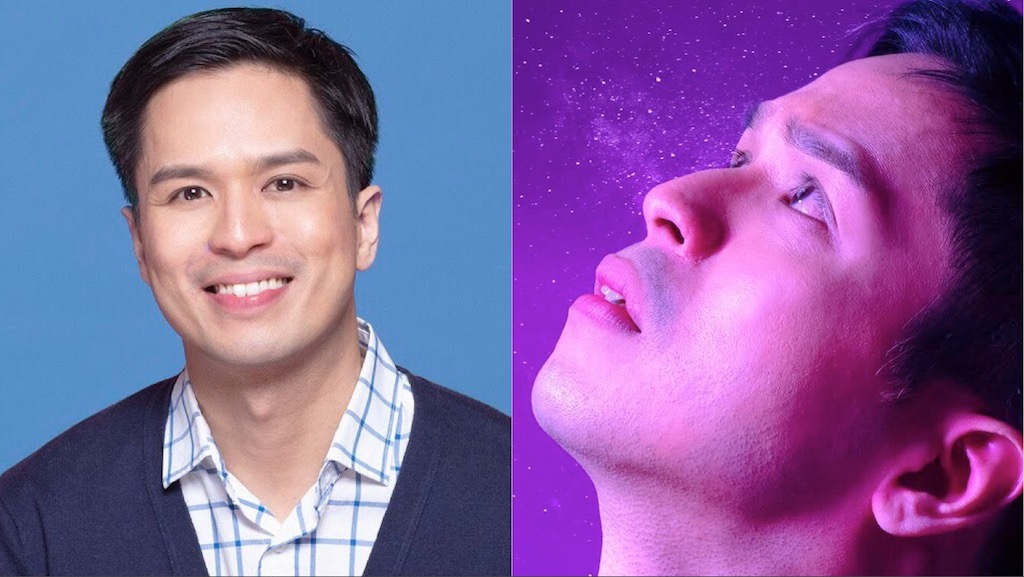 The Spotlight's On Topper Fabregas
Topper Fabregas is doing it all–producing, directing, and starring in local stagings of original and foreign productions. He was last seen on stage originating the role of Young Anthony in the jukebox musical, "Ang Huling El Bimbo", and playing the role of Peter Shaw in REP's "Silent Sky". This year alone, Fabregas is set to direct Upstart Productions' staging of "Company", co-produce a play by the Red Turnip Theater (a company he co-founded with other theater veterans) and star in Atlantis Theatrical's staging of Tony Kushner's masterwork.
As a teenager, Topper started out with ambitions of being a writer. But joining a basic acting summer workshop with Trumpets Playshop at 15 would change the course of his life. From Peter in "The Lion, the Witch, and the Wardrobe", to Prior in "Angels in America", Topper talks to us about his life on stage.
As an actor, you're almost exclusively a stage performer. Was that by design?
Not so much by design, but probably because I'm intimidated by working on tv and film. I'm terrified of the camera haha! It's a different discipline and feels like a completely different world to me. I love the theater and its community. I love the immediacy of working onstage. You're right in the moment with your audience and that's what excites me the most.
That's not to say I wouldn't entertain the thought of film; I used to get offered bit parts here and there but they were usually a variation of the same sort of character, the same sort of "type". I've gone in for a few auditions recently and parang there's a shift now that the online platform is growing. Scripts seem to be getting bolder, more inventive. So, who knows? I'm just waiting for someone to take a chance on me. Sabi nga ni Gaga, "There could be a hundred people in the room." Hahaha.
Now you're starring in Angels in America as Prior Walter, no less. How did this opportunity come about?
Bobby Garcia sent me a message early last year about maybe wanting to mount it again. He was gonna get a few actors together to read the piece for him to hear ulit and see if it was something he could include for the 20th Season lineup of Atlantis. This was around late March and I kept waiting. Finally in July he just messaged, "We're doing Millennium Approaches next year", and offered me Prior.  
Did you have any apprehension or hesitation taking on such a role?
Nada. When someone offers you a part like this, in a show such as this, you say yes.
You were also previously in The Normal Heart, and along with Angels in America, they're considered very important work in shedding light on LGBT+ stories in America, but what about these stories do you think makes them relevant to Filipino audiences today?
"The Normal Heart" was written as a rally cry. It was meant to educate, provoke, and wake people up. This was produced right in the middle of the AIDS epidemic in the 80s and was really a rebellious piece of theater. It exposed the cowardice and prejudice of the government and how it failed to stop more deaths, or how it allowed more and more deaths to continue because of the stigma it attached to homosexuality and sex. That couldn't have been truer of the Philippines a few years ago (when we finally mounted the show here). The cases were rising and our country remained tight-lipped. The cases per day are still on the rise, by the way. The alarms aren't as loud as they should be because this is only happening (or people think it's only happening) to a certain demographic.
"Angels in America" feels like a reminder. It shows us how we are all connected and how we must never lose our sense of humanity and acceptance. And, Lord knows, we could all use that reminder nowadays. These are dark times. Let's all choose to be angels instead.  
You were also John in Mike Bartlett's Cock, and recently played Young Anthony in FHTC's Ang Huling El Bimbo. Is it important for you to play roles that represent the LGBT community?
Oh yeah, definitely. We did "Cock" 5 years ago and some of our audiences couldn't completely grasp that my character was bisexual and could genuinely be in love with both a man and a woman at the same time– well, in my head, John had to fully love both or else the play wouldn't work. If we did this play today, I think it might resonate differently 'cause more people are realizing that sexuality is so complex. It's a spectrum. I'm glad that the play at least got people to look at things a little differently. It certainly did for me.
For "Bimbo", Dexter [Santos] and I, with Menchu [Lauchengco-Yulo] wanted to make sure Young Anthony's journey was more than just about his sexuality, but mainly about his spirit. He was literally getting freer and more colorful as the play went on. He wasn't just a 'gay sidekick' who was in love with one of the other two boys. He was their brother and an integral part of the narrative alongside them and Joy. He finds his true self only to have to clamp it back down when he reaches adulthood. I had a lot of gay people come up to me after the show and say, "That was me," or "I know someone exactly like that", or "It was nice to see a gay character depicted differently". Those were the comments that always made me proud to be part of the show.
Do you think the community is well represented on stage in terms of subject matter as well as opportunities on and off stage?
Yes. I feel like the theater has always represented the gay community well; with flesh and bone characters, with real issues–a little bit more than popular media. Locally, anyway. But that may change soon. The novelty of "playing gay"–a term I super hate–is wearing off. People want to see real people on stage and on screen.
You've been a professional actor for 15 years, and we've seen you in a gamut of shows through the years. Do you have a theater bucket list of roles you still want to play?
"Angels" was on my list. But I'll be super actor-y and say "Hamlet". Haha.
You studied theater in New York for a time, can you tell us more about that?
I went to Circle in the Square Theatre School in New York. It's this wonderful conservatory underneath the Broadway theater (where Once on this Island recently was). I applied because Philip Seymour Hoffman was a proud alumni (my favorite actor. Side note, Justin Kirk (Prior in HBO's Angels in America and another favorite of mine) also studied there. It's basically a four year course that they condensed into two years. Which is crazy! It's like an acting boot camp. You get in there and study all these different styles and techniques. A majority of the classes are so physical and demanding.
The course didn't just shape me as an artist but it also changed me as a person. No bull. I learned and discovered so many things about myself within those two years. I came out of it with a utility belt of tools. To this day, I'm still finding new things that I can use and apply. My training is one thing that can never be taken away from me and it's one of my proudest accomplishments. I was so creative throughout the course that I really felt like I could take on anything if I really tried. Plus, I got to live in New York for 3 years and there's a maturity and openness that one gets when one lives away from home. Especially in a city as crazy as New York.
Will we see you in more Filipino shows, or perhaps do more work with companies that historically stage Tagalog shows like Tanghalang Pilipino or PETA?
Yes, please! I love PETA. Working on "The Tempest Reimagined" was one of my favorite experiences. They are such a family and that love extends to their guest artists. Every time I get to join [Virgin] Labfest is also always such a pleasure. Bitin palagi.  
I'm always making parinig to Tanghalang Pilipino. Hi guys! Please get me! Haha.
Aside from acting, you produce with Red Turnip, and you're directing shows for different companies. Is that something you see yourself doing more of compared to being on stage yourself?
Well, it's a different fulfillment – directing and producing. As an actor, I feel like there are only so many stories I can tell. It's limited. As a director and producer, I've got a wider range. The five of us [Jenny Jamora, Ana Abad Santos, Cris Villonco, Rem Zamora] got together to form Red Turnip because we wanted to make a bigger contribution to the theater community.
It wasn't just about self anymore. I think that's the natural evolution of any artist. You start to think, "There's gotta be something more that I can give". I love performing and I always will. Being onstage is always a thrill. But the fulfillment of seeing my work (whether as director or producer) and seeing other people flourish onstage is such a bigger rush.  
From This is Our Youth, to Blackbird, and the upcoming Company, all the shows you've directed have been very different from each other. How do you choose the kind of work you direct?
I have to love the writing, the rhythm and language. It's gotta connect with me agad. There are some plays I fall in love with right away. I fall in love with the words. When I don't feel that connection or if it doesn't resonate with me, I know I'm not the right person for the job. I won't give justice to what the playwright intended.
The plays I've directed have also all been indoors. Haha. I love indoor dramas. I love plays that explore relationships. Familial, friendships, sexual, etc. I love seeing productions that feel natural and "lived in". It's the sort of work I look for, the sort that excites me. So those are also the sorts of scripts I lean towards.
How did you end up directing Company for Upstart Productions?
With "Company", I was approached by Joel Trinidad. The show is part of my bucket list and I was just flattered he considered me for the job. I've never directed a musical before and have always wanted to. The writing is so sharp. The songs are character-driven. It almost reads like a play with music. I'm a little terrified 'cause I feel like I'm out of my element if I'm being honest. But it's time to spread my wings a bit. Plus, I totally relate to Bobby. I get it. Haha. I'm also very excited to work with the cast we've assembled. They're gonna knock it out of the park!
Lastly, as a theater practitioner in Manila, would you recommend it as a sustainable career for budding theatermakers out there?
If this is what you really want and you cannot see yourself doing anything else, I say go for it. You will make it work. Not gonna lie, it's not gonna be easy. You're gonna have to sacrifice a lot. Do as much as you can now, while you're still young. You'll find a balance as you get older, because your priorities will also evolve. You'll find a way to still do what you love by supplementing it with other means of making money.
This can be a difficult and unforgiving profession at times, but if you really sweat it out and stick around, you might just look back and realize that you hadn't worked a day in your life. That's what I think anyway.
Comments