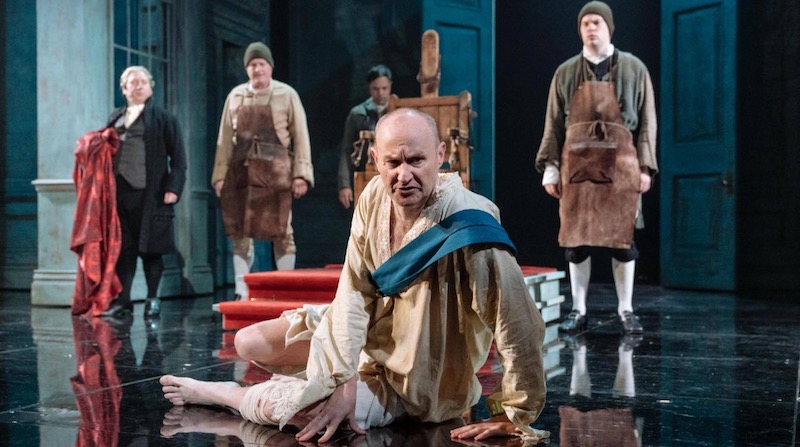 "The Madness of King George III" Streams Next for National Theatre at Home
The Madness of King George III was written in 1991 by British playwright Alan Bennett (The History Boys, The Lady in the Van) and it chronicles the latter years of the reign of King George III and his struggles with mental illness.
The play will be streamed as part of the UK National Theatre at Home initiative. The production is the revival which took place at Nottingham Playhouse and was filmed live in 2018.
Mark Gatiss (Sherlock, Doctor Who) stars as King George III and he is joined by Adrian Scarborough (Gavin and Stacey, After the Dance) as the Prince of Wales, Debra Gillett (Limehouse, Exit the King) as Queen Charlotte, and Sara Powell (Little Boy Blue, Vanity Fair) as Lady Pembroke.
The play begins in 1786 when King George III is at the height of his powers, ruling over the United Kingdom of Great Britain and Ireland. But the shadow of lunacy looms over him, and as his behavior becomes more unpredictable and erratic, the politicians around him, led by the ambitious Prince of Wales, connive to undermine his power by exposing his frailty. What follows is a tragic account of a man brought low by forces far beyond his control.
The stream will be available on the National Theatre's Youtube Channel from June 11 at 7pm (London time) to June 18. 
Mark Gatiss was last seen as Menenius in Coriolanus, the latest production to stream for National Theatre at Home. The previous lineup included This House, A Streetcar Named Desire, Barber Shop Chronicles, Antony and Cleopatra, Frankenstein, Twelfth Night, Jane Eyre, Treasure Island, and One Man, Two Guvnors.
Check out the trailer for The Madness of King George III below: 
Comments