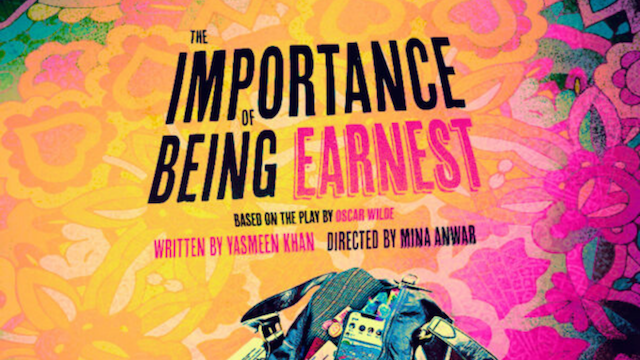 'The Importance of Being Earnest' Production to Stream
A digital production of Oscar Wilde's classic comedy, The Importance of Being Earnest, will stream online.
This version of the play has been adapted by writer, radio broadcaster and performer Yasmeen Khan (EastEnders) and is directed by Mina Anwar (Everybody's Talking About Jamie, Doctor Who, Thin Blue Line). The performance will be captured at two co-producing venues – Lawrence Batley Theatre in Huddersfield and The Dukes in Lancaster.
The digital production will have a modern twist, being set in the present day in an unspecified northern British town. The story will be centered on the struggles of the struggling actor Jamil and the rom-com star Algy as they come together "in the pursuit of love, being true to yourself, and Nando's."
The show will star Gurjeet Singh (Ackley Bridge, Wuthering Heights) as Earnest/Jamil, Tom Dixon (Twelfth Night, Romeo & Juliet) as Algy, Mina Anwar (Everybody's Talking About Jamie, The Thin Blue Line) as Ms Begum, Nikki Patel (Trojan Horse, Coronation Street) as Gul, Zoe Iqbal (Finding Fatimah, Ackley Bridge) as Safina and Melanie Marshall (Jane Eyre) as Miss Prism, with appearances from Divina De Campo, Paul Chahidi, Hugh Dennis, Harriet Thorpe, and Sindhu Vee.
Other members of the creative team include Holly Pigott (costume and set design), Dave Bintley (sound design), Douglas Kuhrt (lighting design), and Eleri Jones and Olivia Race (assistant direction). 
The original play was written by Oscar Wilde and was first performed in 1895. The story revolves around characters who adopt elaborate disguises in order to avoid burdensome social obligations. The play has been adapted numerous times on stage and screen including a 2002 film version starring Colin Firth, Rupert Everett, Judi Dench, and Reese Witherspoon.
The show will stream from April 19 to May 4. Details on the cast of the show and the rest of the creative team have yet to be revealed.
Tickets cost £12 each. Click here for tickets and more details.
Comments