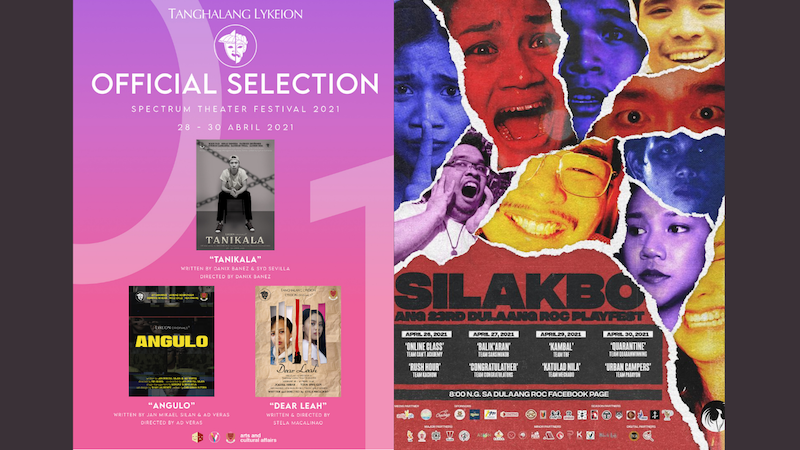 2 University-Based Theater Productions Online this April 2021
Two students organizations will be staging play festivals this month. See what university students can do in these upcoming original productions.
1. Silakbo: The 23rd Dulaang ROC Playfest by Dulaang ROC
The Dulaang ROC Playfest transitions to an online platform and continues its tradition of play competitions welcoming ROC and non-ROC members alike. 

The teams for Dulaang ROC Playfest 2021: Silakbo consists of five teams from the University of Asia and the Pacific, two teams from Jose Rizal University, and one team from De La Salle University. Two teams will perform each day on April 26, 27, 29, and 30, 8-9 PM, on Dulaang ROC's Facebook page. The 8 plays that will be showcased will reflect the theme of Silakbo, which when translated, pertains to an overwhelming emotional outburst.
The plays will be staged online through Dulaang ROC's Facebook Page on April 26, 27, 29, and 30, 2021 at 8:00 PM.
2. Spectrum: 01 Tanghalang Lykeion Theater Festival 2021 by Tanghalang Lykeion
On April 28, 2021, Tanghalang Lykeion will hold its first ever theater festival. The event, most especially its future iterations, aims to be the cultural hub of theater companies both university-based and non-university-based in the Cavite region. 
For its first edition, the competition will include only its company members. The show's mainstage will be held on April 28, 2021 and it will be livestreamed on Tanghalang Lykeion's Facebook page at 7:15pm. To conclude the festival on April 30, 2021 is the first-ever Tala Awards that would recognize excellence in writing, directing, acting, and other fields of the theater arts.
Comments