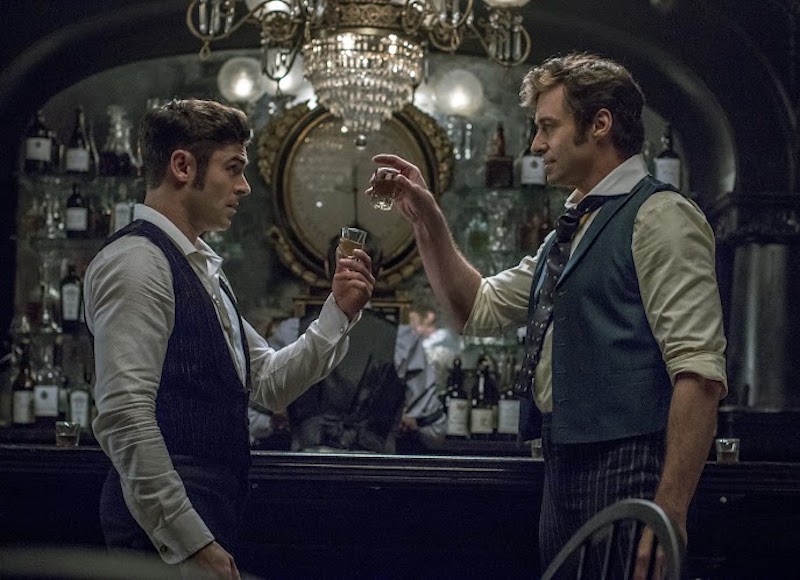 'The Greatest Showman' Opens in Local Cinemas Tomorrow!
Hugh Jackman stars as the legendary P.T. Barnum in 'The Greatest Showman', a spellbinding new musical film inspired by the visionary who revolutionized entertainment with his pioneering circus. Michelle Williams stars as Charity Barnum, Zac Efron plays Barnum's protégé, Zendaya plays a trapeze artist and Rebecca Ferguson portrays the renowned nineteenth-century opera singer, Jenny Lind. Bringing the story to life in all its humanity, joy and soaring emotion is the electrifying music from the Oscar, Tony and Grammy-winning duo Benj Pasek and Justin Paul. Pasek and Paul, along with director Michael Gracey and Jackman discuss their experience working on the film and the enduring power of the musical.
"There are some emotions that just can't be told or expressed through spoken dialogue," says Hugh Jackman, discussing the draw of his new film. "You have to feel that the characters have no choice but to sing and I think when a musical really works you buy into the premise of people breaking into song."
That is exactly what happens in the riveting rags to riches story of P.T. Barnum. "He went from humble beginnings to becoming the man who created show business", says Jackman who delivers a powerful performance, singing and dancing his way through the engrossing film. "I loved the idea of this musical because the story is full of larger than life characters," says the actor, who is, of course, a long-time fan of the genre. He received a Best Actor Oscar nomination and a Golden Globe for his performance in 'Les Miserables' and a Tony for 'The Boy from Oz'. Jackman had to work in a new way on the film. "It meant retraining my voice for two or three years."
The film follows Barnum as he marries his childhood sweetheart, Charity (Michelle Williams) and goes on to launch his pioneering circus in New York, (which eventually became the famous Ringling Bros. and Barnum & Bailey Circus). The multi-talented Zac Efron joins the cast as Phillip Carlyle, a sophisticated New Yorker who joins Barnum's circus and becomes his business partner. The actress and musician Zendaya shines as trapeze artist Anne Wheeler.
The stellar acting, dancing, and music are woven through the affecting narrative with ten original songs by Pasek and Paul. For both of them, the challenge involved writing modern songs that would also be timeless and meld seamlessly with the film's nineteenth-century setting. "Everything was motivated by character; every character has a unique perspective and voice," explains Pasek about the songwriting process. "Obviously this film takes place in the 1800s but we asked ourselves: what would be the modern, representation of P. T. Barnum?"
"Fine-tuning the musical numbers", says Pasek, "took us the better part of three years. We excised songs, we put in new songs, we rewrote songs and it developed similarly to a stage musical. "We rehearsed as if we were about to have a live show," says Paul. "At our rehearsal space in Brooklyn, there were dance rehearsals going on in one room and singing rehearsals in the other room. It was surreal to have these incredibly talented, massive movie stars walk into the hall in their dance clothes and start singing our songs."
The film is full of rousing numbers, "representing tent-pole moments or peak emotional moments, where the characters are having feelings that have to be expressed in song, or when they are coming together in a romance," says Paul. The central love story between Barnum and Charity (Michelle Williams) is propelled by the song, 'A Million Dreams'. According to Gracey, it's about young love. "Barnum is dreaming about being with the girl he loves. They may not have much at that point, but they have each other. It's a beautiful, poetic moment."
There is also a compelling romance between Efron's aristocratic Phillip and Zendaya's trapeze artist, Anne, who sing the sensational 'Rewrite the Stars' as they fall for each other. "Phillip leaves behind the society he's been entrenched in and the rules that accompany that world, to pursue Anne, the girl he loves, an African American woman," says Pasek explaining that the romance is complicated by the racial prejudice of the era. "It is about how the two of them embrace what the future could be."
"We do some crazy acrobatics, aerial stunts, swinging around the room with one arm attached to a piece of rope and no harnesses," adds Efron, describing the scene as "Cirque du Soleil meets Shakespeare. Falling in love over the course of a musical number on camera is one of my favorite things to do in the world," smiles Efron.
As well as the sweeping romance, The Greatest Showman is infused with resonant themes concerning inclusion and acceptance. Written by Bill Condon and Jenny Bicks, the story demonstrates how Barnum possessed an intrinsic understanding of what makes people tick and how to entertain an audience. The impresario fills his circus with spectacular performers, but he also hires 'Oddities', people who have been ostracized and invariably treated appallingly because they look 'different'. Barnum's Oddities include General Tom Thumb (Sam Humphrey) and the Bearded Lady, played with power and panache by the acclaimed Broadway actress Keala Settle. In a thrillingly moving performance, Settle belts out 'This Is Me', one of the most affecting songs in the film, which encapsulates the film's theme. "We wanted to write a song that was about empowerment and defiance. It is about learning to love yourself when the whole world tells you that you don't deserve to be loved," says Pasek.
According to Settle, "It's hard for me to talk about it because it hits so close to home. It's about how it feels when you're a very vulnerable human being. The words: 'I am brave, I am bruised, this is who I'm meant to be, this is me,' are almost issuing a charge to lift ourselves up in the knowledge that as much as we are all so different as people, innately we are all the same."
Playing the renowned nineteenth-century soprano is actress Rebecca Ferguson, delivering a thrilling performance as the Swedish Nightingale, who was essentially the Beyoncé or Adele of her day and in the film has a strong romantic connection to Barnum. "It must have been like being at the top of the pop charts – like it was with Beatlemania in the '60s. People actually fainted when she walked onto the stage," says Ferguson. "It is important to transform the words into truth for yourself because if I don't believe what I'm doing, you're not going to believe me. Am I keeping a wall between us, or do I want to tell you a story?
'Never Enough', says Pasek, was intended to be "a powerful song of insatiable desire." The songwriters were inspired by today's leading superstars such as Celine Dion and Adele. "It really is a performance piece."
The song marks just one of many 'Wow' moments in the film, which is full of equally lyrical but more subtle emotions. According to Justin Paul, achieving the musical cohesion involved a close collaboration with the Oscar-nominated composer, John Debney, who was responsible for the score. That indefinable musical language lies at the heart of the film, creating a kind of alchemy that is impossible to put into words. "A great musical is all about great music. It's got to be moving forward all the time," says Hugh Jackman. "You have to feel the characters moving and growing so you're emotionally involved with each song. The power of 'The Greatest Showman', Jackman concludes, is simple. "It makes your spirits soar. We want people to leave the cinema happier than when they went in and this is the perfect movie to make you feel happier about life."
The Greatest Showman opens Jan. 31 in Philippine cinemas from 20th Century Fox.
The sing-along version will start to play on February 7 exclusively at selected SM Cinemas (list of SM branches below).
SM Bacoor
SM Centerpoint
SM East Ortigas
SM Fairview
SM Mall of Asia
SM Manila
SM Marikina
SM Megamall
SM North Edsa
SM Southmall
SM Cagayan De Oro
SM Cebu
SM Davao
SM Seaside Cebu
Comments