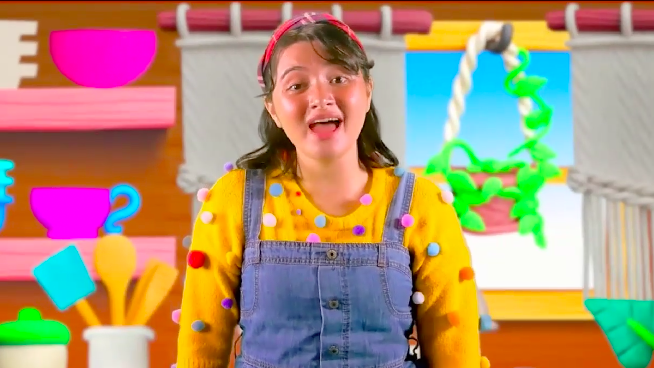 'The Great Christmas Cookie Bake Off' Musical from Stage to Screen
Repertory Philippines' online production of the musical, The Great Christmas Cookie Bake Off, will begin streaming on November 12. 
In this musical, eight young chefs, played by Jillian Ita-as, Jep Go, Becca Coates, Luigi Quesada, Rachel Coates, Justine Narciso, Tim Pavino, and Steven Hotchkiss, battle it out in the kitchen and learn what really makes for a winning Christmas recipe. Also featured in the cast are Arnel Carrion as Gabe's Dad/ Michael Holmes, Hans Eckstein as Larry the host, Carla Guevara Laforteza as Mrs. Santos/ Isabel Guevara/ Grandma, and Jamie Wilson as Del-Ray.
Every year, as part of its season line-up, Repertory Philippines has an offering for its children's theater arm called Repertory's Theater for Young Audiences (RTYA), helmed by RTYA Founder and Artistic Director Joy Virata. Its most recent live production was The Quest for the Adarna, written by Luna Griño-Inocian (book) and Rony Fortich (music), which ran from September 2019 to January 2020 and streamed for a limited time earlier this year. The company was set to stage Snow White and the Prince for its 2020 season, but was forced to cease all plans due to the COVID-19 pandemic.
Seeing as there was no hope for the theaters to re-open anytime soon, Virata knew she had to find a way to adapt to the situation. She shares, "Last year, when I was trying to figure out how to get things going again for the actors and mostly for the kids, I was thinking of all those children who were stuck at home, and their parents probably wanting so much to have something for them to do."

"I'm absolutely non-techie but I learned about streaming, so I said there might be streaming things available online. So I did go online and I did search, and I found The Great Christmas Cookie Bake Off."

When asked why she decided to go with this particular musical as their first online production, she says "I liked it because the music was so great, and it was funny, and it was about Christmas and cooking and baking and it has all these nice feelings in it, so I thought it would be just right."
"I also realize that there was no going back to the theater anytime soon, especially the kids because the kids are going to be kept at home longer than even the adults. So that's why I also did this." 
When asked if the company would consider staging this live when theaters re-open, she says "Who knows, when we can come together again, maybe yeah sure, we can do it live."
The artistic team, the cast, and a film production team led by film director Treb Monteras had to come together and mount the show in only 4 days– 2 days for face to face rehearsals, 1 day for tech, and 1 day for the actual shoot. Prior to the lock-in shoot, they only had Zoom rehearsals to rely on.
In spite of the intense schedule, the cast couldn't be more grateful to be part of the production. Tim Pavino, who plays Javi Carreon, a video game buff who feels out of place in the kitchen, shares, "My favorite part I think of the entire experience after not having done theater for two years was when we were all in costume on the day of the shoot and we were just standing or sitting or laying down on the stage and we were just absorbing the space, even without an audience. We were just realizing how blessed we were and still are to be performers; that we have a gift that needs to be utilized. We were so thankful again to REP for giving us the opportunity to give our gifts back to the audiences that are waiting for this spiritual awakening in theater." 
He adds, "As stressful as it was for us to be on zoom, and learn everything new, it was a nice gift again to be together."
READ: How to Stream 'The Great Christmas Cookie Bake Off' Online
Jep Go, who plays the bully Gabe Gomez, also shares "It's such an uplifting feeling to be able to perform again. Even though we're on a new set of normal, the moment you get to step on stage again, it's as if your breath is gonna be lifted from your body. It's that kind of experience." 
Jillian Ita-as, who plays the overachiever Anna Santos, also adds, "Since we all had to mount everything in such a short amount of time, I feel like I also had an appreciation for everyone who worked behind the scenes to make everything faster for everyone. I think it was inspirational personally for me to know that our little group could work so well together and so fast in such a short amount of time." 
She mentions that after all the hurdles they had to overcome, everything will probably seem "easier" when theaters return. "I'm looking forward to working with everyone in the future and knowing that we could work super hand in hand and super fast with all of the challenges given to us. I feel like after this pandemic, all of the shows will be like, 'We did that in such a short amount of time. This is chicken na'."

Written by Rick Hip-Flores, this production is directed by Joy Virata with film director Treb Monteras. The artistic team is composed of Cara Barredo (Assistant Director, Vocal Coach), Deana Aquino (Choreographer), Bonsai Cielo (Costume Designer), Ed Lacson Jr. (Set Designer), John Batalla (Lighting Designer), Al Estrella (Graphic Designer), Johann Enriquez (Sound Designer), and Myrene Santos (Hair and Make-up Artist). Assistant film direction is by Bombi Plata, with production management by Kaye Sanchez.
The show will stream from November 12, December 12 on Broadway on Demand. You can message us on Facebook messenger (or even DM us via Twitter or Instagram), send us an email, or shoot us a text (+63 917 891 2300) for tickets. You can watch the show for 24 hours at P700.

You can watch the teaser trailer below.
Comments