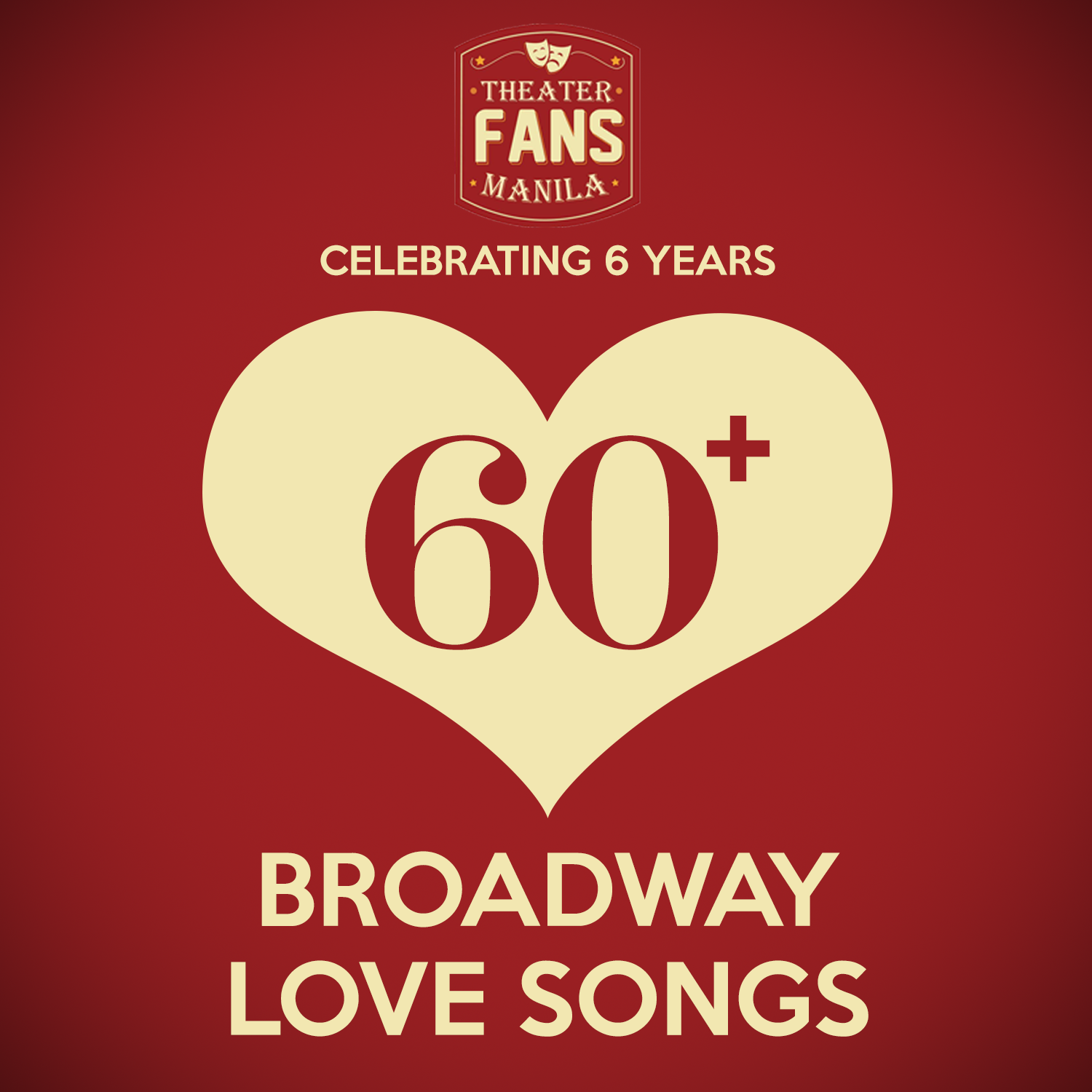 #TFMPlaylist: 60+ Broadway Love Songs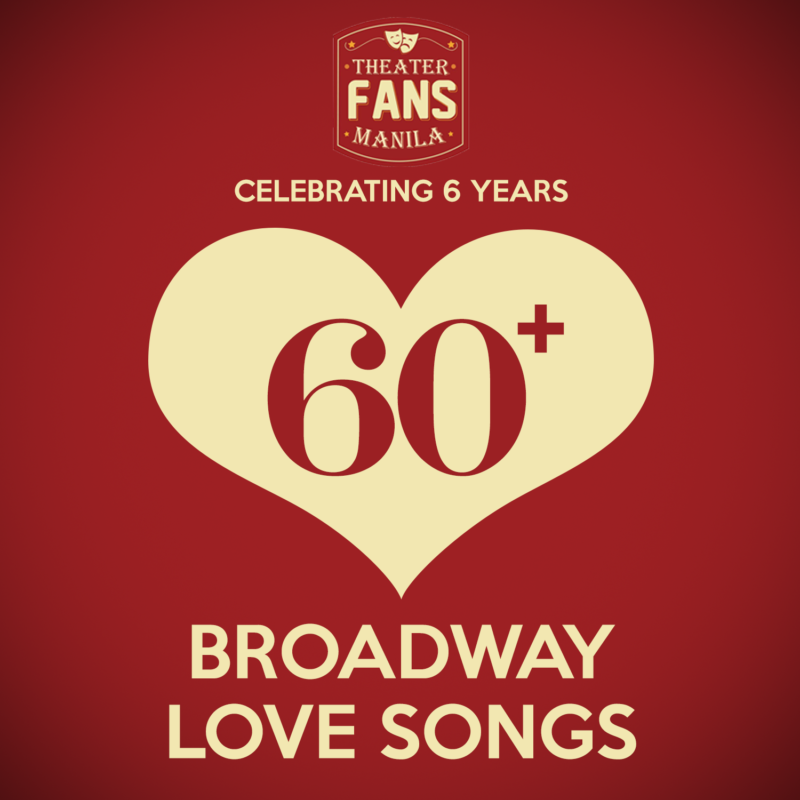 Theater Fans Manila has plenty to celebrate. We've reached 20,000K followers on Facebook, and we're coming up on our 6th anniversary (on April 8th!). As a big thanks to all you theater fans who continue to be patrons of the Manila theater scene, we wanted to share the love.
We asked over 80 people from the theater industry–actors, directors, producers, playwrights, artistic staff–about their favorite Broadway love songs and made a playlist with a whopping 67 songs! Over 4 hours of the best Broadway love songs, hand-picked and curated by your local theater faves.
Scroll to the bottom, or CLICK HERE to follow the playlist on Spotify!
Seasons of Love (Rent)
"It's so universal, so simple, so true and so powerful. That's what love is and that's become my life motto for years and years– measure your life in love. I think I even wrote that in slam books in grade school when people would ask 'life quote'. Measure your life in love. There's nothing truer and more meaningful than that." – GIANNINA OCAMPO VAN HOVEN, actress (Time Stands Still, The Vibrator Play)
One Hand, One Heart (West Side Story)
"Two lovers from opposing 'families' pledging undying love for one another. Leonard Bernstein's simple but lush melodies with Stephen Sondheim's straight-to-the-heart lyrics make for a combo that knocks me out every time I hear it. When you hear a song like that, you can only guess that things won't end well.
One Hand, One Heart has two people on equal footing just telling each other they'll love each other until death. Quite a popular wedding song. That's kind of what that song is, these two marrying each other; not officially, but in the heart. So romantic. Gives me goosebumps when I think about it. Not so much sugary, syrupy lovey-dovey stuff, but so romantic because of the lyric." – LEA SALONGA, Tony Award-winning actress
Sun and Moon (Miss Saigon)
"I love the idea of two people from different worlds finding each other through Fate." – CARLO VERGARA, playwright (Kung Paano Ako Naging Leading Lady, Zsazsa Zaturnnah)
Not While I'm Around (Sweeney Todd)
"I like many Broadway songs, but there is one that I think reflects who I am, and how I love. […] In the play, it is not sung by lovers. In the play, the character Toby, sings to the female character Mrs. Lovett of 'certain dangers' (Todd). This song though, is my love song to my daughter, my son, my loved ones, and to my man (if ever blessed with one someday). The lyrics says it all." – NATALIE EVERETT, actress (My Name is Asher Lev, Almost Maine)
What I Did for Love (A Chorus Line)
"I was fortunate to watch a production of it in Davao when I was 14 and my love for dance has grown ever since then." – PAUL MORALES, artistic director of Ballet Philippines
"In love, there's no such thing as regret. It's a thrill! No looking back. The song can also be applied to the love of one's craft, like the love for the arts. You'll do everything for your passion." – GERALD SANTOS, actor (San Pedro Calungsod, Sino Ka Ba Jose Rizal?)
"Even though it's not about romantic love, it's still one of the most powerful love songs ever written." – JOEL TRINIDAD, director (Into the Woods, Love/Sick)
I See the Light (Tangled)
"Kevin's siblings sang that during our wedding, as we were signing the contracts, and we were all crying. Hirap na hirap sila kumanta. My sister Pinky prepared the song list for the wedding, and so each song was a surprise. Mayen Cadd often says I look like the girl in Tangled and Kevin looks like the guy there. So it became our 'wedding song'." – CHINIE CONCEPCION, actress (Saturday Night Fever), choreographer and assistant director (High School Musical)
Tell Me On a Sunday (Song and Dance)
"I love a good heartbreak and a good falling-in-love song." – GEORGE DE JESUS III, Palanca Award-winning playwright

All I Ask of You (The Phantom of the Opera)
"…because it's very interesting and I think it was like the second show I watched. And so, it really made me feel disgusted at first but then… you know, it's true though! All kids get disgusted! Eeww love! Kissing eww! But I got used to it. I really love it because it's very lovey-dovey. It's a really good song." – KATIE BRADSHAW, actress (Sound of Music, Fun Home)
"It's a song that best shows that one's 'happy ending' is someone else's tragedy." – JOHN MARK YAP, stage manager (One Night Stand, Mula sa Buwan)
She Used to Be Mine (Waitress)
"Such beautiful melody with passionate and painful lyrics." – SHIELA VALDERRAMA-MARTINEZ, actress (Godspell, The Wedding Singer)
Loving You (Passion)
"I've never had to analyze why Loving You is my favorite Broadway song. I just know it is. It hits me in a very deep place. I think it's unique in the sense that it's such a quiet song; no big notes, no large instrumentation. It's short. Sondheim manages to capture the complex emotions behind whispered revelations, and I find truth in that. Vulnerable moments in real life aren't always thunderous. Confessions made in deathbeds, for example, as was, ultimately, Fosca's situation. A rare musical restraint combined with expose-all lyrics. Gorgeous. Universal. True love." – ROSELYN PEREZ, actress (Vanya and Sonia and Masha and Spike, The Normal Heart)
"In just a few verses it encompasses complete, unconditional love in all its glorious complexities." – BOBBY GARCIA, director (Fun Home, Jersey Boys)
"Since we watched the original Broadway cast of Passion on Broadway in the late 90's, it was this song that tugged my heart of hearts. And still continues to do so up until today. The lyrics are very simple yet poignant and a timeless promise of love. Woven with Sondheim's prolific music artistry with its melody, we are transported to the realm of living and loving until the last breath. Loving You will forever be the most timeless pledge of 'passion' in song ever written in the history of musical theater on Broadway and beyond. 'I will live and I will die for you…'" – TOOTS TOLENTINO, publicist
"I dont think there is a song that soars and sears at the same time. It is lush but it is also bitter. Its pure but painful. Of course the context in which it is sung makes the sting last longer." – JOAQUIN VALDES, actor (Ako si Josephine, Vanya and Sonya and Masha and Spike)
Times Like This (Lucky Stiff)
"I love how the song makes you laugh but also breaks your heart at the same time. Simple but witty lyrics; wistful and heartfelt. It's also a nice little ode to a dog's unconditional love." – TOPPER FABREGAS, director (This is Our Youth) and actor (The Normal Heart)
Without You (Rent)
"For two reasons: 1) RENT (the 1999 Original Manila Cast) is very momentous to me and my career because it's the show that introduced me to the entire community; and 2) 'Life goes on but I'm gone / 'Cause I die without you' I mean, come on?! Plus also the fact that I can actually sing this song in its original key– now to find me a Roger…" – RICCI CHAN, actor (Care Divas, Ako si Josephine)
Edelweiss (The Sound of Music)
"The use of a native flower as a beautiful tribute to one's homeland… a simple yet a strong metaphor to express sincere love and loyalty." – DEXTER M. SANTOS, director (A Little Princess) and choreographer (Godspell)
I Dreamed a Dream (Les Miserables)
"While this may not be the typical romantic love song, I find this song invokes a deeper kind love. It's about a someone who went through terrible struggle and sadness yet is gathering their strength to move forward and be brave. This song for me is about being able to love yourself, being able to find your own way, and continuing to be brave and dream regardless of the obstacles you face. This is a statement of true compassion for people in the face of hardships and it's a very deep and sincere kind of love that the world needs now more than ever." – KATHERINE BARKMAN, principal dancer of Ballet Manila
If I Could Tell Her (Dear Evan Hansen)
"Asking me to choose one is such a pain, but this is my current favourite! It has a contemporary, romantic but non-cheesy feel to it, and the fact that he's projecting his feelings make it all the more kilig!" – JILLIAN ITA-AS, actress (A Little Princess, Once Upon a Mattress)
Falling Slowly (Once)
"…yung melody niya siguro, yung melancholic and yet romantic na hindi mushy. […] Tingnan mo lang ang lyrics, kung hindi nakaka-in-love! And I like these lines: You have suffered enough / And warred with yourself / It's time that you won. Di ba ang ganda!? I guess I like those lines because it touches me and I guess resonates with me as it speaks of a struggle every person has with herself, to be what they want to be or to achieve something of themselves (pardon the shift in pronouns), to the point of self-doubt and invisibility. Don't we all have to also love the self as we love others?" – LIZA MAGTOTO, Palanca Award-winning playwright (Care Divas, Rak of Aegis)
"It's sincere and simple. The bravura is in it's lyrics, plus the mellow arrangement is very intimate which makes it one of the best love songs for me not only on Broadway." – JERALD NAPOLES, actor (Rak of Aegis, Care Divas)
"Ang swabe lang. Hindi engrande yung instrumentation pero ang loaded ng words at melody. Pusong-puso." – GOLD VILLAR-LIM, actress (Care Divas, 3 Stars and a Sun)

Some Enchanted Evening (South Pacific)
"There are so many favorites, but maybe for sentimental reasons I would choose Some Enchanted Evening from South Pacific. Why? Because my Dad used to sing it all the time when I was a child and he was a very very good tenor. I mean, my Dad would sing this song and my Mom and I would swoon. The lyrics also played with your sense of promise of finding your one true love "some enchanted evening" and so you can imagine how as a romantic teenager this really fueled my fantasy of one day going to a party and meeting The One. There was that naive hope that finding your soul mate was as simple as looking 'across a crowded room'." – LISA MACUJA-ELIZALDE, CEO and artistic director of Ballet Manila
Love Song (Pippin)
"It's simple in melody, and says exactly what love is. Nothing over the top. Simple and clear. That's how love should be." – MENCHU LAUCHENGCO-YULO, co-artistic director of Resorts World Manila's Full House Theater Company
"Pippin, I think is my all-time favorite Broadway play. I love the music. We sang it a lot in high school. That song was also translated by sina Jim Paredes and it was a lovely translation which we also sang. Kung baga hugot song of my time." – MARIBEL LEGARDA, director (Care Divas, Rak of Aegis)
Glad to Be Unhappy (On Your Toes)
"It says almost everything about the paradox of love. Are we stupid for loving someone who doesn't feel the same, or is it love in its purest form? Why does everyone have a masochistic tendency of jumping into an abyss with the hope that the person who will break the fall is the same one who created that hole. Well, maybe humans aren't innately stupid, only love makes us so." – NOR DOMINGO, actor (Time Stands Still) and director (3 Stars and a Sun)
Meadowlark (The Baker's Wife)
"…because ang hirap ng piano part, kasing hirap ng pag-ibig." – EJAY YATCO, musical director (Sa Wakas, A Little Princess)
First Date / Last Night (Dogfight)
"The song is a duet between the lead guy character (Birdlace) and lead girl character (Rose). He asks her out on a date out of guilt for humiliating her the night before, and she surprisingly still says yes. So, they awkwardly start their first date with mixed feelings and by the end of the song we see that they can't deny the same spark they feel between them. I find that so interesting cause life is always full of awkward unexpected moments that can actually still lead to good things. And it's a super catchy song, it got stuck in my head for weeks after I first heard it! Dreaming to play the role of Birdlace will forever be a frustration of mine because it's out of my vocal range and is supposed to be played by a much younger actor." – HANS ECKSTEIN, actor (Kung Paano Ako Naging Leading Lady, Once Upon a Mattress)
Anyone Can Whistle (Anyone Can Whistle)
"I love that song because I feel like I could sing it as myself, and I love that about it because it really describes how I feel about falling in love and all that crap. […] I love the song as well because I actually cannot whistle…" – BECCA COATES, actress (Agnes of God, Dani Girl)
One Second and a Million Miles (The Bridges of Madison County)
"It is so dramatic and Robert is begging Francesca to leave with him, that all they have is now, in the middle of the sing she breaks down and tells him all the reasons why she is so conflicted, but at the end they are swept away with passion and then, well you know! Amazing stuff! So beautifully written, and brings back memories of a very special time in my life." – MIG AYESA, actor (Rock of Ages, The Bridges of Madison County)
"Because it's Jason Robert Brown. And Kelli O'Hara. And Steve Pasquale. And it's just so romantic. And emotional. And beautiful." – MELISA CAMBA, actress (Marco Polo: An Untold Love Story, Ang Bagong Harana)
Fallin' (They're Playing Our Song)
"Falling is my staple karaoke song because I sang it many times onstage." – BART GUINGONA, director (Vanya and Sonia and Masha and Spike, Agnes of God)
I'll Cover You (Rent)
"I remember bawling every time I hear "I'll Cover You". The very song I can relate to since I did not have my own place and I lived with my exes." – JHETT TOLENTINO, Grammy and 3-time Tony Award-winning producer
"Rent was my very first time to venture into theater and it was a dream come true. I love the song because it speaks of absolute surrender and dedication to your lover in exchange for 'a thousand sweet kisses'." – OJ MARIANO, actor (Godspell, Rama Hari)
And I Am Telling You (Dreamgirls)
"Saw Amber Riley perform the song in the preview run of Dreamgirls on West End. Before that, I always thought the song has 'amateur singing contest piece' written all over it. And then I watched the play for the first time. The way the scenes build up to that one song– it was almost operatic. A truly powerful song of desperation and unrequited love." – CHRIS MARTINEZ, director (Kung Paano Ako Naging Leading Lady, Hapagkainan)
Being Alive (Company)
"It's a challenging song to sing." – ROEDER CAMANAG, director (Prelude to Macbeth, Florante at Laura)

A Bit of Earth (The Secret Garden)
"Aside from being one of the first Broadway pieces I learned when I started attending voice lessons, I liked it because of the complexity of the melody and poignancy of the message of the song. A simple girl wanting nothing but a bit of earth." – MELVIN LEE, actor (Care Divas) and director (Malapit Man, Malayo Rin)
I Can Do Better Than That (The Last Five Years)
"I love the story and passion of this song!" – KAKKI TEODORO, actress (Kung Paano Ako Naging Leading Lady, Orosman at Zafira)
The Human Heart (Once on This Island)
"…because it talks about the past, the present, and the future and how interconnected we all are." – HENDRI GO, producer (Progress The Musical, Red)
Origin of Love (Hedwig and the Angry Inch)
"God, I love that song! Besides Hedwig being one of my most favorite plays and soundtracks of all time (and one of my dream roles alongside the Leading Player in Pippin), that song is a beautifully woven mythological story that hits the heart hard back to reality at the end." – MAKO ALONSO, actor (Annie, Suicide Incorporated)
Some Things are Meant to Be (Little Women)
"While I'm well aware that two sisters sang this song, I find that the song fully captures what it's like to have and to meet a soulmate. For a moment, when you meet, everything falls in sync. The world becomes a place of adventure where anything goes no matter how silly. You find a genuine love and connection with someone. Then as with most soulmates, they come and go. The connection doesn't leave, maybe even the love, but your time for adventure has come to an end, at least till you cross paths again." – JUSTINE PENA, actress (Sa Wakas, Cinderella)
If Ever I Would Leave You (Camelot)
"…the poetry and melodies…" – AUDIE GEMORA, Entertainment Director of Solaire Casino and Resort
I'd Give It All for You (Songs for a New World)
"I really like the lyrics and the melody." – LORENZ MARTINEZ, actor (50 Shades! The Musical Parody, The Secret Garden)
"Beautiful lyrics and moving melody that deals with a couple finding each other again after twists and turns in their relationship. Kind of like 'After All' sung by Peter Cetera and Cher." – NOEL RAYOS, actor (The Secret Garden, Love/Sick)
"It's a great duet to sing!" – VINCE LIM, actor (Kung Paano Ako Naging Leading Lady, A Game of Trolls)
"It's one of my favorites because it proves that sometimes you need to let go of something good in order for the universe to work its magic and give you something better. Sometimes, that thing is the exact same thing you had before and all that needs to change is your perspective. Beautifully written by one of the best composers, Jason Robert Brown." – REB ATADERO, actor (The Graduate, Grease)
"I love singing it because of the melody and the lyrics of course. It's about a couple letting each other know what kind of life they have individually and in the end would give it all up just to be with each other." – CARLA GUEVARA-LAFORTEZA, actress (Once Upon a Mattress, The Bridges of Madison County)
Unusual Way (Nine)
"These songs (along with Unexpected Song from Song & Dance) honestly best describe how it is to be in that mysterious state of loving in an "unusual" and "unexpected" way." – TUXQS RUTAQUIO, artistic director of The Virgin Labfest, actor (Moliere PMS)
Suddenly Seymour (A Little Shop of Horrors)
"I played Audrey in one of my first leads for Repertory Philippines. I was only 17. I played Audrey opposite Jonjon Briones' Seymour along with an amazing supporting cast that included Aiza Seguerra and Lyon Roque. It was a tough song for me, and I had to hold on to the garbage can on the set to hit my high note." – ANA ABAD SANTOS, actress (Time Stands Still) and director (The Nether)
Something Good (The Sound of Music)
"To me, it means that you may be a flawed human being, but you are perfect to someone, who will take you as you are and love every bit of you. I like the idea of the song that, as imperfect as we are, we all still try to do good and be good, and the source of that energy or drive is, of course, Love. In short, Love is its own reward." – ANGELI BAYANI, actress (Buwan at Baril, Arbol de Fuego)
Sunrise (In The Heights)
"This song is probably one of my favorites because it was one of the first songs I listened to during my first ever relationship. In The Heights was also one of our first plays to see together. Selfish reasons aside, the song focuses on the love between two people of different worlds, incorporating different languages and social economic classes. Love transcends all of this and is the perfect introductory piece to act 2. Beautifully sung duet." – MARKKI STROEM, actor (Next to Normal, Jersey Boys)
Can't Fight this Feeling (Rock of Ages)
"It made me laugh." – JOSEPH MATHEU, lighting designer (Suicide Incorporated, My Name is Asher Lev)

Only You (Starlight Express)
"I liked the song already before I knew anything about musicals. Mas naging special siya kasi first time ko nalaman na may mga love songs na nagiging hit na nanggagaling sa musicals." – NICCO MANALO, actor (Mula sa Buwan, This is Our Youth)
Porgy, I's Your Woman Now (Porgy & Bess)
"…because the music is beautiful, classic, and I love singing it." – JOY VIRATA, associate artistic director for Repertory Philippines
Love is Only Love (Hello Dolly)
"Wise and clear-eyed about love and romance. With a sober, yet memorable melody that lifts you up with emotion one moment and then settles you down with a sweet, quiet acceptance of reality. Ang sarap lang kasi feeling mo totoo at mature. Sayang at hindi siya masyadong nakilala." – BODJIE PASCUA, actor (The Tempest, The Nether)
Tonight (West Side Story)
"It's my usual opening song in most of my gigs. Parang naka-sanayan ko na, parang national anthem ko na." – JOHN ARCILLA, actor (Dirty Old Musical, Walang Sugat)
"I think this song perfectly describes the feeling of falling and being in love." – GIO GAHOL, actor (Care Divas, 3 Stars and a Sun)
Yesterday I Loved You (Once Upon a Mattress)
"The lyrics are absolutely beautiful. The message of tomorrow being better than today is what a romantic like me lives for! Yesterday I loved you as never before, but please don't think me strange, I've undergone a chance and today I love you even more!" – CARA BARREDO, actress (Sa Wakas, Once Upon a Mattress)
Not a Day Goes By (Merrily We Roll Along)
"I believe that love, true love, is not an emotion. It's a commitment. A commitment to stay, nurture, develop and protect your partner as the days go by." – NEL GOMEZ, actor (My Name is Asher Lev, Jersey Boys)
Sunday (Sunday in the Park with George)
"Sums up all the different elements of making art through music. Sondheim geniusly parallels Art to Harmony (tone color line) and George Seurat's theories of pointillism. The song starts off quiet, bit by bit, rouses to a heavenly complete masterpiece!" – MIO INFANTE, set designer (La Cage Aux Folles, Tick Tick Boom)
The Fall of Saigon (Miss Saigon)
"It's the most emotional song I've ever heard, especially towards the end. […] My phone will always be on shuffle and for some reason, that will always come on while I was on the subway, and I end up crying on the subway! Its become a theme for everything." – CRIS VILLONCO, actress (Fun Home, Constellations)
Elaborate Lives (Aida)
"I like Elaborate Lives because it's not from Hamilton. #SHADE" – JEF FLORES, actor (Tick Tick Boom, Godspell)
Hear My Song (Songs for a New World)
"You would think I would choose a dance song or something from a dance musical. […] Aside from it being perfect for my singing range, it is perfect for days when one feels downcast. It reminds me to trust in a higher being who knows and understands me and will never let me down." – PJ REBULLIDA, choreographer (American Idiot, Awitin Mo at Isasayaw Ko)
With You (Pippin)
"…mainly because of its simplicity and honesty. Also, because it was used in a different context in the show but when taken out of it, has a different meaning." – REM ZAMORA, director (Changing Partners) and actor (33 Variations)
"The tenderness of the sentiment, plus the floating melody, never fails to tug at my heartstrings. Pippin was my very first play that started my love for and career in the theater, so for that reason alone it holds a very special place in my heart." – JAMIE WILSON, actor (Almost Maine, Jersey Boys)
"It's a simple, honest, and sincere song. That's what you should be when you're in love." – JONJON MARTIN, publicist (9 Works Theatrical), actor (A Christmas Carol)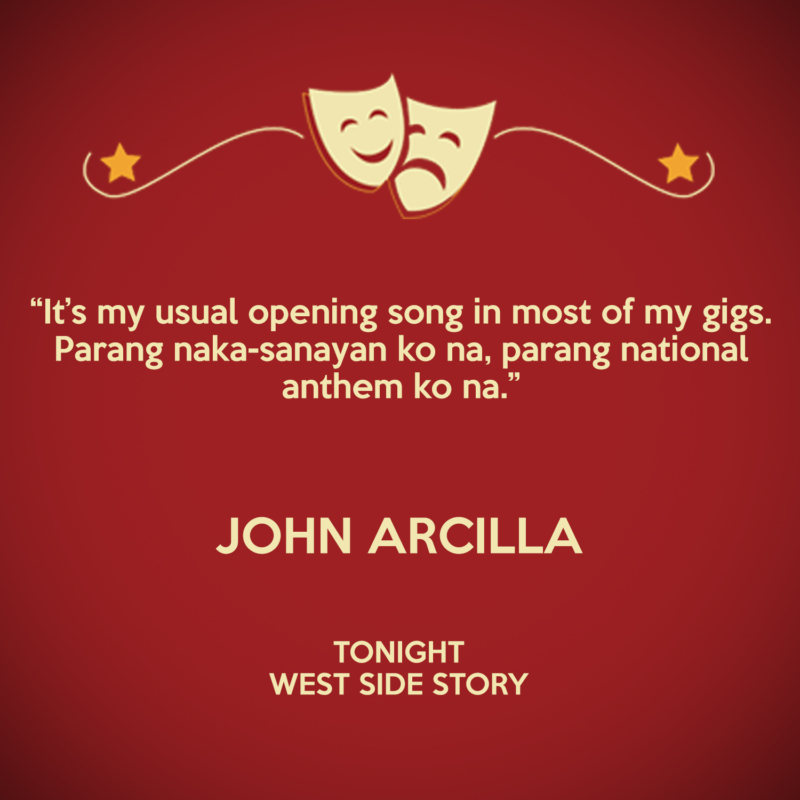 The Next Ten Minutes (The Last Five Years)
"So beautiful and painful at the same time! I always looked forward to this number during our run." – NIKKI GIL, actress (The Last Five Years, Sweet Charity)
With So Little To Be Sure Of (Anyone Can Whistle)
"I'm a sucker for a good Sondheim ballad. [It speaks] of a certainty that I think love should have, and the full acceptance of the object of your love, and the craziness and stupidity of it all." – RED CONCEPCION, actor (The Normal Heart, Care Divas)
With You (Ghost the Musical)
"The song has a very sad story but the feels will just make your heart melt in tears." – KIM MOLINA, actress (Kung Paano Ako Naging Leading Lady, Rak of Aegis)
Maria (West Side Story)
"Thats the first Broadway love song I learned. I did Tony when I was in highschool. In the song, Maria is repeatedly sung, every "Maria" means different, and it was magical." – MYKE SALOMON, musical director and actor (Rak of Aegis, A Game of Trolls)
Changing My Major (Fun Home)
"Not everybody realizes it's a love song! It's actually something we went through during rehearsals. At first I was performing it and eventually we talked about how it's actually a love song. So, I'm choosing this song because it's a first everything for Alison and that in a way is the purest form of romantic love. At least, when there's absolutely no cynicism or anything to corrupt that love. It's just pure, 'well that was amazing' love song and 'I look like an idiot!' love song, which I'm sure we've all gone through." – MIKKIE BRADSHAW-VOLANTE, actress (Carrie, Fun Home)
Seventeen (Heathers)
"I like things that are cute but also own up to darkness. This song is so fluffy but it also has slight social commentary and violent tendencies that I find interesting and right up my alley." – MARONNE CRUZ, actress (Ako si Josephine, Sa Wakas)
Someone Like You (Jekyll & Hyde)
"Nice simple words." – MARGIE MORAN, president of Ballet Philippines
What More Can I Say? (Falsettoland)
"The words of this song perfectly describe how words will never be enough (ironically) to say how much or why you love someone." – JENNY JAMORA, director (33 Variations) and actress (The Nether)
"It's the first time I could sing a love song from a musical as a man that's directed to another man. I hate to be political but growing up, all the love songs were always between a man and a woman and What More Can I Say was the first time I ever heard a song being sung by a man for another man. As a teenager, that song made me feel okay growing up gay." – WANGGO GALLAGA, dramaturg (No Filter, No Filter 2.0)
Marry Me a Little (Company)
"What I love about Marry Me Little is its vulnerability. It's that moment one finally strips down his/her walls and barriers, finally admits that they are ready for love and what they want and how they want to be loved. It's one of the scariest, but most liberating feeling– to allow yourself to be vulnerable and choose to love and be loved." – CAISA BORROMEO, actress (Sa Wakas, Kung Paano Ako Naging Leading Lady)
I'll Cover You – Reprise (Rent)
"It's heartbreakingly poignant and galvanizes everybody to sing their hearts out in honor of Angel's memory. Besides, when the lady belts 'With a thousand sweet kisses, I'll cover you,' it really covers you with chills and goosebumps." – TOFF DE VENECIA, director (No Filter) and actor (You're a Good Man Charlie Brown)
Helpless (Hamilton)
"I know that's super trendy right now but I– who don't always care about Broadway musicals– super love that song!" – RICHARD CUNANAN, actor (The Pillowman, The Normal Heart)
"I think it's the perfect allegory of what it's like to be so deeply lost in another person that their slightest idiosyncrasies mean ten-fold to your poor little heart. Plus, it sounds like it's straight out of the Early-2000s RnB scene, which is wonderfully refreshing. It also holds great personal significance, if you know what I mean." – BIBO REYES, actor (Bridges of Madison County, Jersey Boys)
You Matter to Me (Waitress)
"I love Sara Bareilles and this song is just so simple yet there's so much truth to it. I feel like anyone who's in love or been in love can relate. The melody and how it's sung is just enthralling." – SARAH FACURI, actress (No Filter, Stepping Out)

When Your Feet Don't Touch the Ground (Finding Neverland)
"I like the melody, the lyrics and the inspiration it brings." – ISAY ALVAREZ-SENA, actress (Katy The Musical, Rak of Aegis)
Only Us (Dear Evan Hansen)
"My favorite one right now, on rotation, is Only Us from Dear Evan Hansen. Because I'm a populist sellout that way." – MAHAR ABRERA MANGAHAS, dramaturg (33 Variations, The Normal Heart)
Last Night on Earth (American Idiot)
"I have loved this song the moment I first heard it. It was love at first listen so to speak. It has always and will forever speak to me and which makes my being able to perform it an out of body and surreal experience. This song is so very special and simply beautiful." – YANAH LAUREL, actress (American Idiot, Nine)
This is the Moment (Jekyll & Hyde)
"Aside from the beautiful music and lyric of the song, it is also one of the most requested songs in my repertoire since  I came back from Europe in 1996." – ROBERT SENA, actor (Rak of Aegis, Dirty Old Musical)
For Good (Wicked)
"I sang and dedicated that to my loved ones at my wedding reception. It was my way of saying thank you to all them whose presence in my life has made me who I am today." – RACHEL ALEJANDRO, actress (Avenue Q, Love/Sick)
Check out #TFMPlaylist: 60+ Broadway Love Songs below:
Don't forget to follow the playlist and TFM on Spotify!
With additional reporting by Nikki Francisco
Comments