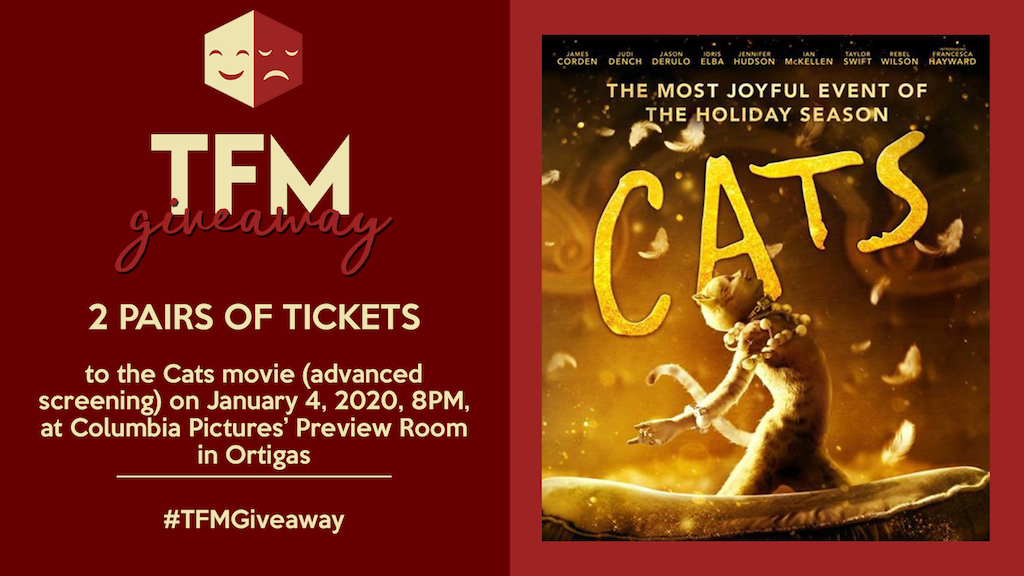 #TFMGiveaway: Win Tickets to the "Cats" Movie!
GIVEAWAY CLOSED: Congratulations to @boomdenise and @lestraaange for both winning a pair of tickets to the screening!
The Tom Hooper-directed movie is finally coming to local cinemas on January 8! Get a chance to win tickets to the advanced screening of Cats this Saturday!
LISTEN: "Memory" from Cats Movie by Jennifer Hudson
The film features Jennifer Hudson as Grizabella, Taylor Swift as Bombalurina, Jason Derulo as The Rum Tum Tugger, Judi Dench as Deuteronomy, James Corden as Bustopher Jones, Rebel Wilson as Jennyanydots, Idris Elbas as Macavity, Ian McKellen as Gus the Theatre Cat, Robert Fairchild as Munkustrap, and Francesca Hayward as Victoria the White Cat.
We're giving away 2 pairs of tickets (1 pair per winner) to the advanced screening this Saturday, January 4, 8pm at Columbia Pictures' Preview Room (27th Floor, IBP Tower, Julia Vargas Avenue/ Jade Drive, Ortigas Center, Pasig City)!
Here's how you can join:
1. Follow @theaterfansmnl on Instagram.
2. Like the Instagram contest post.
3. In the comments below the post, tell us who your favorite character is and why.
That's it! Make sure you've sent in your comment before 12nn tomorrow, January 3 (Friday). We'll be contacting the winners via Instagram DM, so keep your eyes peeled! Break a leg!
* The Instagram contest post has been taken down and archived since we've announced the winners, as requested by the organizer.
Comments