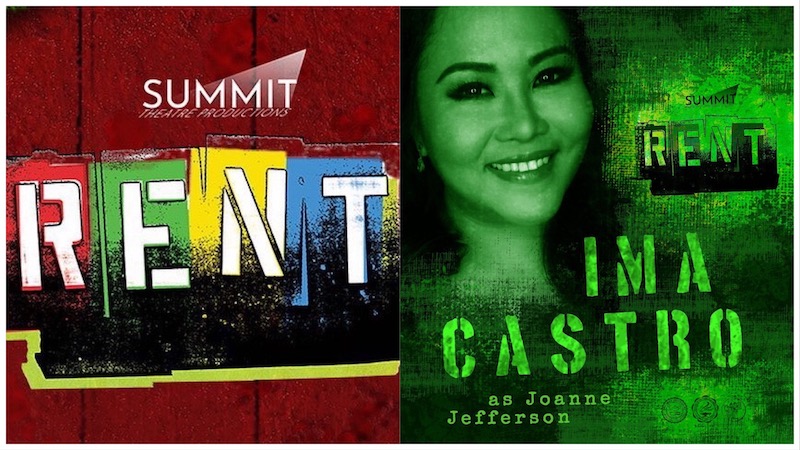 "Rent" to be Staged in Dumaguete this February
Summit Theatre Productions is set to stage Jonathan Larson's Rent at the Claire Isabel McGill Luce Auditorium in Silliman University, Dumaguete City this February. It will be the theater company's maiden production.
The production features Ima Castro (Sweeney Todd, Aida) as Joanne Jefferson, who shares, "I am extremely excited to be doing 'Rent' with such talented people from everywhere. This will certainly be a memorable show. I really hope people in the region will come and watch."
She adds, "This is not a surprise for me since I've done the role before [Guam]. 'Rent' deals with the very delicate issue about HIV and AIDS. I have a couple of friends who have passed away and lost their battle and it's a very heartbreaking fact that's happening in the world, not just when 'Rent' was first premiered in New York, but it's still happening now. So it's a very important musical for me and I believe that everybody should see this to learn from it."
Joining her in the cast are former Tanghalang Pilipino Actors Company Member Gino Ramirez as Angel Dumott Schunard, Cebuano actors Eli Razo as Roger Davis, E.G. Arganza as Mimi Marquez, and Jed Alerta as Benny Coffin III, Dumaguete actors Earnest Hope Tinambacan as Tom Collins and Jessa Cabading as Maureen Johnson, and Guam actors Stephen John Ramirez as Mark Cohen and Bennett Spence as Mr. Jefferson/ Mr. Grey. Karenina Ng, who was most recently seen as Unnayan in Tanghalang Pilipino's Lam-ang, will be playing the role of Mrs. Cohen.
"Part of the objective of this staging is to give people in Visayas a chance to enjoy and be exposed in musicals," says director Miren Sofia Jordana Fernando, who is based in Cebu. "I have gathered some of the most generous, talented cast and artistic team from all over the globe to make this production truly memorable. "
Joining Fernando in the Artistic team are Faust Peneyra (set design), Shirlee Idzakovich (costume design), and Jojo Urquico (artistic consultant). Urquico is also the Artistic Director of World Theater Productions Guam.
Rent follows a group of New Yorkers struggling with their careers, love lives, friendships, and the effects of the AIDS epidemic on their community. It was first staged in Manila by Atlantis Theatrical in 1999. 9 Works Theatrical also staged the musical in 2010 and 2011. The musical opened on Broadway in 1996 and won 4 Tony Awards including Best Musical.
The show will run on February 21 (7pm) and 22 (2pm and 7pm). Tickets can be purchased online via www.ktx.ph and via Ticket2Me. Tickets are priced at P350 for General Admission and P500 for VIP.
Comments