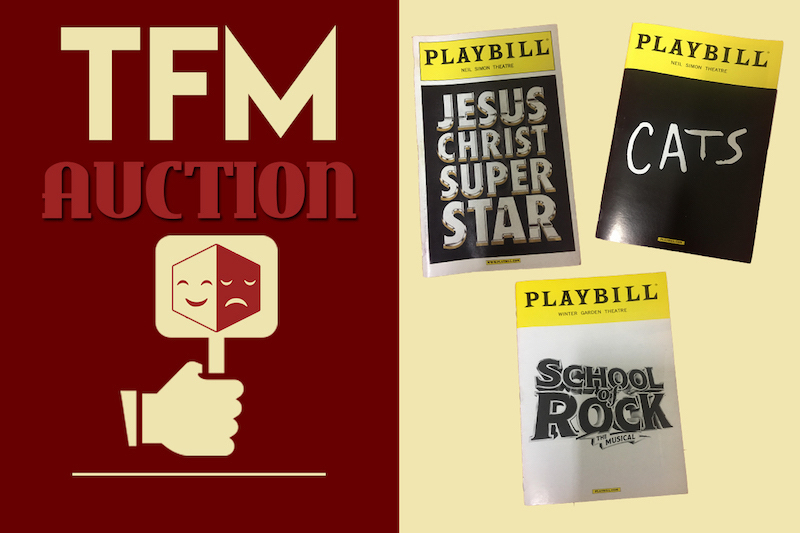 #TFMAuction: Playbills for Andrew Lloyd Webber Musicals
The Andrew Lloyd Webber fever is palpable in Manila! From the ongoing international tour of "The Phantom of the Opera" currently running at the Theatre at Solaire, to exciting announcements that "Cats" (with Joanna Ampil as Grizabella) and "Love Never Dies" will be touring Manila soon, theater fans can't seem to get enough of the composer's body of work.
To celebrate, we're holding a special auction for Broadway playbills from three of his musicals– Cats, School of Rock, and Jesus Christ Superstar.
We will be auctioning off each playbill everyday, from March 15 to 17. You can join our auction by heading over to our Instagram (@theaterfansmnl) account. Each playbill will begin with an initial bid of P500. You can find the schedules for the auctions below:
Cats (starring Leona Lewis at the Neil Simon Theatre)- March 15, 12nn to 9pm

School of Rock (starring Eric Petersen and Jenn Bambatese at the Winter Garden Theatre)- March 16, 12nn to 9pm

Jesus Christ Superstar (starring Paul Nolan, Josh Young, and Chilina Kennedy at the Neil Simon Theatre)- March 17, 12nn to 9pm
All proceeds will go towards funding TFM operations.
Important notes:
Before bidding, please read our Terms and conditions:
Bid by stating the price you are willing to pay in the comments. Initial bid will begin at P500.

Bids should be in increments of 50 pesos minimum (can be higher).

Bids after 8:59:59pm will no longer be counted. We will notify the highest bidder through a comment under their winning bid. Payment and other logistical concerns will be discussed with the winner through private messaging.

The highest bidder must make the donation within three (3) business days. If we do not receive the confirmation over the stated time, we will be contacting the next highest bidder.

Shipping costs are not yet included. (P60/shipment for Metro Manila and P150/shipment for provincial)
Comments