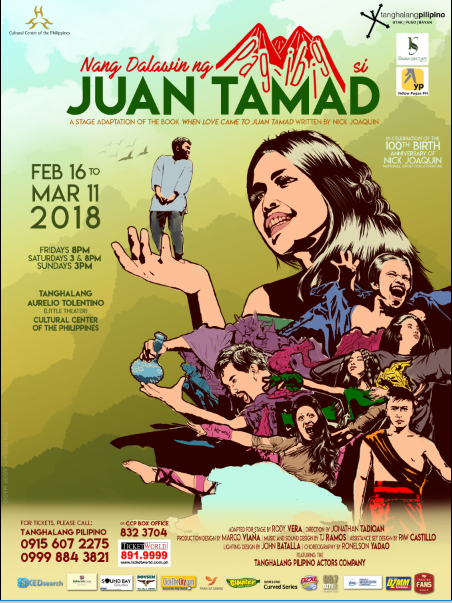 Tanghalang Pilipino Celebrates Filipino Folklore with 'Nang Dalawin ng Pag-ibig si Juan Tamad'
Filipino artistry will once again be celebrated as Tanghalang Pilipino (TP), the resident theater company of the Cultural Center of the Philippines, concludes its 31st Theater Season (billed as "Freedom Writers: Freedom Fighters") with Nang Dalawin ng Pag-ibig si Juan Tamad, a new and original production based on National Artist Nick Joaquin's story "How Love Came to Juan Tamad." Literary critics describe it as the correct explanation why Mariyang Makiling forever nurses a broken heart and why Juan Tamad remains a pop idol; a model for the young.
Included in Joaquin's Pop Stories for Groovy Kids (1979), the play is a mash-up of popular folk tales, and follows the love triangle among Filipino legends Mariyang Makiling (diyosa ng pag-ibig/goddess of love), Monte Banahaw (diyos ng digmaan/god of war), and Juan Tamad. Adapted for the stage by Rody Vera and directed by Jonathan Tadioan, the play is teeming with complex characters (including Ba'I, diyos ng lawa ng Laguna/god of Laguna lake and brother of Monte Banahaw), with no one being purely a hero or a villain.
Not only is this production a mash-up of characters (think: your favorite TV series characters visiting your other favorite show), there is an abundance of quotable quotes that will surely feed your soul (aka "hugot" lines). For the dreamers… "Hindi hinahanap ang pag-ibig. Hayaan mong sa akin kusang dumating."
The story explores the different faces of love – spiteful, revengeful and selfish…
"Gusto kong gumawa ka ng gayuma para kay Mariyang Makiling. Para mahulog siya, madapa siya, sumadsad siya, tumambling, at mabaliw sa pag-ibig. Pero hindi basta pag-ibig. Gusto kong umibig siya sa pinakagago, pinakatanga, pinakatamad, pinaka-walang kakuwenta-kuwentang mortal sa buong daigdig!"
– a goddess of love falling for a mortal;
"E, anong gusto mo, mahal ko? Ang hirap mong paligayahin!"
"Nasaan ka? Saan ka nagtago! Magpakita ka na! Ibibigay ko sa iyo ang lahat!
– a narcissistic kind of love;
"Wala na yatang mas nakakapagod pa sa pag-ibig. Biruin mo, bawat sandali, iniisip mo siya,
iniisip ka niya. Hindi mapakali, hindi makatulog, hindi makakain, laging aligaga. Laging
tulala, parang laging sinisilaban ang puwit ng mangingibig."
…and a god of war breaking his boundaries all in the name of love.  
"Lalo mong ikaila, lalong nahahalata. Tingnan mo, may bundok bang
nagpapawis nang malapot? May bundok bang nilalagnat, tumitibok ng 1-4-3?"
The iconic characters are reintroduced and given a "New Age-meets-indigenous" look through eclectic & colorful costumes (imagine Ba'I looking like a mad scientist and Ulap – a Cloud – narrating the myth), and the clever use of a minimalist stair platform set design which depicts a bayabas (or guava) fruit formed like a yin-yang.
The cast is comprised of TP's Actors Company and guest actor Cheeno Macaraig. At the helm of production and costume design is Marco Viaña; composition, arrangement, musical direction and design, TJ Ramos; lighting design, John Batalla; choreography, Ronelson Yadao and stage management, Doray Dayao.
Co-presented by the Cultural Center of the Philippines, Tanghalang Pilipino and Hotel Kamana Sanctuary Resort & Spa, and brought to you by Yellow Pages, Nang Dalawin ng Pag-ibig si Juan Tamad is Tanghalang Pilipino's Valentine offering. In this month of "Feb-ibig," it's time to explore the complexities of having the freedom to love who we want, to make choices as we please, and to standby with what you believe in.
It opens on February 16 and runs for four weekends until March 11, 2018 at the Tanghalang Aurelio Tolentino (CCP Little Theater), with evening performances at 8:00 PM and matinees at 3:00PM.
You can buy tickets HERE.
Comments