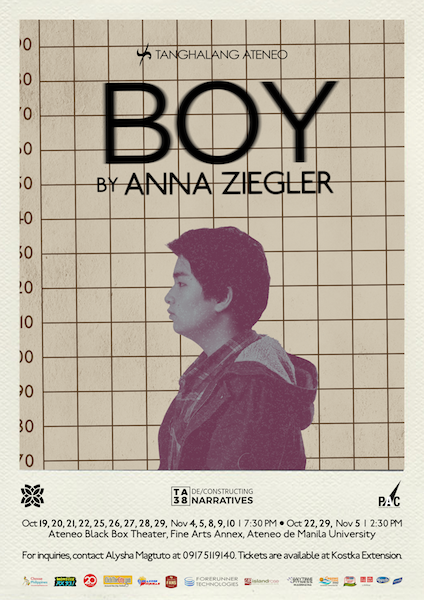 Tanghalang Ateneo Stages Anna Ziegler's Boy this October
Who were you, who are you and who will you become? How much of you did you decide for yourself?
Tanghalang Ateneo, the longest-running theater company of the Loyola Schools of the Ateneo de Manila University opens its 38th season: De/Constructing Narratives with Boy, a thought-provoking new play by award-winning American playwright Anna Ziegler. This will go onstage at the Ateneo de Manila's Black Box Theater (Fine Arts Annex) on October 19-November 10.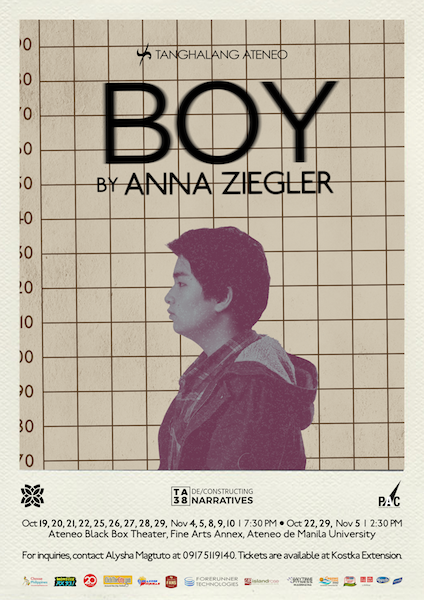 The play, which just had its world premiere produced by Keen Company in New York City earlier this year, is translated into Filipino by Guelan Varela-Luarca and directed by Ed Lacson, Jr. Tanghalang Ateneo's production of this play not only serves as its Philippine premiere but is also its first international staging and the first one produced outside of the original New York City production.
Synopsis
Boy is a story of self-realization and gender identity, a journey to find one's self amidst doubt and confusion. The play follows the life of Adam Turner who, as a new-born baby, had an unfortunate medical accident resulting in his parents deciding to raise him as a girl upon the advice of a renowned psychologist. As Adam grows older, his confusion about who he is and what he wants to become in life becomes more and more apparent that his parents eventually decide to re-veal to him his biological gender. The discovery leads Adam to re-create himself, severing all communication with his psychologist.
Cast
Cholo Ledesma plays this challenging title role.
Teroy Guzman plays Dr. Wendell Barnes, Adam's psychologist. Passionate about his work and ideals, Dr. Barnes has trouble looking past his own intentions to see the tragic consequences of his actions.
Camille Abaya plays Jenny, Adam's love interest. A down-to-earth, single mother, Jenny is confused about Adam's temperament and his relentless persis-tence in wanting to pursue a relationship with her.
Mayen Estañero and Wenah Nagales alternate as Trudy, Adam's mother. Like all mothers, Trudy has always tried to look out for the best interests of her child but is undone by her desperation to find an immediate solution to a life-altering problem.
Juliene Mendoza plays Doug, Adam's father. Often absent because of work, Doug leaves the responsibility of raising Adam to Dr. Barnes and Trudy, with terrible consequences.
A nominee for the 2016 Outer Critics Circle John Gassner Award, Boy was inspired by a real-life psychological case study conducted in the U.S. from the late '60s to the early '90s. This study, commonly referred to as the case of "Dr. Money And The Boy With No Penis," is about a botched circumcision that leads to the child's parents seeking the help of renowned sexologist Dr. John Money who agrees to the counseling of the child in exchange for conducting the study.
Artistic Team
The artistic team of Boy is composed of Glenn Sevilla Mas (Artistic Director and Company Moderator, Tanghalang Ateneo), Ed Lacson, Jr. (Director and Set Designer), Guelan Varela-Luarca (Translator), Teresa Barrozo (Sound Designer and Original Music Composer), Barbie Tan-Tiongco (Lighting Designer), Carlo Pagunaling (Costume Designer), and Ange Espiritu (Graphics Designer).
The playdates of Boy are October 19-22, 25-29, November 5, and 8-10. Performances start at 7:30 p.m. while Saturday matinee shows start at 2:30 p.m.
Boy would like to thank our sponsors, Forerunner Technologies, Anytime Fitness, Tugawe Cove Resort, Island Rose, Magnolia, Pure Foods Chili Garlic Corned Beef, and San Miguel Super Coffee. We would also like to acknowledge our media partners, Choose PH, ClickTheCity, Monster Radio RX 93.1, 2nd Opinion Magazine, Theater Fans Manila, and Wazzup Pilipinas.
You can buy tickets here!
For questions and additional details about the show, please contact Alysha Magtuto at 0917-511-9140 or alyshamagtuto@gmail.com.
Comments