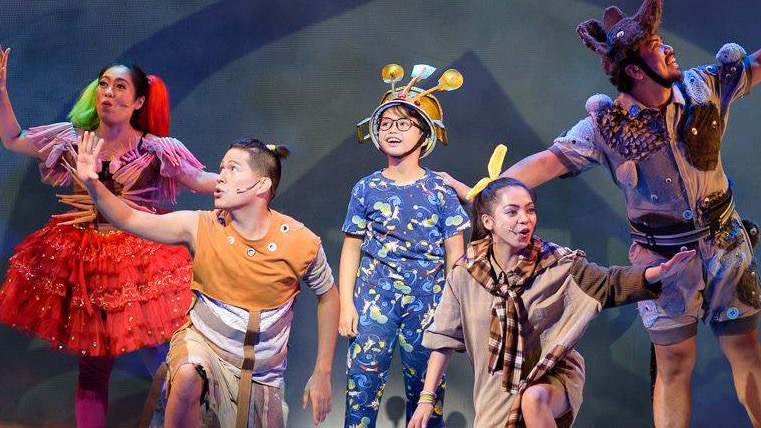 "Tagu-taguan" by PETA Returns for a Limited Run
PETA's original musical, Tagu-taguan, Nasaan Ang Buwan?, returns for a limited run this November 20-December 6 (with 10am and 3pm shows) at the PETA Theater Center.
Written by J-mee Katanyag and directed by Dudz Teraña (who also serves as choreographer), the production will now be on its 3rd run, having first opened in August 2017. The production has also toured in Metro Manila universities around Miriam College, Adamson University, San Beda College Alabang; Northern Luzon in Palayan, Nueva Ecija, Cabagan, Isabela, and Tuguegarao City, Cagayan; and in Star Theater, Pasay City.
The story follows Popoy, a young boy who tries to save his forgetful grandmother, Luna. He does this by looking for her stories that have been imprisoned in a dark realm of fear, guarded by the evil monster Papaw Halimaw.
The musical is inspired by PETA's collection of children's productions, featuring characters such as Pepe and Pepito from Batang Rizal, Prinsesa Mina from Ang Tiririt ng Adarna, Little Match Girl from Hans Christian Andersen Must Be Filipino, Ngo from Ngo ang Dagang Patay, and Ismail and Isabel from Ismail at Isabel.
Cast members for this run include Omar Uddin, Andrew Figueroa, and Roebourne Livelo (Popoy), Joann Co, Upeng Galang Fernandez, and Marichu Belarmino (Lola Luna), John Moran and Norbs Portales (Jeffrey), Roi Calilong, Ian Segarra (who also plays Ismail), and Ron Alfonso (Ngo), Gold Villar Lim (who also plays Isabel), Mnor Madamesila, and Jimma Nariz (Prinsesa Mina), Teetin Villanueva and Yeyin Dela Cruz (Little Match Girl), Raven Relavo (Isabel), Angelo Lantaco and Csai Habla (Ismail), Gerhard Krysstopher (who also plays Pepito) and Lemuel Silvestre (Pepe), and Joseph Madriaga (Pepito).
Joining Katanyag and Teraña in the creative team are Ian Segarra (Associate Director), Jeff Hernandez (Composer and Musical Director) Charles Yee (Set Designer), Leeroy New (Costume Designer) Loren Rivera (Lighting Designer), and Sig Pecho (Shadow and Video Designer).
You can buy tickets HERE.
Comments