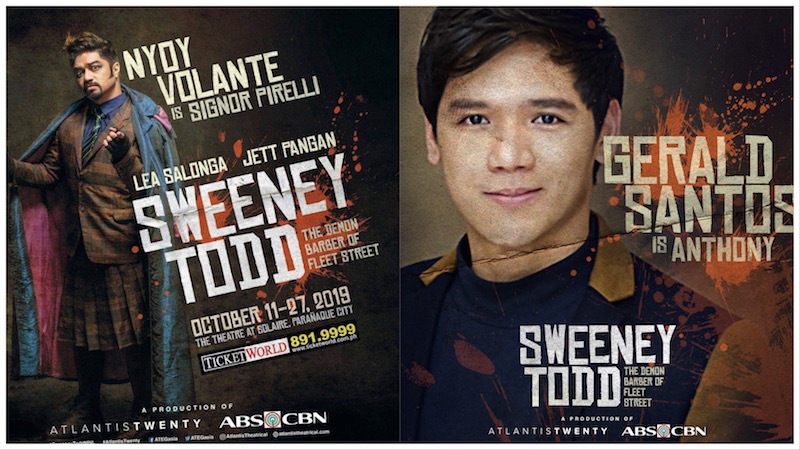 "Sweeney Todd" adds Nyoy Volante and Gerald Santos to the Cast
Nyoy Volante and Gerald Santos will be joining previously announced cast members Jett Pangan (Sweeney Todd), Lea Salonga (Mrs. Lovett), Ima Castro (the Beggar Woman), and Andrew Fernando (Judge Turpin) for Atlantis Theatrical's production of "Sweeney Todd."
Santos will be playing the role of young sailor Anthony Hope, while Volante will be playing the role of Signor Adolfo Pirelli, the rival barber of Sweeney Todd.
"I am excited to again be performing for my "kababayans"! It's my first musical here since Miss Saigon [where he played Thuy] and there really is no place like home," shares Santos. "I can't wait to take on the challenge of playing Anthony Hope as truthfully and passionately as possible. I also look forward to the challenge of mastering the material, which is a classic."
Volante says, "Aside, from having the honor to perform beside theater royalties Lea Salonga and Jett Pangan, I also can't wait to take on this Sondheim mammoth. Atlantis has really brought out the big guns for their 20th anniversary and capping it off with this masterpiece is like the big bloody cherry on top."
"Sweeney Todd" will run from October 11-27, 2019 at the Theatre at Solaire. The production will also be moving to Singapore after the Manila engagement.
Stephen Sondheim and Hugh Wheeler's "Sweeney Todd" won 8 Tony Awards, including Best Musical, as well as the Oliver Award for Best New Musical. The Broadway revival went on to win two more Tony Awards. 2019 marks the musical's 40th anniversary.
"Sweeney Todd" is the final production in  Atlantis' 20th Anniversary season. It was preceded by "Angels In America: Millennium Approaches","Beautiful: The Carole King Musical", and "Madagascar: A Musical Adventure", the maiden production of the company's new division, Atlantis Imaginarium Young Theatre.
You can buy tickets HERE.
Comments