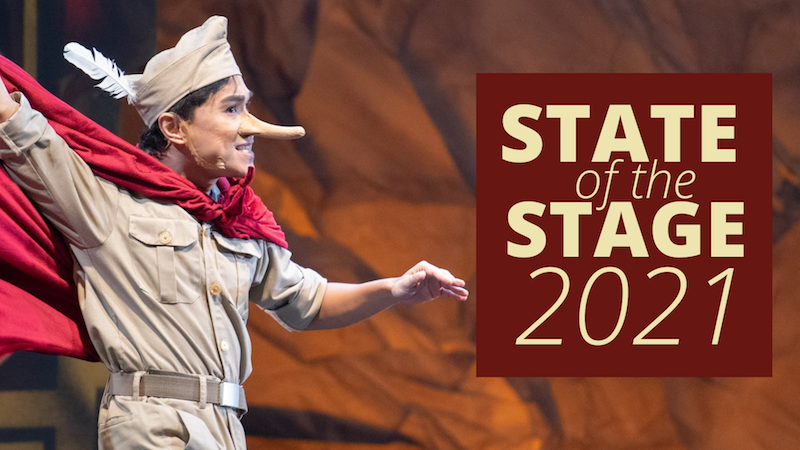 State of the Stage: Manila Theater Scene in 2021
To say it's been rough is the biggest understatement of 2020. The global theater industry shuttered to a halt nearly overnight. Our own local scene, where we enjoy close to a hundred live productions every year, drew its curtains, leaving us theater fans starved for the last nine months–and counting!
The sobering fact remains that realistically, we won't see live, in-person shows in our calendars any time soon. While the quick development and distribution of vaccines in other countries are giving us glimmers of positivity, we'll have to live with this new normal even as some shows have been tentatively mentioned, and theater companies have gone on the record to share with us that they have things up their sleeves for the coming year.
First off, Pat Valera of Black Box Productions has shared that for the 10th anniversary of Mula sa Buwan, the company will be doing a safe and purposeful filming of the musical that will be available for video-on-demand. "The online shift made us realize that our works can reach a broader audience — now, not only limited to Metro Manila!," he says. Open auditions will also be called for the filmed production.

He also mentions that a rerun of the stage production might still be possible at the tail end of 2021, depending on the climate.

For Trumpets Inc., if live shows are permitted by 2021, the company plans to re-run and tour Joseph the Dreamer. According to Artistic Director Audie Gemora, the company also has a number of shows in development– Happy Prince by Freddie Santos, and a yet-to-be-named musical based on the biblical character "Esther", written by Luna Inocian. Trumpets Inc. is also eyeing a revival of The Lion, The Witch and The Wardrobe, set for 2022.
Its sister company, Stages, is also planning a string of plays and new musicals, as well as a joint production with 9 Works Theatrical (Eto Na! Musikal nAPO, Newsies) for a yet to be announced title.

The company behind Ang Huling El Bimbo, Full House Theater Company is looking to push on with their OPM musical, Bongga Ka Day, sometime this year, depending on government restrictions.
For REP, president and CEO Mindy Perez-Rubio shares that the company is looking at re-opening their 2021 season this July. "We are producing the timeless musical Carousel, which was to have been presented May 2020," she says. "If schools re-open in September, RTYA [REP's Theater for Young Audiences] returns with the fairy tale Snow White and the Prince."
They plan to focus on online content for the first half of the year, where they will continue with streaming REPisodes (videos of REP actors in song and dance), conducting monthly theater workshops, and sending out the company newsletter, REPartee. "We discovered a keen interest in online workshop classes in Musical Theater and Voice, that attract students from as far as the Visayas, Baguio, and Hong Kong," adds Perez-Rubio. "The concept of honing theater skills from home seems to be new and interesting to students. However, if the pandemic ceases by April, we plan to resume real workshop classes and produce Showcases Onstage at the end of the sessions."
Leloi Arcete, the Public Relations Supervisor for PETA, says that they will be streaming the play Under My Skin, which will be shot for video, to the general public. They are also set to stream the musicals Si Juan Tamad, Ang Diyablo at Ang Limang Milyong Boto! and 1896 for schools, and Care Divas for exclusive streaming (by request, like exclusive events). All 3 productions streamed earlier last November to December as part of K.E.-POP: Kalinangan Ensemble-Performers Overcoming a Pandemic, the company's digital festival. 
Tanghalang Pilipino will be streaming a filmed version of Tony Perez's Sierra Lakes this August, to be directed by Laurice Guillien, who will also be writing the screenplay adaptation. The company will also be streaming a filmed version of Layeta Bucoy's Doc Resurreccion in December 2021, to be directed by Dennis Marasigan.
Karla Gutierrez, the Artistic Director of Philippine Opera Company, says that they will continue with their YAS (Young Artists' Series) workshops and YAS online shows. "Our scholarship programs are still on the go," says Gutierrez. "We will be doing online concerts, to be able to sustain our programs and help our singers." 
For Twin Bill Theater, Founder and Artistic Director Francis Matheu shares that they will be continuing their Find Your Light Locked and Loaded program, the company's online acting workshop series in January. In February, they will be launching their Chew the Fat Series, a bitesize interactive online theater chat covering specific topics and issues in the theater. The company is also set to launch the Pamana Collection in March, a virtual play production series using devised original theater work.  
Of course, we'll be remiss not to mention the possibility of West End's Six The Musical coming to Manila. In theater-adjacent news, there's also the upcoming local series musical, Still, that's reportedly in the works. Plenty to look forward to!
While there are no dates yet for any of these plans, rest assured that the local scene hasn't called curtains on the industry. Far from it! Everyone's making plans and preparations for when we all finally return to the theater.
Comments