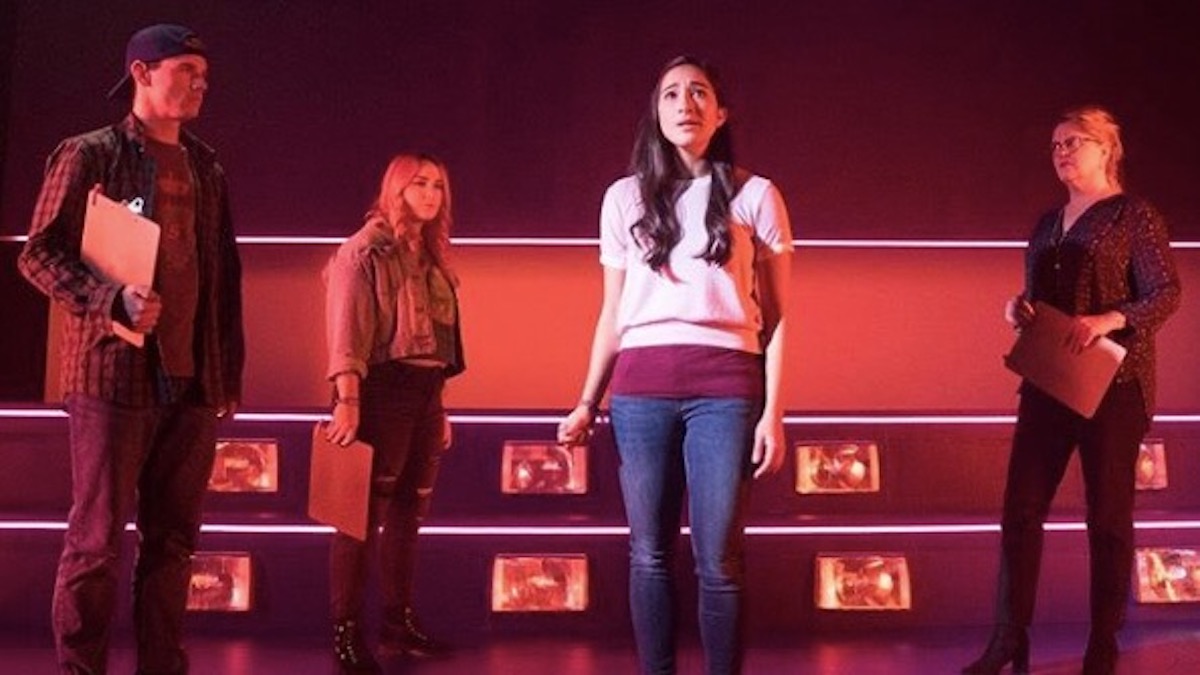 Special 'The Mad Ones' Giveaway with Sixteen Bars this June!
Sixteen Bars is celebrating a fun-packed June by spreading the Kerrigan & Lowdermilk love — with a giveaway!
On their Facebook page, Sixteen Bars announced that it would be giving away three (3) signed souvenir programs from the recent New York staging of Kait Kerrigan & Brian Lowdermilk's 'The Mad Ones'. The programs were signed by cast members Krystina Alabado, Emma Hunton, Jay Armstrong Johnson, and Leah Hocking, as well as by Kerrigan & Lowdermilk themselves.
'The Mad Ones' is the Kerrigan & Lowdermilk musical formerly known as 'The Unauthorized Autobiography of Samantha Brown'. The powerhouse New York-based composing duo's musical sensation stars Krystina Alabado as Samantha Brown, a smart girl on the cusp of adulthood. The story follows Samantha as she sits in a driver's seat, struggling to decide where to go in life. As she reflects, she also reminisces about significant points in her life with her best friend (Emma Hunton), her boyfriend (Jay Armstrong Johnson), and her mother (Leah Hocking). The show's "breakout" song is "Run Away With Me," a sweet power ballad sung by Adam, Sam's boyfriend. Performances of the song by the likes of Aaron Tveit, Jeremy Jordan, and Michael Arden have been viral on YouTube for years before this production, with 1.2M, 1M, and 400K views respectively.
Exact details of the giveaway's mechanics are to follow, but Sixteen Bars has teased that it would be giving the programs away at two of its events this June, Make 'Em Laugh: Broadway Open Mic , and An Evening With Brian Lowdermilk .
Make 'Em Laugh: Broadway Open Mic is Sixteen Bars' twelfth iteration of the Broadway Open Mic series. As, first and foremost, a theatre education company, the Broadway Open Mic is one of Sixteen Bars' core offerings. Held three to four times a year, the goal of the Broadway Open Mic is to create a safe space for budding performers to bring their Broadway fantasies to life. In this iteration, Make 'Em Laugh , guests are encouraged to tickle the audience's funny bone with comedic performances of show tunes, both expected and unexpected. Make 'Em Laugh will be held on June 16, 2018 at the Staple and Perk Café in Makati. Registration for song slots opens at 6 PM, with performances beginning at 7 PM. Admission (for performers and non-performers) is PhP 300 .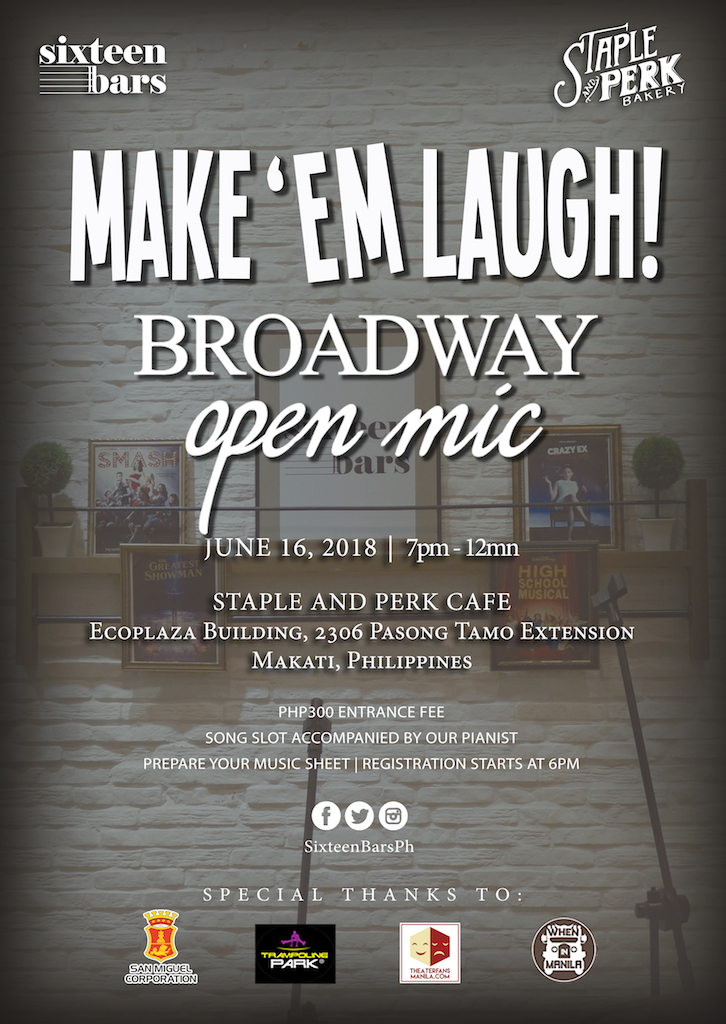 An Evening With Brian Lowdermilk is a culmination of sorts for Sixteen Bars. When the company was first founded, one of its goals was to bring Kerrigan & Lowdermilk to Manila to teach masterclasses, and perform with people from Manila's growing theatre scene. With this one-night concert (and accompanying masterclasses taught by Lowdermilk), Sixteen Bars has hit a milestone.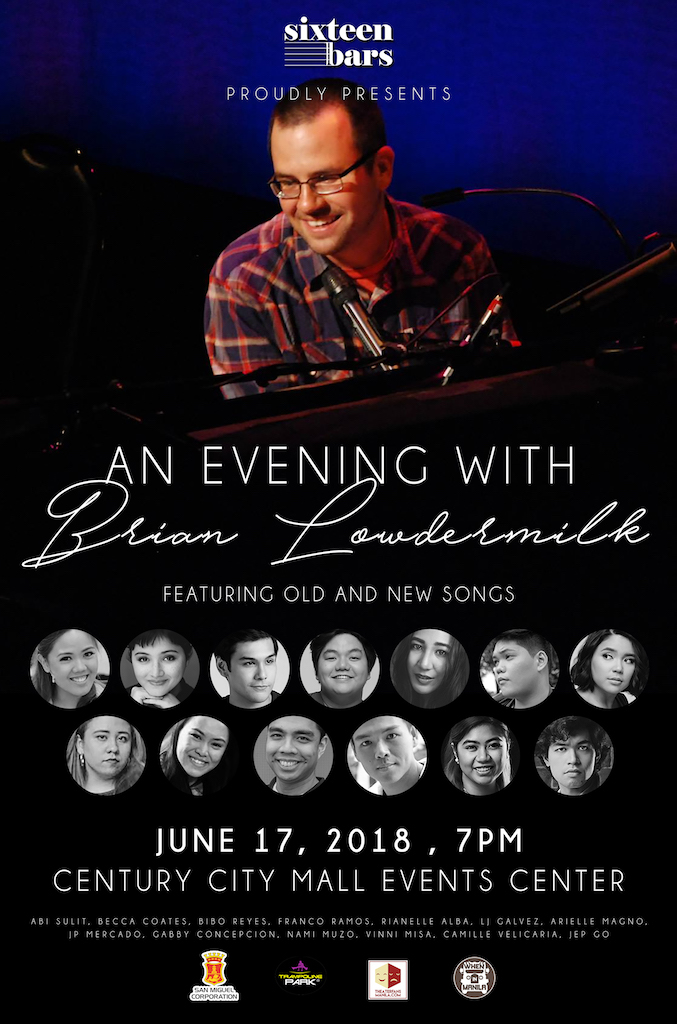 Singing with Lowdermilk is a cast of young performers composed of Becca Coates, Franco Ramos, Bibo Reyes, Abi Sulit, Rianelle Alba, Gabby Concepcion, LJ Z. Galvez, Jep Go, Arielle Magno, J.P. Mercado, Vinni Misa, Nami Muzo, and Camille Velicaria.
An Evening With Brian Lowdermilk will be held on June 17, 2018 at the Century City Mall Events Center . Shows starts at 7 PM. Tickets for this special concert are now available on the Ticketworld website, and all Ticketworld outlets, for PhP 500 each.
June is looking to be a busy, busy month for Manila's theatre fans! Great theatrical experiences are lurking just around every corner, and Sixteen Bars' June 2018 offerings are right there with the rest of them! Watch out — you may just win!
Comments