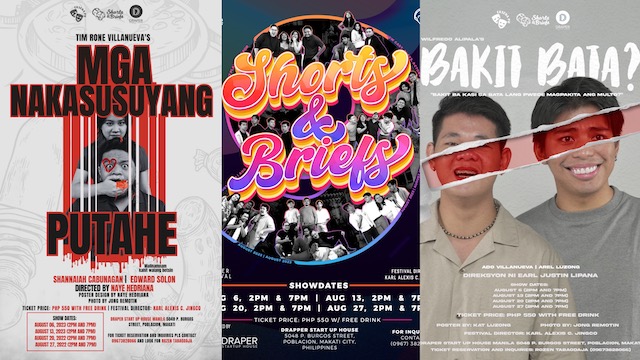 'Shorts & Briefs' Theater Festival Returns this August
Now on its 9th year, Eksena PH's Shorts & Briefs (S&B) festival returns this August at Draper Startup House in Poblacion Makati.
Shorts & Briefs is an independently produced theater festival of short and brief plays (10-12 minutes each) that features only first time theater makers and performers. This year's festival features 8 new plays, all by upcoming playwrights, running for all Sundays of August from August 6 to 27, 2pm and 7pm. Draper is a 80-seater venue, located at 5048 P. Burgos Street, Poblacion, Makati, Philippines.   
The plays are as follows: 
1. Tim Villanueva's "Mga Nakasusuyang Putahe", a funny story about relationship, revenge, and food to be directed by Naye Hedriana, a former actress during SNB 5th season who's now exploring the role of a play director.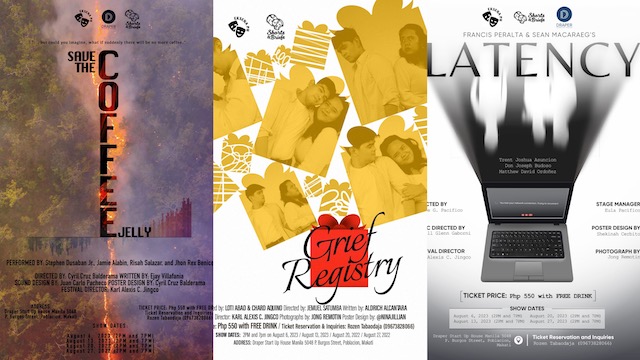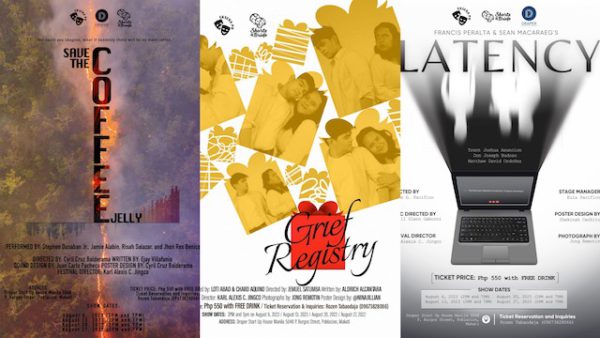 2. Ephraim Villafania's "Save the Coffee Jelly", a comedy about creating false campaigns–save the coffee bean, in this instance–to create income. Directed by Cyril Balderama, who is an artist and choreographer from Valenzuela City.
3. Aldrich Alcantara's "Grief Registry" is a play set in a hotel room about a newly-wed couple who receives an unknown wedding gift. To be directed by film actor Jemuel Satumba.
4. Francis Peralta and Sean Macaraeg's "Online Class" has been devised and collaborated with director Eunice Pacifico with "Latency" as its new Title.
5. Julay Elloso and Frank Conche's "Ang Tigas ng Ulo Mo", a riot story about three brothers and their "Alive" arthritic father, to be directed by film/ theater sound scorer and designer Paulo Almaden.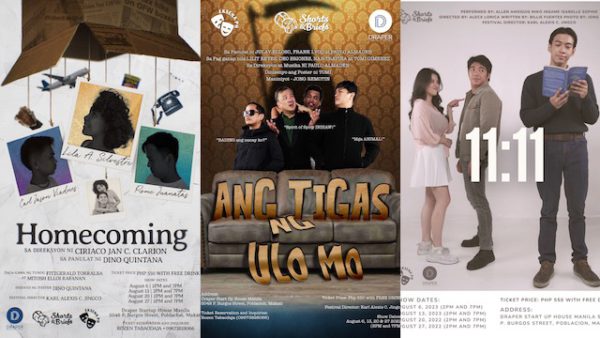 6. Dino Quintana's "Homecoming" is a story about a balikabayan box that arrives months after the sender has died. To be directed by Ciri Clarion, a fresh graduate from Iligan City and a member of Integrated Performing Arts Guild (IPAG).
7. Billie Fuentes' "The Mourning After", now called "11:11" after some collaboration work, is a story about relationship, friendship and mourning, to be directed by certified Meisner teacher and Sightlines Actors Space Founder Alecx Lorica.
8. Wilfredo Alipala's "Bakit Bata" is a story about ghosts and ghosting, to be directed by former thespian Earl Pingol.
Shorts & Briefs started in 2015 with the intention of having a safe space for 1st timers and aspiring creators to collaborate and just create. The festival is an initiative of Festival Director Karl Alexis C. Jingco, a theater practioner whose works revolves around improv and inclusive theater. Jingco recently directed this year's revisited play for the Virgin Labfest "Nay my Dala akong Pancit". Since then, SNB has been expanded to serve the larger theater community.  
For more information about the festival, you can follow then on Eksena PH's Facebook page. For tickets and other inquiries, contact 09673828066 or message them on their social media account.  
Comments