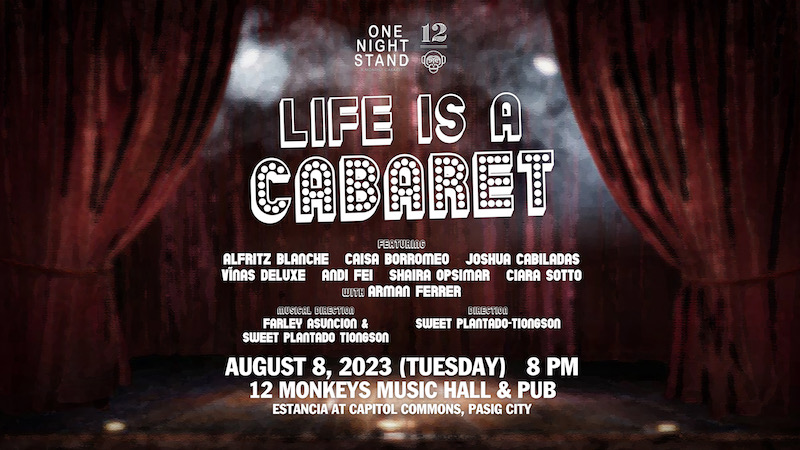 'Cabaret', 'Kinky Boots', 'Moulin Rouge', and more in Next One Night Stand Cabaret
One Night Stand: A Monthly Cabaret (ONS) is returning this August with Life is a Cabaret, featuring songs from sexy musicals such as Cabaret, Kinky Boots, The Rocky Horror Picture Show, Company, Moulin Rouge, Avenue Q, and more.

Performers for the evening are Alfritz Blanche, Caisa Borromeo, Joshua Cabiladas, Viñas Deluxe, Andi Fei, Shaira Opsimar, and Ciara Sotto, with Arman Ferrer as special guest.
The show is directed by Sweet Plantado-Tiongson, who also serves as co-musical director with Farley Asuncion. It will be staged on August 8, 8pm at 12 Monkeys Music Hall & Pub in Estancia at Capitol Commons, Ortigas, Pasig City. 
Door charge is Php700. For table reservations, contact 0917-570-3222 or message One Night Stand: A Monthly Cabaret on Facebook or Instagram. 
One Night Stand: A Monthly Cabaret was established in April 2015 and its current producers are Micaela Pineda, John Mark Yap, and Pat Valera. 
No repeats. No reruns. Just a One Night Stand. 
You can check out past ONS shows on the group's YouTube channel.
Comments