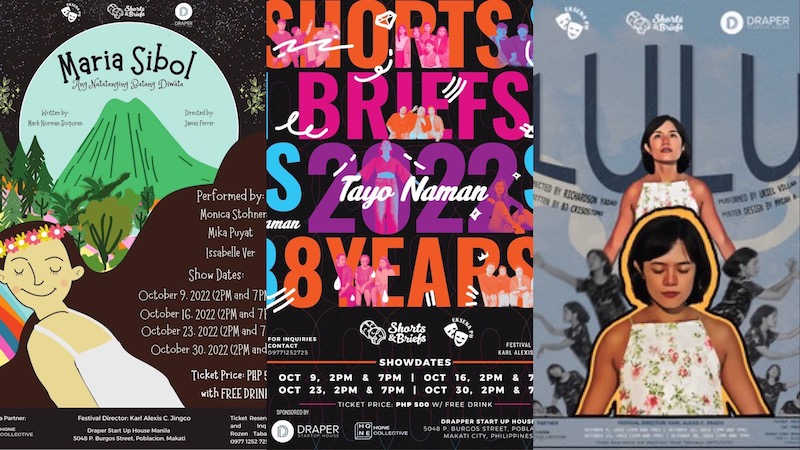 'Shorts & Briefs' Festival to be Staged this October
EKSENA PH will be holding Shorts & Briefs 8: Tayo Naman, its theater festival of short and brief plays all Sundays of October at Draper Startup House in Poblacion, Makati.
This year's festival will celebrate 8 years with 8 live shows, 8 new plays (each lasting 10 to 12 minutes), 8 first-time theater directors, and 8 sets of first-time theater actors. This year's theme is "CHILDREN'S BOOK but make it ART" and will feature Filipino Children's books specifically chosen by the directors to reimagine on stage with a unique storytelling style.
The plays are as follows: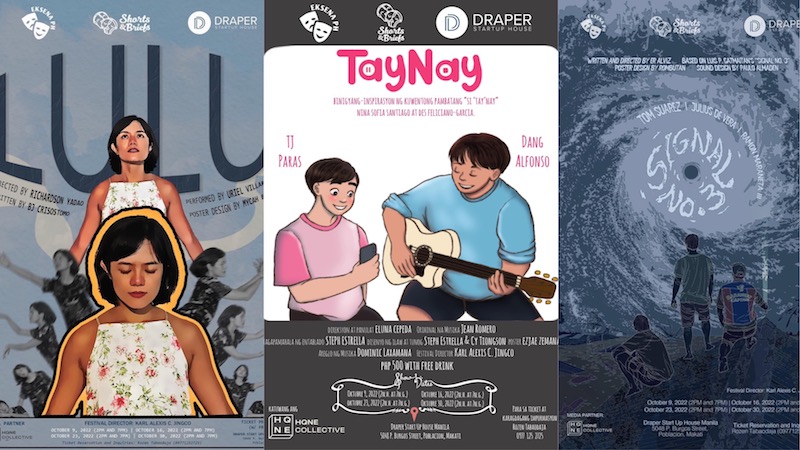 BJ Crisostomo's "Lulu" (unpublished), about a little girl and struggles of life to be directed by Richardson Yadao, current dancer and choreographer of Alice Reyes Dance Philippines, now exploring the world of storytelling through movement;
Sofia Santiago's "Si Tay Nay", discusses the beauty and struggles of a single parent to be directed by EC who is a storyteller and an LGBTQ+ advocate;
Dr. Luis Gatmaitan's Signal No. 3" is about typhoon preparations and chaos to be directed by ER Alviz, a filmmaker from the music and advertising world trying his storytelling using live theater;
Dr. Luis Gatmaitan's "Ang Kuya Kong Zombie", about the effects of staying up late and darkness, was reimagined into a new play called "Mulat" to be directed by Maco Barredo, a returning thespian from the corporate world;
China de Vera's "Palayain ang Aking Inay" is about a child whose mother is a political prisoner, adapted for the stage with its new title "Pagusapan Natin si Amanda" written and to be directed by Dustin Celestino, who is a veteran featured playwright for the Virgin Labfest and now making its debut as a stage director;
Juan Ekis' "Si Aries at ang Flying Ipis" (unpublished) is about a friendship between Aries and the Ipis to be directed by a young filmmaker from Laguna Ryan Termoso whose background in film may be traced to his exposure to church services;

Cheeno Sayuno's "The Missing Blanket" is about the journey of finding the memories of a loving parent to be directed by Baguio-based artist-teacher Kath Nobleza who will also feature all Baguio actors for her play;
Mark Boquiren's "Maria Sibol" (soon to be published) is about a naughty fairy and her adventure to be directed by James Ferrer.
An initiative of Festival Director Karl Alexis C. Jingco launched in 2015, Shorts & Briefs aims to provide a safe space for first-timers and aspiring creators to collaborate and create. Jingco recently directed the revisited play for this year's Virgin Labfest, Nay my Dala Akong Pancit. S&B has then been expanded to serve the larger theater community.
S&B Staff also includes Kevin Matsuyama (Graphic Designers), Steph Estrella (Production Manager), Felix Tiongson (Head Stage manager) Rozen Tabaodaja (Tickets Manager), Nino Manzano, and Jun Ebdane.
All 8 Shows of Shorts and Brief 8: TAYO NAMAN will have (FSL) Filipino Sign Language Interpreters.
Shorts & Briefs 8: TAYO NAMAN by EKSENA PH  will be staged at DRAPER STARTUP HOUSE in Poblacion Makati, all Sundays of October starting October 09-30.
Showtime is at 2 pm and 7 pm every Sunday.
DRAPER is located at 5048 P. Burgos Street, Poblacion, Makati, Philippines.
For tickets and other inquiries, please contact 09771252725 or message EKSENA PH on their social media.
Comments