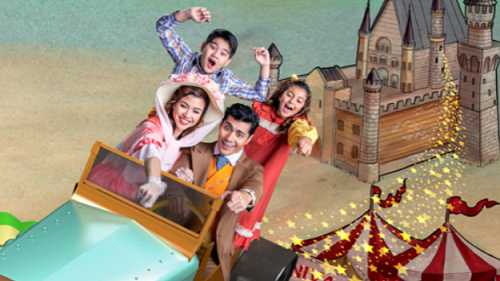 RWM's Chitty Chitty Bang Bang Returns this February!
In October last year, theatergoers in the country witnessed a one-of-a-kind family musical as Resorts World Manila (RWM), in cooperation with Full House Theater Company (FHTC), brought Ian Fleming's Chitty Chitty Bang Bang to RWM's award-winning Newport Performing Arts Theater (NPAT) stage for a two-week run. This year, the British musical about a wacky inventor and his flying car makes a 180-degree turn and is heading straight back for a second run.
The Philippine production of Fleming's work returns to RWM from February 22 to March 25 and promises audiences all the elements that make up a classic by integrating comedy, fairy tale, action, romance, and drama in one must-see show. It also features an all-Filipino cast headlined by seasoned stage stars Gian Magdangal, Yanah Laurel, Menchu Lauchengco-Yulo, Raymund Concepcion, and James Paolleli, together with young stars Albert Silos, Noel Comia, Isabeli Araneta Elizalde, and Zoey Alvarade.
You can buy tickets HERE.
Among those who heaped praise on the show during its first run was National Artist Benedicto "BenCab" Cabrera. "This local production of a British classic with an all-Filipino cast was simply magical," he shared. "Overall, the performances were strong and the versatility of our stage actors was on full display. It reaffirmed that the Philippines is a breeding ground for world class talent. I really enjoyed it!" he added.
Comedian and theater actor Jon Santos said: "I love the sense of family that it reminds us of– that being together we can achieve great, great things. The production and its message is truly multi-generational. It's a must watch!"
"We really enjoyed it," enthused DJ Sanya Smith and actress Annicka Dolonius. "The actors were so good and the scenes were so funny. We definitely recommend it!"
Meanwhile, singer and theater actor Mark Bautista, who has performed on the West End stage for Here Lies Love, and in RWM's Bituing Walang Ningning: The Musical, was likewise captivated by the sheer energy of the show. "The entire production is very entertaining. The whole family will definitely enjoy the whole spectacle."
Stage director Freddie Santos, who has worked with Gian and his leading lady for Chitty Chitty Bang Bang Yanah Laurel, gave his thumbs up for the cast and technical aspect of the show. "There is an advantage to having an all-Filpino cast for Chitty Chitty Bang Bang because Filipinos have such an ear and feel for music, and the musical has some of the loveliest music by the Sherman Brothers" he stated. "It is a great show for Filipino families to experience. The energy was so high, and the children are so in it. You don't have to explain much of what was happening onstage because they get it," he added.    
Other notable actors are also cast in the play include FHTC co-artistic director Michael Williams who will reprise his role as the helpful Toymaker and Lorenz Martinez as the creepy and unsettling Child Catcher. Actors Mako Alonso and Reb Atadero who will once again be playing sidekicks Boris and Goran, respectively, are also expected to steal the show with their hilarious accents and slapstick.
Capping off the show's A-list cast and crew are some of the most respected names in the industry, including director Jaime del Mundo, vocal coach Lyn Fabella, lighting man Jonjon Villareal, sound engineer Rards Corpus, choreographer Nancy Crowe, set designer Mio Infante, videographer GA Fallarme, and costume designer Bonsai Cielo.
You can buy tickets HERE.
Comments