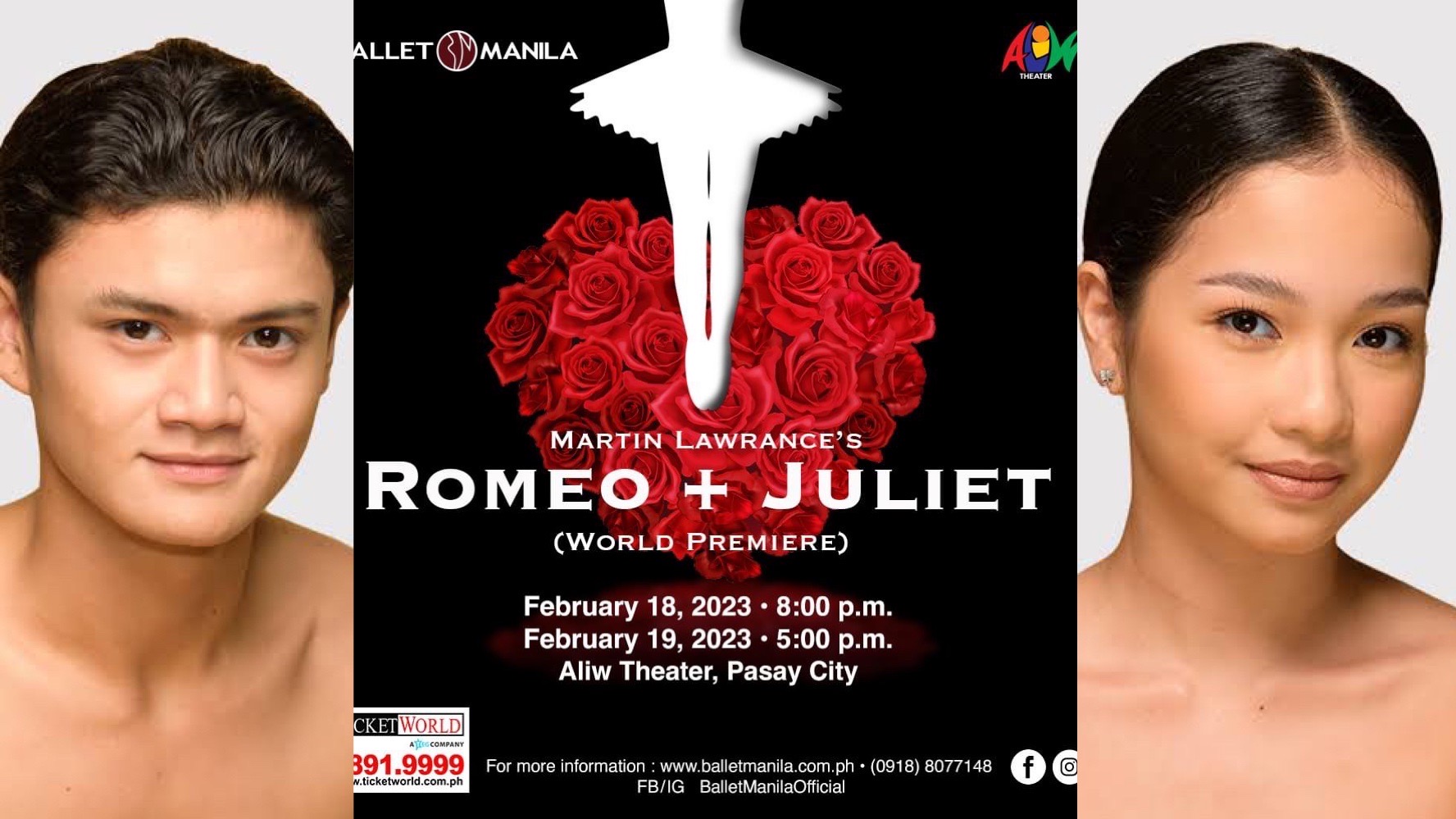 'Romeo and Juliet' by Ballet Manila Fuses OPM, West Side Story, Baz Luhrmann, and Prokofiev
Ballet Manila is set to stage Martin Lawrance's Romeo and Juliet as the first production of its 25th performance season.

"I've never been this excited to present a world premiere," says Ballet Manila CEO and Artistic Director, Lisa Macuja-Elizalde. "Probably the last time I was this excited to present a world premiere was a few years back when we were doing the world premiere of Gerardo Francisco's Ibong Adarna, which is in the 25th season as well."

Of Hope and Homecoming is the theme of the upcoming season. "I think really of hope because once again, Aliw Theater is open, and live performances are back, and there is a rebirth and a renewal of the ability to perform to a live audience, shares Macuja-Elizalde. "That really gives us as performing artists and me in particular as the director of a performing arts company, that huge amount of hope, looking forward to performing live again in a full season of ballet. 
"And of homecoming because after the fire in 2019, and after the pandemic, we are back home in Aliw Theater. It's bigger, it's better, and look around, it's just spectacular."

Lawrance's Romeo and Juliet began as a 20-minute version in the company's 2019 Tuloy Ang Sayawan fundraising dance concert. Macuja-Elizalde wanted to expand on the concept and make it into a full-length ballet. "I talked to Martin and I said why don't we make this our season opener in February next year, which is just right for Valentine's Day and Arts Month and a very apt season opener."

The production is set in modern day Metro Manila, with the feuding families now called the Kapuletos and the Montanas. The dancers will be dressed in current day casuals– maong and T-shirts.

But that's not the only thing that makes this production different. Lawrance has also fused together different genres– OPM music and Sergei Prokofiev's score, and adaptations of the story, which includes elements from Baz Luhrmann's 1996 Hollywood movie and Broadway's West Side Story.

"I really wanted it to be a mixture," says Lawrance. "I wanted that texture, I wanted that variety. And it was hard putting everything together. How do you get from West Side Story to an OPM? We found a way."
"I'm using Ikaw by Yeng Constantino, When I Met You [by Apo Hiking Society], [to name a few], so it needed a flow. Prokofiev is so heavy all the way through so I needed to give it some variety, some lightened shade."

The roles of Romeo and Juliet will be danced by newly-minted principal dancers Joshua Enciso and Pearl Dames. Both of them will be performing their first-ever full-length ballets.

"Super excited po ako. Super excited kasi first full-length," says Dames. "Bilang lead role, kailangan mo maging storyteller. Kailangan talagang magre-research ka, manonood ka ng mga Romeo and Juliet na movies, tapos mga ballet po. Tapos mago-observe kung paano nila ginagawa. Tapos every rehearsal, ia-apply mo, it-try mo gawin kung ano ang magwo-work, tapos tuloy tuloy lang."
"I'm so grateful na mag-lead role ako for Romeo and Juliet," Enciso also shares. "Siyempre it's a big preparation, physically and mentally. Kailangan prepared ka kasi hindi siya basta basta. And also, you need to be inspired. Kung saan nai-inspire iyung choreographer… so iyung mga details na iyun, kailangan i-absorb para mailabas mo siya, para mapakita mo siya sa audience. You need to be inspired to inspire others."

"I couldn't have done it without them. That's the honest answer," says Lawrance. "When we worked together in 2019, we just touched the surface. And I think this time, we were able to dig a lot, lot further and that's what's exciting when you're working with young, raw talent."

"A story that can break your heart, melt your heart, where do you go with it? You go with two beautiful dancers and see where they take it and I think that for me is really exciting."
Ballet Manila's first full-length production of Romeo and Juliet was in 2007, with choreography by Sergei Vikulov, set to Prokofiev's music.
Martin Lawrance's Romeo and Juliet will run on February 18, 8pm and 19, 5pm at the Aliw Theater. It will be preceded by Don Quixote in May and Gerardo Francisco's Ibong Adarna in August. You can get tickets at Ticketworld.

You can watch excerpts from the show below.
Comments