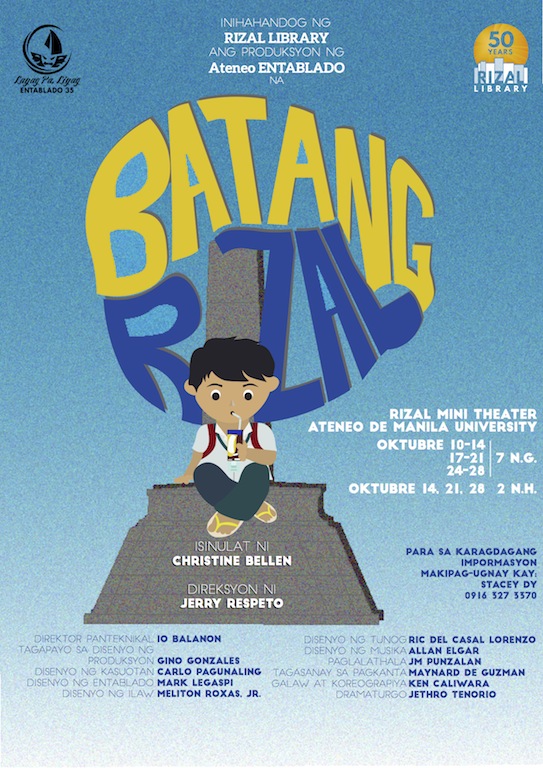 Rizal Library and Ateneo ENTABLADO bring 'Batang Rizal' to Life
For its 50th anniversary, Ateneo de Manila University's Rizal Library presents Ateneo ENTABLADO's Batang Rizal. The children's play, written by Christine Bellen and directed by Jerry Respeto, is set to run from from October 10 to 28 at the Rizal Mini Theatre, Ateneo de Manila University.
Batang Rizal tells the tale of young Rizal, also known as Pepe, as he crosses paths with Pepito, a boy from the present time. Together, the two will travel across history as they share each other's troubles and experiences, and discover what it really means to be a hero.
Batang Rizal offers a fresh insight on the national hero's relevance to the lives of today's youth. It invites its viewers to be like Rizal in the contemporary world in dire need of modern-day heroes.
Specific show dates are October 10-14, 17-21, 24-28 at 7 PM and October 14, 21, and 28 at 2 PM. For further inquiries and ticket reservations, you may contact Stacey Dy at 09163273370 or send an e-mail via admuentablado@gmail.com. 
About Ateneo ENTABLADO
Ateneo ENTABLADO is the premier socio-political theater organization of the Ateneo de Manila University. Founded in 1983, the organization foregrounds the diverse and persisting realities that affect the nation, for the awareness of the Ateneo community and the society at large. Ateneo ENTABLADO was awarded the Most Outstanding Student Group and Most Outstanding Student project for Desaparesidos (2016) by the Loyola
Comments