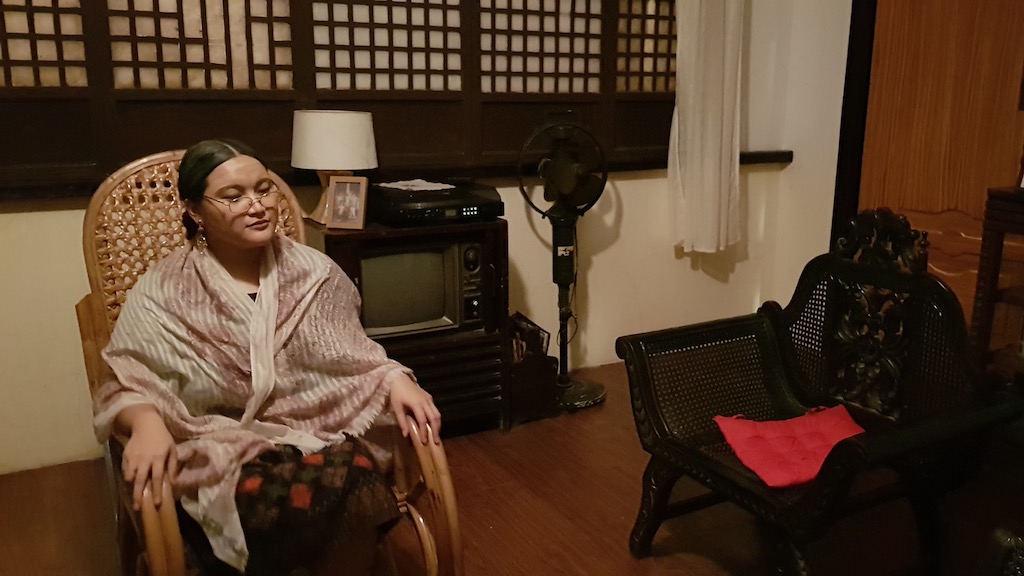 REVIEW: Tipsy Tales' "Lambana" is a wider world than expected
Don't go far off. 
Don't point your finger at night. If you do, bite down on it afterwards to dispel any unwanted attention you attracted. Ask permission from the unseen to pass through their territory as you stumble through the dark. 
The guidelines for dealing with spirits rang clear and loud in mind despite never needing them before. Plunged from darkness into an empty room that's reminiscent of old money in the provinces, with its rustic decor seeming to belong in the middle of a large backyard surrounded by woods and nothing else, the beginning of Lambana immediately set the tone for the rest of the play. Back taut with tension, we met Lola Mila (Bianca Rafanan) and somehow these guidelines found their way to the forefront of the mind. They came along with other survival instincts like 'stranger danger' and a readiness to wear one's shirt on backwards should the need arise.
The new Eastwood attraction proudly styles itself as an "immersive folklore experience" and, according to Noel Blanco, one of the actors, that phrase hasn't always been easy to define. Let's give it a shot though.
Rather than "theater", it would be better to describe the immersive aspect of Lambana as a game. It's a choose-your-own-adventure game with a small cast that includes, well, you. The freedom and impact of your actions as a character is set somewhere between tabletop role-playing game and visual novel, meaning you're free to do what you want but there are specific critical story beats that determine the end. 
The whole set-up of Lambana feels like a walking simulator – and there is a surprising amount of walking and wandering to be done – much like What Remains of Edith Finch. There is a literal exploration as you cautiously stroll from Lola's home to the forest of fae folk and back again. There is a plot to unearth but nothing but little clues to tell you what you ought to do next. You can wait until it's time for the story to progress, but the set itself is littered with details that thicken the plot. It's an experience of discovery, of where your own instincts lead you to.
So, when you suddenly find yourself stranded in a thunderstorm in an empty room, amnesiac about your own place within the narrative and your relation to the rest of the posse, what do you do? Smaller groups will form and those who don't feel like socializing might try to pick apart everything in the room or head straight for the doors. Finding no escape, the carefully crafted aura of "nervous excitement" builds until it's palpable. Then, no amount of pretty lullabies can calm the adrenaline as the story kicks off.
You will find yourself lost – perhaps literally, but also figuratively. Lambana has no shortage of aspects that require your utmost attention. You could get lost in the character you've crafted for yourself. Or get lost trying to piece together the bigger picture before anyone else, driven by an inquisitive and competitive streak. Or you could wander and marvel at the details of every visual presented to you, from firefly-bright leaves to shimmering siren scales. 
And, as cheesy as it is, you will find yourself found – also perhaps literally, as an unwilling (and rather resentful) damsel in distress, and figuratively. Even as we adopt characters, there are potent traits and characteristics that are hard to shrug off.
Mock yourself for continuing to be highly suspicious even in the fun setting and try not to think that maybe that's why you'll end your life surrounded by cats. Laugh as you reaffirm that you're the dummy who won't kill non-playable characters or choose insulting choices in a game because "it would be mean." Then wonder whether the thing that drives you to kindness is actually kindness or simply a troubling amount of social awkwardness. Worry further whether you're still entirely human by journey's end.
It's a 'folklore experience' and, while it's true you'll meet a delightful cast of mythical creatures and learn about them in the process, there's something more. 
Anthropology tells us that the stories we tell and retell within a group, whether that group's simply our family or our circle of friends, end up becoming folklore for that community. Wherever your adventure through Lambana takes you, it'll no doubt be novel enough that your adventure will become part of the legend you're crafting. 
And with luck, it hopefully won't be the last of its kind.

Tickets: 

Php 2,000.00


Show Dates: 

Lambana will run on a daily schedule for an indefinite period of time


Venue: 

4F Eastwood City Mall, Quezon City, Manila


Credits: 

Quina Baterna (Co-founder), Wayne Yeang (Co-founder), Rica Guiyab (Production Manager), Sam Ramos (Stage Manager), Eunice Roque (Sound Designer & BOH), Jolie Ejedo (Costume & Set Care)


Cast: 

Reymarth Salutan, Vic Serafino, Ana De Castro, Joyce Miranda, Bianca Rafanan, Karla Bautista, Noel Blanco


Company: 

Tipsy Tales




Comments