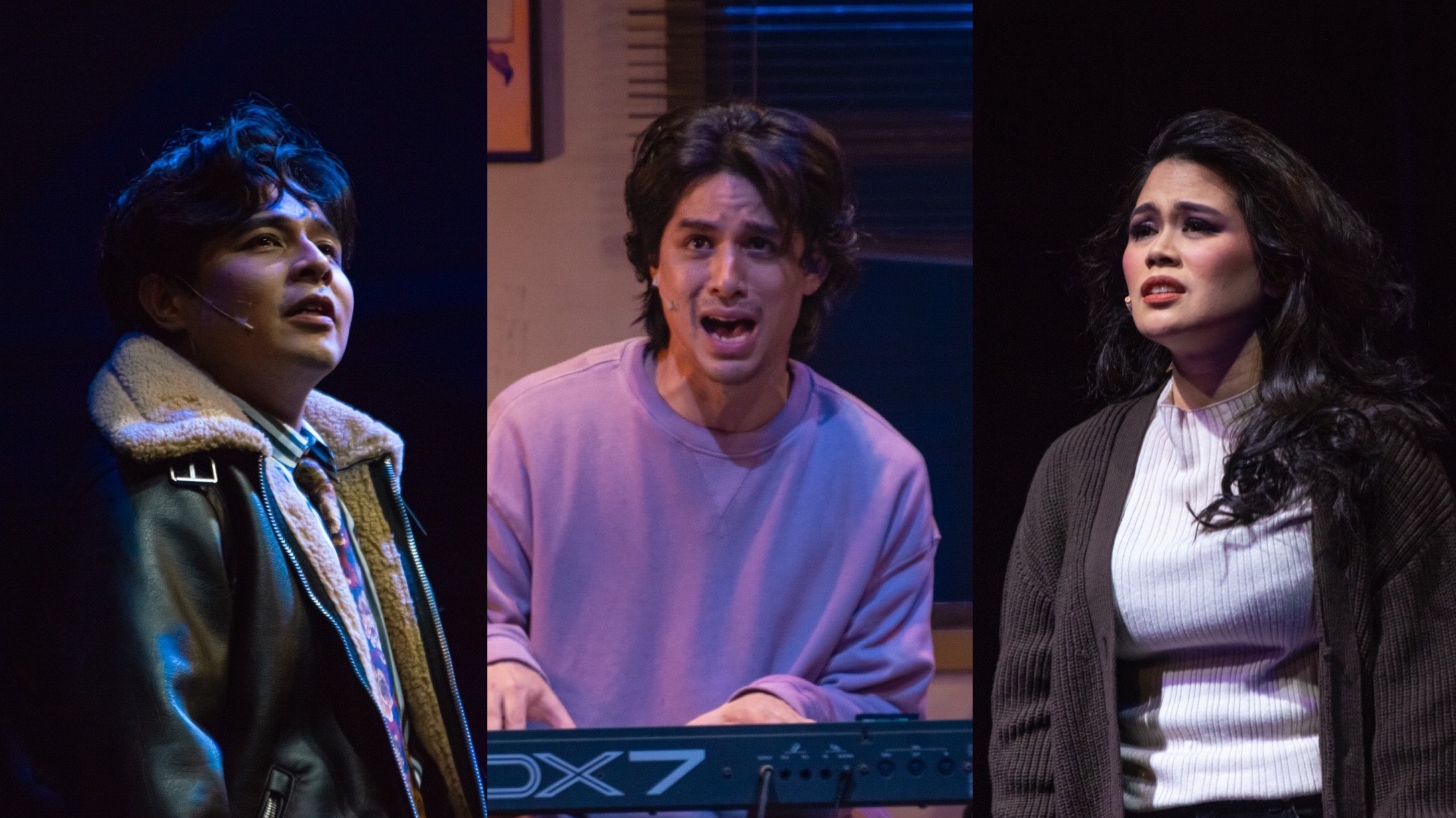 REVIEW: 'tick, tick… BOOM!' is a fresh and grace-filled celebration
9 Works Theatrical's restaging showcases actors at the height of their powers, glowingly highlighted in a musical combining gravitas and glee.

Why watch the musical when the movie came out only two years ago and is readily available on Netflix? 9 Works Theatrical (9WT)'s current tick, tick… BOOM! slaps us in the face with the megawatt talent of their press night's actors. To paraphrase one of the songs in the musical, this is real life. And nothing, not even the widest LED screen, comes close to the magical pleasure such a great performance brings. This musical also so well brings out the intimacy of the two relationships that most define a life: friendship and romance.
Restaging their 2016 musical with a cast of 6 actors featuring 8 different combinations of performers, this 2023 reincarnation is totally different from the one that came before, and of course, the movie as well. 
tick, tick… BOOM! is an autobiographical musical about Jonathan Larson who tragically died on the eve of his magnum opus' Broadway debut. One might think that a musical with such a macabre background might be a depressing watch, but on the contrary, it provides an urgency as it forces audiences to reflect on our own lives, on how wisely we spend our days.
Jef is Jon
Watching Jef Flores play Jon, the struggling musical writer, was a masterclass in sincerity. There were seven years between his first portrayal of the same character in 9WT's original staging, and this current one. If time barely seemed to touch the ever-youthful actor, a more sophisticated artistry certainly embraced him. 
He brings an authentic lived experience with him in what can only be described as one of the most giving, most mature baring of souls we've ever had the privilege to witness. It is not so much a performance as it is an intimate gaze into a person's most important battle: how to grow a soul when the world measures your worth by your bottom line.
We all have a deep desire to leave some kind of mark. But we are all running out of time. 9WT understood that, coming out of a pandemic, we are all of us touched by Death. And they chose the perfect musical to give voice to dark places, leaving it brighter and lighter.
A Restaging in Top Form
Flores's Jon may be the protagonist, but you have not truly heard the musical until you hear the incredibly gifted Tanya Manalang-Atadero (Susan) and Reb Atadero (Michael) united in song. Manalang-Atadero's magnificent voice, in particular, has the power to raise the (emotionally) dead, especially in her solo "Come to Your Senses." Atadero's command of his instrument was awesome to behold whenever he would crescendo on one note. This is among the most difficult of vocal tricks to master, but you wouldn't know it when you listen to him.
Director Robbie Guevara chose his three stars well. With Tanya and Reb alternating roles (and accents) at a frenetic pace that only delighted and impressed, the show struck the perfect balance between humor and the weightier moments. JM Cabling's choreography added so much joy to an already vibrant ensemble, as the three actors danced across a highly detailed, lived-in by design set by Mio Infante. This made for an even bigger surprise when, at a crucial moment in the musical, Mio Infante's entire set moves and sends the wide-eyed RCBC audience simultaneously oohing in awe.
Live Music Making
Also worthy to note, the musical ran with excellent performances by a four-piece live band. It was just too bad that they were hidden away behind the curtain for the most part, only to be revealed within the show during one part of the show.
Under the musical direction of Daniel Bartolome, the curtain flies up to reveal the four musicians when Jon is showing his musical to a live audience for the first time. "Did they pay?" Reb as Jon's Dad asks him before the workshop starts. "Not technically," Jon laughingly says, a joke well-timed for the press preview crowd.
Larson wanted to write about the real world (New York in the '90's) in his musicals, and so tick, tick… BOOM!'s end is "realistic," by comparison as far as a musical where people burst into song and dance numbers can be. It shows aspiring musical writers that there aren't any shortcuts in life, and whether we choose commerce or art, we still need to put in the work without assurance of it paying off the way we dream it will. And all we can control is the choosing of the way we parcel out our dwindling lives.
One comes away from 9WT's musical with toes still tapping, head still swaying to rock-and-roll songs sung with the vitality of singers gripped with the inspiring kind of awareness of one's mortality. 
Hey, what a way to spend a day.
Tickets :

 P1,500.00 - P3,000.00


Show Dates:

 August 5, 12-13, 19-20, 26-27 (3:00 pm and 7:30 pm)


Venue:

 Carlos P. Romulo Auditorium, RCBC Plaza, Ayala Avenue, Makati 


Running Time:

 2 hours (no intermission)


Credits: 

Jonathan Larson (Book, Music, and Lyrics),

 

Robbie Guevara (Director), 

Mio Infante (Associate Artistic Director / Scenographer), Daniel Bartolome (Musical Director), JM Cabling (Choreographer), Shakira Villa Symes (Lighting Designer), Myrene Santos (Make-up Designer), Karla Maria Diño and Jeddi Celeste (Keyboard), Daniel Bartolome and Satur Tiamson Jr. (Percussion), Gerald Flores and Joji Magadia (Bass), Erskine Basilio and Nobel Queano (Guitar) 


Cast: 

Jef Flores / Khalil Ramos (Jon), Tanya Manalang-Atadero / Kayla Rivera (Susan), Reb Atadero / Vien King (Michael)





Comments